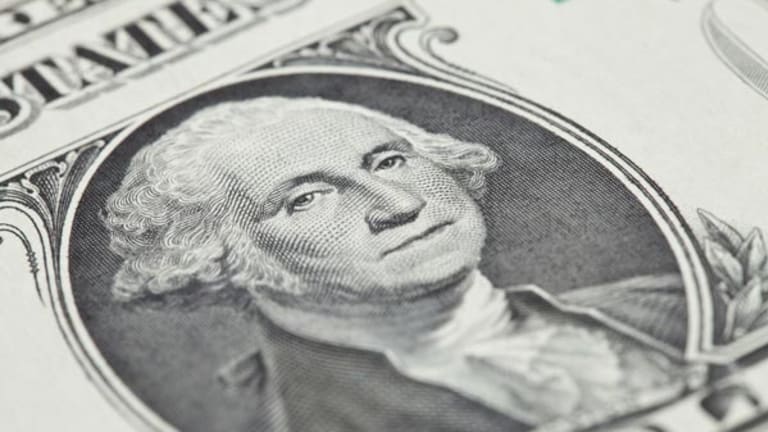 Custody Banks: Financial Losers
Bank of New York Mellon and State Street both saw share price declines of over 3% on Wednesday.
NEW YORK (
) --
Bank of New York Mellon
(BK) - Get Report
and
State Street
(STT) - Get Report
were the losers among major U.S. financial names on Wednesday, with shares of both custody banks sliding over 3%.
Shares of Bank of New York Mellon closed at $20.57 and State Street closed at $39.91.
The broad indexes saw 1% gains after
Apple's
(AAPL) - Get Report
.
The
The KBW Bank Index
(I:BKX)
rose slightly, to close at 43.53, after the
Federal Reserve
Open Market Committee issued a statement indicating that it would keep the federal funds rate near zero "at least through late 2014."
After Bank of New York Mellon last Wednesday announced fourth-quarter earnings of $505 million, or 42 cents a share, declining from $54 cents a share in the third quarter and 53 cents a share during the fourth quarter of 2010, Guggenheim Securities analyst Marty Mosby reiterated his "Buy" rating on the company's shares, saying that the "results reflected the full impact from this low interest rate environment and the preference of investors to de-risk their positions."
Mosby added that "The inability to continue to grow earnings in this operating environment has pushed BK's price to earnings ratio to historically low levels" to forward earnings estimates, but that he expected "efficiency initiatives, a stable net interest margin, an acceleration in share repurchases, and a return of investor confidence to help produce at least 10% EPS growth in 2012."
The analyst also believes that after the Federal Reserve completes its latest round of
in March, Bank of New York could raise its dividend yield to 3.5%.
The shares trade for nine times the consensus 2012 earnings estimate of $2.26 a share, among analysts polled by FactSet.
Interested in more on Bank of New York Mellon? See TheStreet Ratings' report card for this stock.
Following State Street's announcement on Monday of fourth-quarter operating earnings of 93 cents a share, declining from 96 cents during the third quarter and a dollar during the fourth quarter of 2010, Marty Mosby reiterated his "Buy" rating for the stock, saying that he believes "that as the operating environment stabilizes in 2012 , revenue growth returns, positive efficiencies begin to build, and share repurchases continued to lower outstanding shares, STT should be able to grow operating earnings per share by at least 10%."
Please see
TheStreet's
Please see
TheStreet's
earnings coverage on custody banks
for much more detail on State Street's fourth-quarter. for much more detail on State Street's fourth-quarter.
State Street's shares trade for 10 times the consensus 2012 EPS estimate of $3.91.
Interested in more on State Street? See TheStreet Ratings' report card for this stock.
Shares of
New York Community Bancorp
( NYB) pulled back nearly 2% to close at $12.87, after the company report fourth-quarter operating earnings of $117.7 million, or 27 cents a share, meeting the
consensus earnings estimate
, according to Zacks.
In comparison, the multifamily lending specialist earned $119.8 million, or 27 cents a share, the previous quarter, and $149.8 million, or 34 cents a share, during the fourth quarter of 2010.
New York Community's fourth-quarter return on average assets (ROA) was 1.22%. The ROA has ranged between 1.17% and 1.58% over the past five quarters, according to the company.
New York Community's shares have 4% year-to-date, following a decline of 30% during 2011, as investors grew concerned over the company's ability to generate sufficient earnings to cover its 25-cent quarter dividend, which translated to a very attractive yield of 7.77% at Wednesday's close. The company has maintained the dividend for 32 straight quarters.
New York Community Bancorp CEO Joseph R. Ficalora
When asked about the stability of the dividend by Sterne Agee analyst Matthew Kelly during the company's earnings conference call, New York Community Bancorp CFO Thomas Cangemi said the company was following the "rules as driven by our regulators," and had taken a conservative approach in growing, "in particular because of the interest rate environment." CEO Joseph Ficalora said that the company was "consistently conservative in our approach," and was therefore earning "less than we obviously have the ability to earn, so the likelihood that we would be in a position where our dividend would be challenged is far less."
The company reported a Dec. 31 ratio of tangible stockholders' equity to tangible assets of 7.78% and a tangible book value per share of $7.04, compared to 7.79% and $6.91, a year earlier.
Ficalora also said that New York Community is keeping its eye out for deals, and that "the likelihood that we would do a big deal would be driven by those opportunities that the market actually presents," adding that "we think that there will be down the road many things for us to consider."
Interested in more on New York Community Bancorp? See TheStreet Ratings' report card for this stock.
One thing that New York Community might consider, according to Guggenheim Securities analyst David Darst is taking over
Hudson City Bancorp
(HCBK)
of Paramus, N.J., which on Wednesday reported a fourth-quarter net loss of $360.5 million, or 73 cents a share, springing from its
second major balance sheet restructuring
.
Hudson City during the fourth quarter prepaid $4.3 billion in wholesale borrowings with an average coupon of 4.21%, and announced in December it would take a $440.7 million charge in the fourth quarter.
The company had been forced by the Office of Thrift Supervision during the first quarter to reverse its long-term leverage strategy of boosting wholesale borrowings and investing in securities, which had led to a declining net interest margin, which is the difference between a bank's average yield on loans and investments and its average cost for deposits and borrowings.
Hudson City Bancorp CEO Ronald Hermance
First-quarter 2011 prepayments of $12.5 billion in structured borrowings, resulted in a $649.3 million charge and a $555.7 million net loss. The company later reduced its quarterly dividend payout to the current 8 cents a share, from 15 cents.
During the fourth quarter, Hudson City's net interest margin 1.73%, declining from 1.97% in the third quarter, but matching the margin in the fourth quarter of 2010.
CEO Ronald Hermance said that the company had "made great strides in 2011 to meet the future head-on by shrinking our balance sheet, reducing our levels of interest rate risk, increasing our Tier 1 leverage capital ratio and increasing staffing levels in critical areas." The CEO added that it was "now critical for Hudson City to focus on the longer-term opportunities that will be available when economic conditions normalize. Patience will be rewarded."
Darst said on Monday that "a merger between New York Community and Hudson City could be a logical combination that occurs over the next year as HCBK faces strategic challenges that are not easily cured."
Darst added that once Hudson City is finished restructuring its balance sheet, the company "may not have the ability to resume growth due to a constrained market for jumbo mortgages," and that "as this materializes, shareholders may become more vocal for a change." The analyst added that a combination with New York Community "would create an attractive NY, NJ, and CT franchise with 345 branches in the Tri-State market," and that New York Community "could pay $8.00 to $8.50 per share," representing about 1.3 times tangible book value "in an all-stock transaction," with "NYB realizing greater than 20% EPS accretion."
Hudson City's shares rose 2% to close at $7.24.
The analyst has a neutral rating on Hudson City, but rates New York Community a buy, with a $15 price target.
Hermance was unable to comment on Darst's merger speculation, and New York Community Bancorp didn't immediately return a call requesting comment.
Interested in more on Hudson City Bancorp? See TheStreet Ratings' report card for this stock.
RELATED STORIES:
Obama Mortgage Plan Is Dead on Arrival: Analysts
Bank of America Breakup Plea Reaches the Fed
AIG, Ally Execs Earned $475M Since Bailout
--
Written by Philip van Doorn in Jupiter, Fla.
To contact the writer, click here:
.
To follow the writer on Twitter, go to
http://twitter.com/PhilipvanDoorn
.
Philip W. van Doorn is a member of TheStreet's banking and finance team, commenting on industry and regulatory trends. He previously served as the senior analyst for TheStreet.com Ratings, responsible for assigning financial strength ratings to banks and savings and loan institutions. Mr. van Doorn previously served as a loan operations officer at Riverside National Bank in Fort Pierce, Fla., and as a credit analyst at the Federal Home Loan Bank of New York, where he monitored banks in New York, New Jersey and Puerto Rico. Mr. van Doorn has additional experience in the mutual fund and computer software industries. He holds a bachelor of science in business administration from Long Island University.