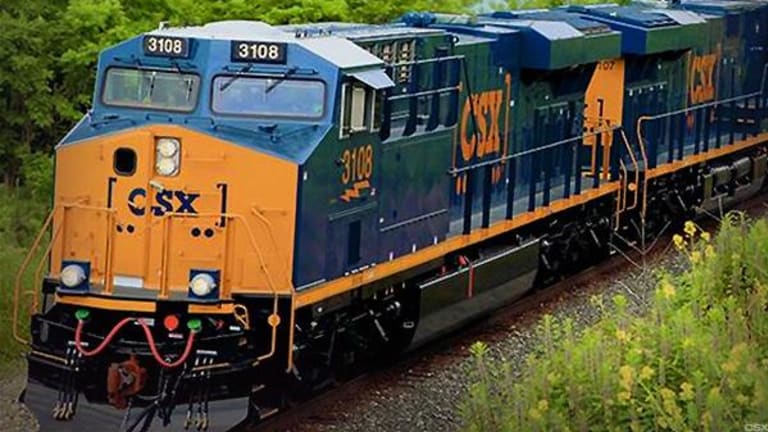 CSX Shares Dive, and the Slowing U.S. Auto Market Is a Big Reason Why
The stock is trading down because of estimates for the full fiscal year.
Jacksonville, Fla.-based rail service provider CSX Corp. (CSX) - Get CSX Corporation Report was trading down 6.3% in early afternoon trading Wednesday, July 19, despite releasing a second quarter earnings report the day before that beat expectations.
CSX announced earnings-per-share of 64 cents, beating consensus analyst expectations of 59 cents, according to FactSet. Despite the 8.3% surprise in the second quarter, the company projected earnings-per-share growth for the fiscal year below Wall Street's expectations. The company predicted growth of 25% of over its 2016 numbers, translating into a rise of 45 cents over last year to $2.26 per share for 2017, below the analyst consensus of 49 cents per-share growth to $2.30 for the year.
The company posted profits in the second quarter of $510 million, up from $445 million in the same period last year. Revenue increased 8% to $2.9 billion from $2.7 billion while expenses added only 6%, largely driven by a $122 million restructuring charge.
For the third quarter, the company projected growth in coal exports, metals and equipment, minerals, agriculture and food, and intermodal. The company has a neutral outlook for fertilizers and forest products, and an unfavorable outlook for the automotive sector, domestic coal and chemicals.
The company cited declining auto production, a soft crude market and short-haul domestic coal loss as specific headwinds.
For its fiscal year expectations, the company said it projects an operating ratio in the mid-60s supported by efficiency gains and free cash flow before dividends to be around $1.5 billion. It authorized $500 million of stock buybacks in the second quarter, bringing the buyback program to $1.5 billion.
The company had a mixed safety record in the second quarter, reporting an increase of personal injuries by 19% and a decrease in train accidents by 1%. Efficiency improved, with trains traveling 3% faster compared to the same period last year and fuel efficiency improving by 5%. 
More of What's Trending on TheStreet:
Amazon Faces a Potential Existential Threat That Could Hammer Its Shares, Doug Kass Reveals
What's the Fallout From Chipotle's Latest Food Safety Concern? Who Knows?!
Honda Finally Makes a Cool-Looking Accord Sedan Because Everyone in America Is Buying SUVs
Facebook Exec Campbell Brown: We Are Launching a News Subscription Product
Stock Market Bulls Are Wrong and It Could End Badly