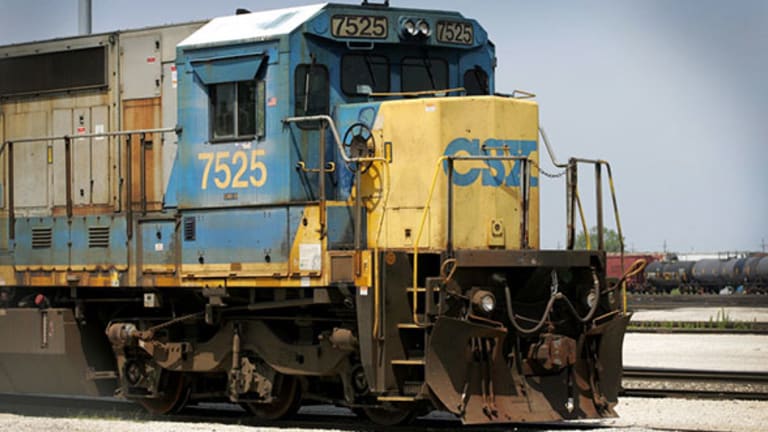 CSX Shares Explode on Activist Expectations
The transport company gained more than $8 billion in market capitalization on hopes that an activist campaign is forthcoming. Be warned, it's a long road ahead.
Shares of CSX (CSX) - Get CSX Corporation Report took off like a runaway train Thursday after news broke that an activist and a veteran rail investor were teaming to mount a campaign against the company. Worth remembering that most runaway trains end up crashing.
CSX shares climbed more than 23% on Thursday after Hunter Harrison, the railroad maestro who orchestrated a remarkable turnaround at Canadian Pacific (CP) - Get Canadian Pacific Railway Limited Report , confirmed he was teaming with activist Paul Hilal's Mantle Ridge LP to make a run at the Florida-based railroad.
The excitement is understandable. Harrison won high praise for his work streamlining Canadian Pacific, with the railroad's Toronto-based shares up nearly 190% since he arrived in 2012. CSX shares have appreciated only half as much during that time period, with the company in recent years mired in a commodity slump and depressed demand for coal.
CSX seemingly would benefit from Harrison applying the CP game plan to its expenses. The company is currently targeting a sub-70% operating ratio, a measure of efficiency. Harrison's Canadian Pacific operating ratio by comparison dipped to 56.2% in the fourth quarter, down from 81.3% at year-end 2011 before he came on board.
But even if the excitement is reasonable, investors need to be careful not to get ahead of themselves. CSX shares hit split-adjusted levels unseen in 10 years on just the thought of an activist campaign, and without any assurance Harrison and Hilal will follow through on the plan.
Should the activists move forward they stand a reasonable chance of succeeding, with Cowen analyst Jason Seidl in a note saying the executive's "reputation of being the most sought after manager in the North American railroad industry could make it very difficult for CSX to refute Harrison's desire to run its franchise."
But even if Hilal does succeed in installing Harrison into a management role, a turnaround would take time and would be no sure bet. A rail source reached Thursday praised Harrison's acumen saying "they've identified an entire industry loaded with inefficiency and see tremendous opportunity there," but that same source questioned how much time and energy the 72-year-old executive was ready to give to CSX.
"This isn't a short-term project," the source said.
CSX, with tricky labor relations and facing significant competitive pressure from rival Norfolk Southern (NSC) - Get Norfolk Southern Corporation Report as well as truckers, is arguably harder to transform than CP, the source said. Its route network also leaves it prone to generating margins lower than what Canadian Pacific can command.
To be sure if Harrison gets on board and is able to drive CSX to Canadian Pacific-like levels, the upside would be significant. Morgan Stanley's Ravi Shanker estimates a potential upside for the stock of $60 per share in a best-case scenario, while at the same time warning "we would not yet draw the conclusion that CSX can get" to CP operating metrics.
Investors hoping for M&A could be in for even a longer wait. Harrison talked up the benefits of consolidation while at Canadian Pacific, targeting both CSX and Norfolk Southern at various times in recent years. But a source familiar with Hilal's thinking said operational improvements, and not consolidation, would be the initial focus of Mantle Ridge's campaign.
Longer-term if Harrison is involved in operations at CSX the company would presumably be more open to future M&A overtures from Canadian Pacific or elsewhere. Harrison used his position at CP to both attempt deals and to lobby against a U.S. regulatory moratorium on consolidation, arguing that only through M&A can rail gridlock issues be solved and customer service be improved.
Even if two companies are willing to attempt a deal, it still seems a long shot that the Surface Transportation Board and major customers would be willing to sign off on a deal.
The simple mention of Hunter Harrison to CSX added about $8 billion in market capitalization to the company in a single trading session. Given the complexities on the track ahead, think twice before continuing on for the rest of the ride.
- Ron Orol contributed to this report