Crypto's Centralized and Decentralized Exchanges Explained
The cryptocurrency exchange is a digital marketplace that allows the peer-to-peer exchange of crypto assets. There's the decentralized exchange (DEXs) and the centralized exchange.
Coinbase, Binance, and most major exchanges are centralized. 
What's the difference? How does the exchange work, and are increased hacks inevitable in this fast-moving industry? And, how does it fit into the emerging crypto categorization scheme that includes the metaverse, DeFi, infrastructure applications, smart contracts, and so much more?
Watch the video above. Matthew Sigel, Head of Asset Research, at VanEck, explains that and more. The conversation is part of TheStreet's FREE webinar: Beyond Bitcoin and Metaverse: Crypto Categories Investors Should Know, brought to you by VanEck.
WATCH BELOW: Beyond Bitcoin and Metaverse: Crypto Categories Investors Should Know – FREE Webinar
Editor's Note: The webinar was recorded on January 28, 2021.
Related: Sorting Out 12,000 Coins In the Crypto Ecosystem
About the Webinar Panelists | Matthew Sigel, VanEck and Bob Lang, Action Alerts PLUS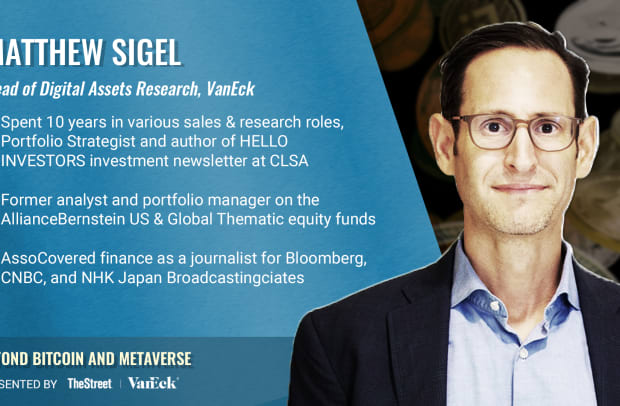 Video Transcript:
Bob Lang: Many are familiar with exchanges, we use them, of course, for our digital currency transactions. Can you walk us through this category for the viewers?
Matthew Sigel: The exchange category includes the tokens of centralized cryptocurrency exchanges, such as FTX and Binance, who in many cases have chosen to list their entities as cryptocurrencies that trade on a cryptocurrency exchange, rather than going public in an IPO on a traditional securities exchange. Many times, the underlying model is similar. The exchange will collect profits that it derives from charging its users commissions, and those profits will be denominated in the native token, In the case of FTX, that's the FTT token. So the exchange category includes those centralized cryptocurrency exchanges, like Coinbase, who instead of listing in an IPO or raising capital in the traditional private markets, instead fund their equity via these crypto tokens, which trade on crypto exchanges.
Quotes | Beyond Bitcoin and Metaverse: Crypto Categories Investors Should Know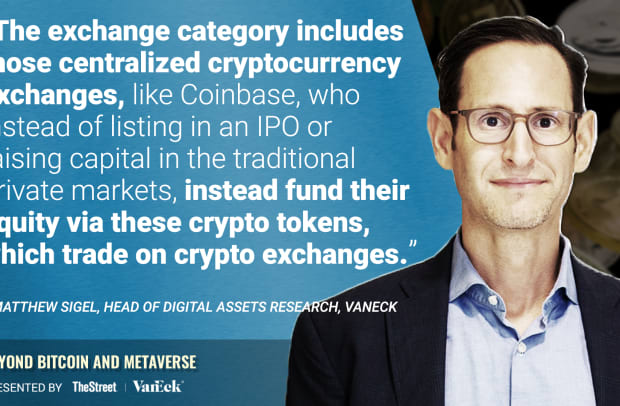 Bob Lang: Hackers, Matthew, just hit the crypto exchange Crypto.com, siphoning some $35 million. What would you say are the biggest vulnerabilities, and should investors brace for more theft of this size if not greater 
Matthew Sigel: As activity grows and cryptocurrency, and indeed in any industry, there are always opportunities and risks for technological mistakes and hacking. We've seen that in many industries. In fact, the proportion of cryptocurrency illicit activity fell in 2021 versus 2020. So we're optimistic that increased analytics and tools in the industry are helping regulators and exchanges better monitor the flow of funds in the industry and more quickly apprehend the wrongdoers. So many of the largest hacks that we saw last year, the funds were actually returned voluntarily after the perpetrators have doxed online thanks to the transparency that the blockchain provides. So it's true that in crypto there are bad actors as there are in every industry. But we're pretty optimistic that because of these analytics and tools that are available to anyone who's observing the blockchain, anyone's crypto wallet can be tracked and monitored, that the opportunities for wrongdoing are actually falling over time, not rising.
Watch | More FREE webinars on TheStreet and our partners at VanEck:
Editor's Note: TheStreet's Zach Faulds produced this video.