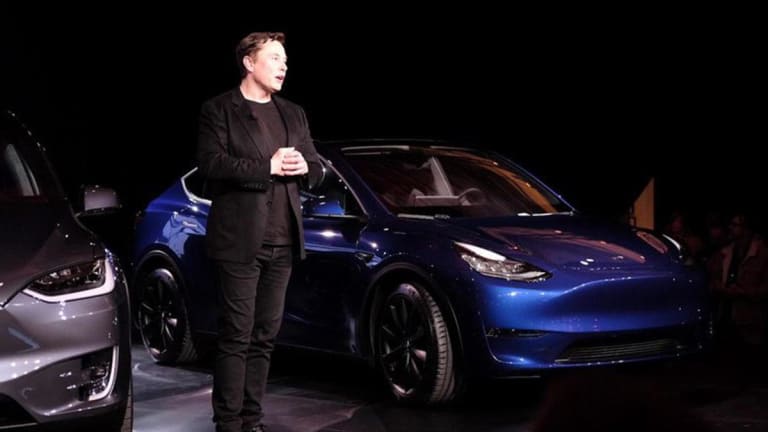 Tesla Shares Face Two Big Developments This Week
As investors await Tesla's first quarter sales figures, Elon Musk's legal battle with the SEC continues with a new hearing.
As investors await Tesla's first quarter sales figures, Elon Musk's legal battle with the SEC continues with a new hearing.
Tesla (TSLA) - Get Report shares could see some bumps in the road this week.
Investors are awaiting Tesla's first quarter sales and production numbers, which are due for release this week, and they're likely to trigger moves in the polarizing carmaker's stock. And on Thursday, a federal hearing is scheduled in CEO Elon Musk's ongoing legal battle with the SEC. 
During the first quarter, Musk and Tesla issued a series of announcements that painted an unclear picture of what sales and delivery of its cars will look like going forward. They included an announcement, followed by a reversal, that Tesla would transition to online-only sales -- a move that confused many analysts.  
Another pressure point for Tesla sales: Federal tax credits for electric cars were cut in half starting in January, from $7,500 to $3,750, leading to worries that sales will be negatively impacted as the credits phase out this year. Tesla responded by cutting prices for its cars by $2,000 across the board, partly to offset the phase-out of the credits.
Earlier this year, Musk also warned that partly due to challenges in delivering to Europe and China, Tesla doesn't expect a profit for the first quarter. A Morgan Stanley analyst slashed delivery estimates from 55,000 to 50,000 for the first quarter over concerns about delivery delays.
In March, the carmaker also announced the arrival of its long-awaited $35,000 Model 3, sparking debate about what the availability of the lower-priced car means for Tesla's margins in future quarters.
Separately, Musk's battle with the SEC continues, with a hearing set for this week. The agency is asking Federal Judge Alison Nathan to hold Musk in contempt of court over tweets posted in late February that misstated, and then clarified, production targets for 2019. Attorneys for the SEC charged that the tweets demonstrate that Musk's tweets aren't being reviewed by attorneys, as was mandated as part of Musk's earlier settlement with the agency.
In their own legal filings in late March, attorneys for Musk countered that "the SEC's position is wrong at virtually every level." Oral arguments are scheduled for Thursday afternoon E.T., and if Musk is ultimately found in contempt, potential consequences could include more fines for the billionaire or even a trial that forced him to relinquish his roles at Tesla.
On Wednesday, Tesla shares closed up 2.07% to $291.81. Shares are down about 12% year to date.
Will You Have Enough Money to Retire?
Want to learn about retirement planning from some of the nation's top experts? Join TheStreet's Robert "Mr. Retirement" Powell live in New York on April 6 for our Retirement Strategies Symposium. For a limited time, tickets are available for $99 for this full-day event. Check out the agenda, learn about the speakers and sign up here.