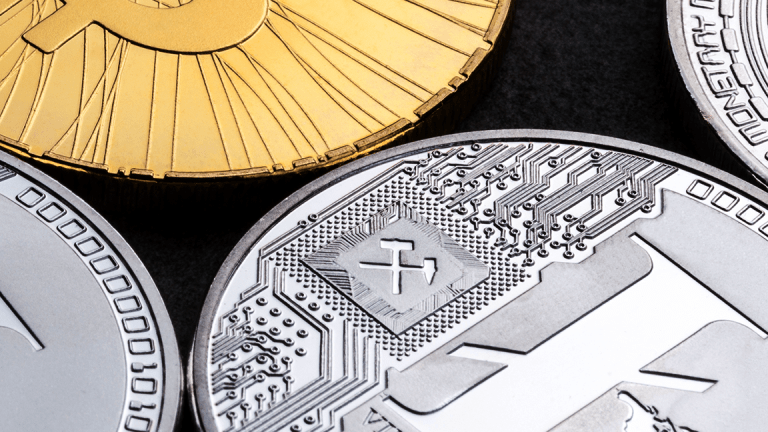 Cryptocurrency in Focus: Litecoin 'Halves' Some Struggles
But despite some recent bumps such as pricing woes and big-name partnerships that are failing to ring up results, it's clear the Litecoin Foundation will keep driving the LTC adoption.
But despite some recent bumps such as pricing woes and big-name partnerships that are failing to ring up results, it's clear the Litecoin Foundation will keep driving the LTC adoption.
You could think of Litecoin (LTC) - Get Report as the silver to Bitcoin's gold. 
The popular peer-to-peer cryptocurrency is considered a "fork" of Bitcoin, meaning its code was copied from Bitcoin and modified to have faster transaction times and cheaper transaction fees. Founder Charlie Lee's vision was for Litecoin to be used for day-to-day transactions, while Bitcoin remained oriented toward Store-of-Value (SoV).
Ranked fifth in market cap among all cryptocurrencies, LTC stands just over $4.3 billion.
Getting Lite-er
LTC FCAS declined -2.47% over the last seven days, impacted by a 38-point (-5.82%) drop in Developer Behavior. User Activity climbed 1-point (0.11%) and Market Maturity spiked 2-points (0.25%). Price is down 8.09% over the same time period.
The Halving
Litecoin conducted its scheduled "Halving" on Aug. 5, a process built into the protocol as a measure to reduce inflation. Litecoin's recent halving reduced the rewards paid out to "miners" -- those who process transactions on the network --from 25 LTC to 12.5 LTC per block, and significantly decreased the number of new LTC hitting the market.
Due to increased scarcity caused by Halving, large price swings have historically been associated with these events. But LTC price action has been relatively muted, as the Halving has likely been priced in by traders collecting LTC in advance of the reward cut. Fundamentals declined around the event, as development and use both slumped in the preceding days.
Funding Woes
After lackluster price performance following the halving, Litecoin has continued to face headwinds as news emerged last week of pay cuts for the Litecoin Foundation. The first quarter was a particularly tough stretch for the foundation, hindered by a protracted crypto bear market. Designed to be self-sustaining through donations and partnerships, the foundation currently depends on funding from Litecoin founder Charlie Lee to remain operational.
In the second week of August, Lee was forced to publicly address a growing concern that Litecoin development had stalled in 2019. While he effectively explained the development cadence for the Litecoin core and how it lags Bitcoin core, overall development output has indeed slumped through the year including both Code Contributions and Community Involvement FCAS sub-metrics.
Our Hot Take
The effects of the Litecoin halving were a bit of a mixed bag, simultaneously showing signs of a maturing industry and increasing levels of uncertainty. From a market perspective, the decrease in overall price volatility caused by investors' expecting the event shows a maturating of the markets and increase in general confidence around the successful execution of similar protocol mechanisms.
It may be disingenuous to draw direct correlations between the decline in development, financial woes for the foundation, and poor LTC market performance, but the team is certainly facing a barrage of challenging circumstances. From a positive perspective, LTC overall Network Activity has remained strong, as the asset benefits from high liquidity, visibility, and a growing number of high-profile partnerships.
These high-profile partnerships with the Miami Dolphins, Glory Kickboxing, and the Mammoth Film Festival, among others, have raised awareness of Litecoin, but have fallen short from a revenue perspective to support the current Litecoin business model. This struggle underscores general business challenges across the industry, as teams work out unique funding models and the transitions from for-profit, centralized entities to foundations. Still, there's little doubt that Lee and team will remain diligent in supporting the Litecoin Foundation while driving LTC adoption forward.