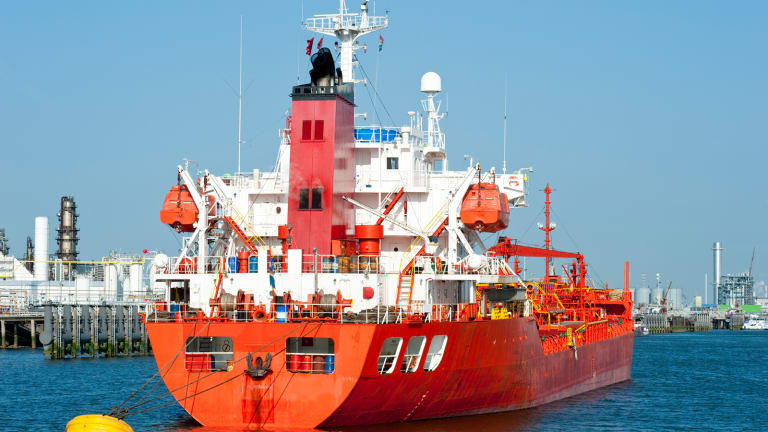 Crude Prices to Jump as Shortage Leaves Europeans 'Scrambling' for Oil
Outages in the North Sea, Russia and probable declines in Iranian output should send prices for Brent shooting higher in just a matter of weeks.
Get ready for a surge in Europe's benchmark oil price: Brent crude.
There's a shortage of crude in Europe, and the price of Brent futures contracts doesn't reflect that stark reality, according to a new report.
"We expect the tightness in the physical market to impact the financial market, and see Brent rising to $75/[barrel] over the coming weeks," UBS wrote in a recent research note. "The physical market in Europe is scrambling to obtain sufficient barrels."
Put another way, futures market prices will quickly catch up to reflect the dearth of oil in the physical market. That could even see Brent prices move 14% above current levels in just a few weeks, UBS says.
Traders should consider buying futures contracts for Brent crude oil. Or they could opt for the United States Brent Oil (BNO) exchange-traded fund, which tracks Brent crude prices.
The European benchmark Brent differs in price from the U.S. benchmark West Texas Intermediate (WTI), although the two tend to move up and down in tandem.
Lately, worries about a U.S.-China trade war and a slowing global economy have pushed down the price of Brent from $74.57 a barrel on April 24 to $70.16 recently, according to data from Bloomberg. WTI prices followed the same pattern.
However, there's an important difference: There's a shortage of Brent, but there is no lack of WTI. 
Put simply, Brent prices should be higher.
Premium Fuel Price
Already Europe's lack of supply has manifested in buyers of Brent crude needing to pay huge premiums to get immediate delivery of the energy versus waiting for three more months. That extra cost is now $2.35 per barrel, or the highest it's been in five years, UBS says.
Such a premium is a signal that there isn't enough physical oil around.
"The market is tight," Giovanni Staunovo, an analyst at UBS Global Wealth Management in Zurich, told TheStreet. Although he says the price of Brent could surge to an average of $75 per barrel, the top of its range is a healthy $80, or 14% higher than current levels.
Staunovo explains that three major factors have caused that lack of supply and it could get even worse if the political tension in the Middle East deteriorates further.
1. Blame Russia
The first is that Russia is cleaning its oil pipeline, through which it supplies Europe. That pipeline got contaminated with undesirable substances that hit the oil market with a two-for-one whammy.
Cleaning the pipeline means it can't be used to transport top-grade crude. The other effect is that the buyers who originally purchased the contaminated oil will now want to blend what they've been sold with top quality crude from other sources. Both factors diminish the overall supply.
2. North Sea Blues
Separately, on Europe's Western edge, North Sea production is down due to maintenance-related issues. In other words, the rigs in the waters between the U.K. and the continent need to be repaired to be safe in the harsh environment. 
3. U.S. Sanctions 
The Trump administration's severe sanctions on Iran and Venezuela are making the global oil market even tighter than it would have been. 
Iran's oil output has slipped by more than one million barrels a day since last summer and is expected to dip even further as fewer countries opt to buy from the Islamic Republic. Daily oil production hit 2.7 million barrels in February down from 3.8 million in July 2018, according to data from Trading Economics.
Venezuela's output dipped below 1 million barrels a day in March, down from 1.5 million last July. Again, sanctions will likely make that drop further.
The more important news is that oil cartel OPEC (the Organization of Petroleum Exporting Countries) says it likely won't increase its output until it sees what happens with Iran's oil production. 
"Saudi Arabia wants first to see how many Iranian oil barrels will drop off," says Staunovo. Saudi is the largest producer of oil in OPEC and tends to have a big voice within the organization.
When will this get resolved? "Probably during June or July after the OPEC meeting," says Staunovo.
Or in other words, there's plenty of time for the market to get even tighter over the next few weeks and send prices surging. 
But when the price spikes expect the U.S. to jawbone OPEC to increase output to help moderate prices. When that happens the price of Brent should ease.
Saudi Sabotage Impact?
Last weekend's news of alleged sabotage of a Saudi Arabian oil tanker that was sailing off the coast of neighboring United Arab Emirates is great for newspaper headlines but unimportant for current oil prices.
That's because the attack on one tanker won't interrupt the overall supply of oil. The U.S. is taking steps to ensure that other cargo ships are safe in the region. 
"The USS Lincoln Carrier Strike Group is being deployed to the region," states a recent report from New York-based Academy Securities. "The Group will likely continue to ensure safe passage."
Constable owns none of the securities listed in this story.