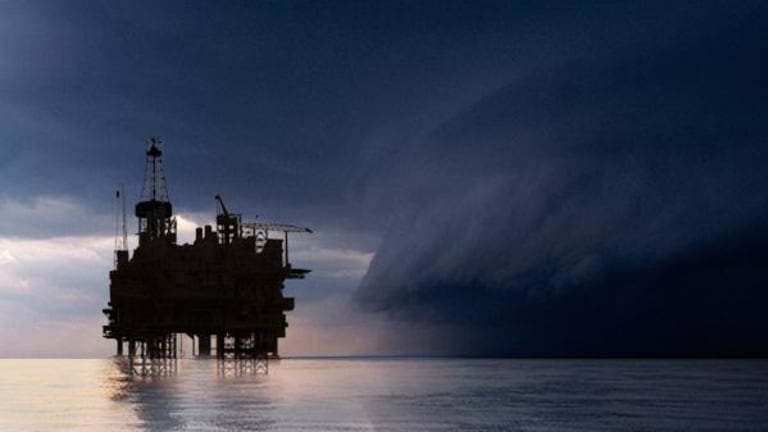 Crude Oil's Hurricane Irma Boost Could Dissipate With the Storm
Crude oil is getting a hurricane hike, but it may not last beyond the weekend.
The oil market has traded sharply higher in recent sessions in sympathy with its distillate products -- namely gasoline. In the wake of Hurricane Harvey, idle refineries littered the Gulf shores, but they are coming back online nearly as quickly as they fell off.
Perhaps oil bulls are predicting higher demand for oil and oil-related products due to fleeing Floridians preparing for the arrival of Hurricane Irma, but they are most likely focused on the potential impact of damaged oil storage containers in the Caribbean region and, of course, potential impact of damage to platform oil-extracting operations on the shores of the U.S.
The reality is that we are far from an oil shortage -- in fact, we are still in the midst of what most call a supply glut. According to the EIA's latest oil inventory report, roughly 462 million barrels of oil are available. To put this into perspective, the five-year average is about 379 million barrels. Thus, the $3 per barrel in risk premium the market has built into pricing this week to account for hurricane damage might not stand the test of time. In short, it would take considerably surprising circumstances to justify a continued run higher.
More of What's Trending on TheStreet:
Working Mothers Shouldn't Feel a Twinge of Guilt
Stick with TheStreet for updated storm coverage as Hurricane Irma moves the market:
Hurricane Irma: What Kind of Insurance Should You Have?
Hurricane Irma Will Make Orange Juice Unaffordable and Destroy Your Grocery Bill
Hurricane Irma: How Floridians Are Using Tech, Apps to Prepare for the Big Storm
From a technical standpoint, oil futures are sitting on the cusp of a breakout. Trendline resistance is looming, but any change in the expected path of Irma could quickly erase the recent oil rally (and then some). A daily crude oil chart reveals just how compelling overhead resistance is. Further, Williams' %R is beginning to reach overheated levels. Although we aren't' seeing the same overstretched conditions in our trusty RSI (Relative Strength Index), it is also mildly overbought.
Ironically, the oil market will be testing resistance at precisely the time that seasonal tendencies begin to influence pricing -- most years, anyway. According to our friends at MRCI (Moore Research Center, Inc.), traders who would have sold the December WTI crude oil futures contract -- traded on the New York Mercantile Exchange (NYMEX) of the CME Group -- on September 8 and held through the September 23, would have been profitable 80% of the time over the previous 15-years. We also noticed that when looking at data from the last five years, the oil market has a strong tendency to trade sharply weaker from early September through early November. Thus, while the high probability trade taking place between September 8 and the 23 might not seem substantial, it is likely that the selling will extend well beyond.
We've mentioned the currency market and its influence on commodity prices in the past, but it is worth revisiting in this case. We'll admit, we didn't see the dollar getting quite this low in early 2017 (although we were bearish). That said, it is difficult to imagine the greenback getting much lower. We aren't saying it is impossible for the dollar index (DXY) to fall into the 80 handle, but we do believe it is highly unlikely.
Accordingly, current crude oil pricing is already accounting for the benefit of a lower dollar. Should the dollar reverse higher, or at least fail to go much lower, the currency market boost now seen in the price of crude oil will dissipate. In short, with all else being equal, if the currency markets find a way to put the dollar back into favor, the oil futures market will soften.
There is a substantial risk of loss in trading commodity futures, options, ETFs. Seasonal tendencies are already priced into market values.
Editor's note: This article was originally published by The Deal, a sister publication of TheStreet that offers sophisticated insight and analysis on all types of deals, from inception to integration. Click here for a free trial.
At the time of publication, Garner had no positions in the stocks mentioned.