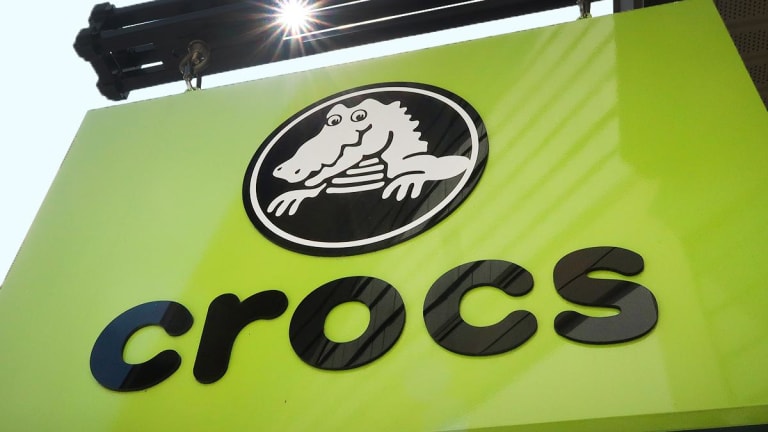 Crocs Steps Lively After First-Quarter Earnings Beat
Crocs shares rise on a first-quarter earnings and revenue beat.
Shares of Crocs (CROX) had a spring in their step Tuesday, rising 8.4% to $30.72, as the casual shoemaker beat Wall Street's first-quarter earnings expectations. 
 The Nitwot, Colorado-based company reported net income of $24.7 million, or 33 cents a share, up from $12.5 million, or 15 cents a share a year ago. Adjusted earnings came to 36 cents a share, beating analysts' expectations of 26 cents.
Revenue totaled $295.9 million, up 4.5% from a year ago, and surpassed Wall Street's call for $292 billion. Wholesale revenue grew 5.2%, e-commerce revenue grew 16.5%, and retail comparable-store sales grew 8.7%.
For the full year, Crocs said it still expects revenue to increase 5% to 7% from 2018 revenue of $1.09 billion. Wall Street is looking for an increase of about 6.9% to $1.16 billion.
For the second quarter, Crocs said it expects for revenue between $350 million and $360 million, compared with analysts' estimate of $357.6 million.
"We were particularly pleased with the exceptional direct to consumer performance successfully comping an earlier Easter last year," Andrew Rees, president and CEO, said in a statement. "We have now delivered five consecutive quarters of double-digit DTC comp growth.  I am more confident than ever in the strength of our brand and our future. As a reflection of our optimism, our Board of Directors has increased our share buyback authorization by $500 million."