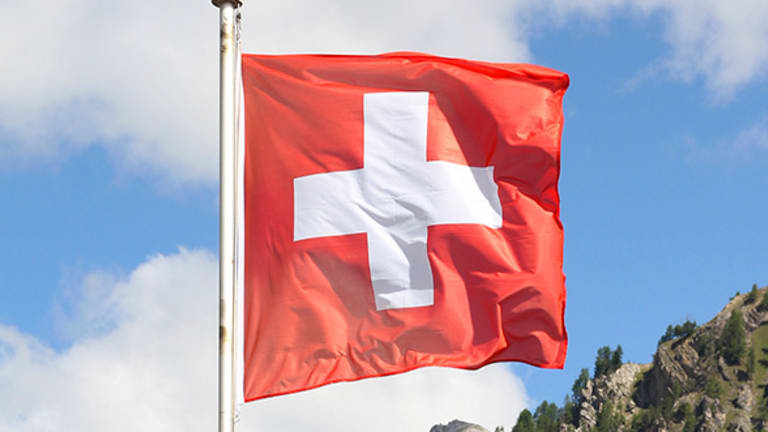 Credit Suisse Sees These Three European Banking Stocks in Line for Basel Booster
Basel regulators will meet to discuss controversial rules dubbed Basel IV.
Could Banco Santander (SM) - Get SM Energy Company ReportUniCredit (UNCFF) and Banco Bilbo Vizcaya Argentaria (BBVA) - Get Banco Bilbao Vizcaya Argentaria SA Report be in for a Basel booster?
Credit Suisse analysts predicted on Friday that the three stocks could rise next week if Basel regulators heed international mood music and cut lenders some slack at a Sunday meeting.
The analysts describe the rest of the European banking sector as looking "close to fully priced" following a post-Brexit-vote share-price recovery. They noted that the sector has risen by 16% since early August.
"That said, if Basel takes a step back, names which have yet to meet 'go to' CET1 levels and/or where dividend guidance is debated, could see positive share price reactions," said the analysts, naming the three banking stocks.
Santander had a fully loaded common equity Tier One ratio - a key determinant of a bank's financial strength - of 10.36% as of the end of its second quarter; UniCredit's was 10.33%; and BBVA's 10.71%.
Basel regulators will be discussing how far banks are meeting their pending Basel III requirements as well as proposals regarding the introduction of a standardized system for how lenders assess risk, or so-called Basel IV.
International jurisdictions are divided about the plan, with policymakers in Switzerland, Australia and the U.S. in favor of it, but some EU nations, including Germany and Denmark "up in arms and doing their best to circumvent and delay it," said Gibson, Dunn & Crutcher lawyer Tom Budd, who is co-chairman of the firm's global finance group.
"They view their own banks as being disadvantaged by the rules," he said.
"There is an inherent tension between the discussion about whether the sane way of proceeding is to have banks calculating their own risk, and the incentive for banks to come up with something that maximizes their capacity to do business."
Credit Suisse expects Basel regulators may decide two key elements of the proposed risk assessment rules need more work.
The new rules are expected to be agreed upon by year end, though the analysts said so-call output floors "could be delayed to 2017, given little political appetite to implement (EU, Canada, Japan) and a need to finalise proposals, which should serve as 'a base' when setting the floor."
World leaders including EC President Jean-Claude Juncker and EU Council President Donald Tusk have joined a mounting chorus of calls for regulatory leeway for the banking sector.
The European Banking Federation has argued that the Basel IV plans pose a threat to economic growth and will vastly increase banks' regulatory capital requirements.
All three banking stocks were down on Friday. Santander and BBVA were both down 0.9% at €4.19 ($4.70) and €5.17, respectively at the end of the trading day in Europe; UniCredit was down 1.7% at €2.34.