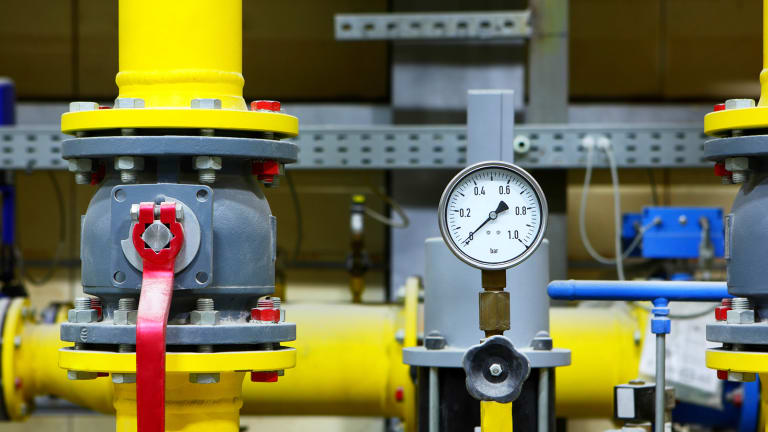 Credit Suisse Downgrades CenterPoint on Strategic Review Woes
Analysts feel the company might begin to lag midstream energy companies as the stock has outperformed these players during the past year, and a delayed asset sale process isn't helping.
Credit Suisse analysts have downgraded the stock of natural gas and electric utility provider CenterPoint Energy (CNP) - Get CenterPoint Energy, Inc. (CNP) Stock Price, News, Buy or Sell Rating Report following the company's third quarter earnings beat. 
Despite posting adjusted third quarter earnings of $177 million, or 41 cents per diluted share, on revenues of $1.9 billion, Credit Suisse' John Edwards says the company's strategic review for its stake in Enable Midstream Partners (ENBL) - Get Enable Midstream Partners LP Report could experience further delay. 
Edwards also sees the potential for mean reversion given that CenterPoint has significantly outperformed master limited partnerships over the past year. 
Still, the analyst warned in a Tuesday, Nov. 8, research note that a Democrat sweep or split U.S. election outcome could result in tightening regulatory requirements on midstream energy companies relative to utilities like CNP, causing the latter to perform in line with midstream companies or better. 
Also, Edwards said the firm's price target for CenterPoint's stock, which was trading down a fraction of a percent to around $23.50 by 11 a.m. Tuesday, has been raised $1 to $25 per share based on a generous 20 times the company's projected 2017 earnings per share. But together with the dividend, which was at about 25 cents per share at the end of October, the total return on the company equates to about 10%, according to Credit Suisse' calculations, meaning the stock would significantly lag the firm's coverage. 
In the event that OPEC does not come to a production cut agreement, and oil prices tumble as expected in this outcome, Edwards admits CenterPoint will outperform the midstream stocks in Credit Suisse' coverage universe. 
The analyst also contends that utility company valuations could continue to move higher relative to those of midstream companies despite surging multiples on utilities in recent years. 
CenterPoint, an electric and natural gas utility serving several markets in Arkansas, Louisiana, Minnesota, Mississippi, Oklahoma, and Texas, beat EPS estimates for the third quarter by about 15% on Friday, according to Credit Suisse. 
Management narrowed earnings guidance for 2016 from between $1.12 and $1.20 per share to between $1.16 and $1.20 per share and reiterated its 4-5% EPS and dividend growth rate through 2018.