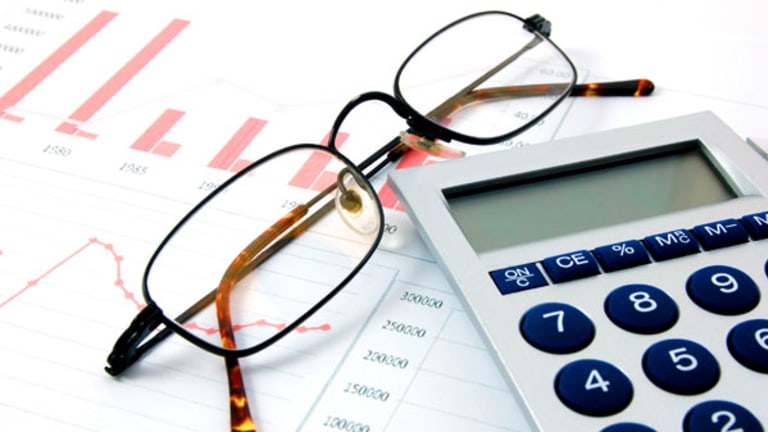 Cramer's Take on Headline Stocks: Feb. 10
Here's what Jim Cramer's had to say lately about stocks in the news.
NEW YORK (Stockpickr) -- Regardless of why a stock is in the news, it never hurts to hear what a professional investor has to say about it. The key is to gather as much information as you can in order to make the most informed investment decisions you can. As Jim Cramer (read an excerpt from his new book here) often reminds, investors must do their homework.
So what has Cramer had to say lately about today's headline-makers? At Stockpickr, we've combed through his recent
RealMoney
blog posts, "Mad Money" TV show recaps and "Stop Trading!" segments to find out
what he thinks about some of today's newsworthy stocks
.
Google
(GOOG) - Get Free Report
:
to provide high-speed broadband service that the company says will "deliver Internet speeds more than 100 times faster than what most American have access to today."
In his Jan. 21
segment, Cramer said he'd lowered his price target on Google because of China but "all the growth metrics are there." He didn't recommend "backing up the truck" but said he'd "do a little buying."
American International Group
(AIG) - Get Free Report
:
its Alico life-insurance unit to
MetLife
(MET) - Get Free Report
for about $15 billion.
In a Feb. 8 post to his
RealMoney
blog,
:
"American International Group ) is back in the news today, courtesy of the
New York Times
and its endless pursuit of
Goldman Sachs
(GS) - Get Free Report
for exercising its contractual right to its collateral and its payoff. Somehow these contracts aren't supposed to hold up. I'll call it the
New York Times
rule: If you are smart and rich, you are not entitled to your proceeds and your contracts are meaningless.
"Having studied contract law at law school, and having been involved with and chronicled numerous contract disputes in my time, I am not familiar with the New York Times doctrine, but Congress is, so AIG stays in the news.
"Meanwhile, the stock continues to go down, as the short squeeze appears to be ending and the reality of endless promises of profit are running up against a hideous reality: The profit doesn't belong to the shareholders, it belongs to the government, which should have put the company into bankruptcy but didn't want to because that would have breached contracts. Alas, that's when the
New York Times
doctrine would have been legal, because bankruptcy law does abrogate contracts.
"I have said from the beginning that AIG's stock is worthless, kind of a less brain-dead
Fannie Mae
undefined
/
Freddie Mac
undefined
because it has numerous CEOs who refuse to acknowledge the realities of the real debt the government owes, a debt that would be extinguished only if AIG is able to sell itself for about $180 billion. Given that the market cap is $15 billion, that would be colossal overpay. Where is Ken Lewis when you need him?
"I am not sure why this reality is dawning on shareholders now. It could be because the game of bust-the-shorts seems to have run its course. It could be because Robert Benmosche seems to understand now the realities of running a company that is actually bankrupt, but needs to maintain the fiction of solvency to keep the Times doctrine from being legitimately exercised.
"To me, you are still getting a terrific opportunity to sell, as the government should have done when the stock was at $40. But that would have required an actual knowledgeable person in government, knowledgeable about how the stock market works. Maybe the same people who botched the
Citigroup
(C) - Get Free Report
sale are running the books on AIG! True buy-and-hold gone bad!
"AIG will soon be selling off some more assets, and it continues to get ridiculously bad press for giving out bonuses that would have been equal to what Lloyd Blankfein at Goldman Sachs would have gotten, no doubt because he would have run afoul of the New York Times corollary, which says it is better to be Dick Fuld running a bank into the ground, than to be Blankfein saving a bank. The rationale, of course, is obvious: Blankfein broke the original New York Times rule, so the heat must stay on.
"My conclusion: This one still isn't worth buying. Maybe when it gets to the price of
Sirius
(SIRI) - Get Free Report
, we would have to take a hard look at the value."
Citigroup
(C) - Get Free Report
: Goldman resumed
with a neutral rating, stating that Citi's "'trade to tangible book' looks tempting.'"
On Feb. 3,
to his blog:
"Don't look now, but Citigroup's slowly but surely moving up. The question is, why?
"Some theories:
"First, you are starting to read stories about their international businesses which are very strong -- check out the Mexico piece in this morning's Journal.
"Second, they still have assets to sell every time you look. Rather amazing what a hodgepodge there was here.
"Third, somehow Citigroup, with the Volcker rule, has fallen off the radar screen. It's just not picked on.
"Finally, technically the stock held. Last night I got a call on the stock, someone who wanted to dump it. I told them that's nonsensical. The stock's been through hell -- it's coming out of it.
"Is it cheap? Certainly not as cheap as Goldman,
JPMorgan
(JPM) - Get Free Report
or
Bank of America
(BAC) - Get Free Report
. But it's got huge leverage, and when the Citigroup Holdings becomes just an asterisk, you will see real earnings power.
"The stock acts well. It just lacks sponsorship. I believe its second dip down to the level of the big offering and the subsequent creep up signals that you have a solid call on a solid turn in the banking biz."
For more of what Cramer's had to say lately about stocks in the news, check out the
portfolio.
RELATED LINKS:
>>2010 Large-Cap Short Squeeze Opportunities
>>Must-See Charts: Ralcorp, Del Monte Foods
Follow Stockpickr on
and become a fan on
Facebook.
Stockpickr is a wholly owned subsidiary of TheStreet.com.
(Editor's note: At the time of publication, Cramer owned Bank of America, JPMorgan, Goldman Sachs for his Action Alerts PLUS charitable trust.)