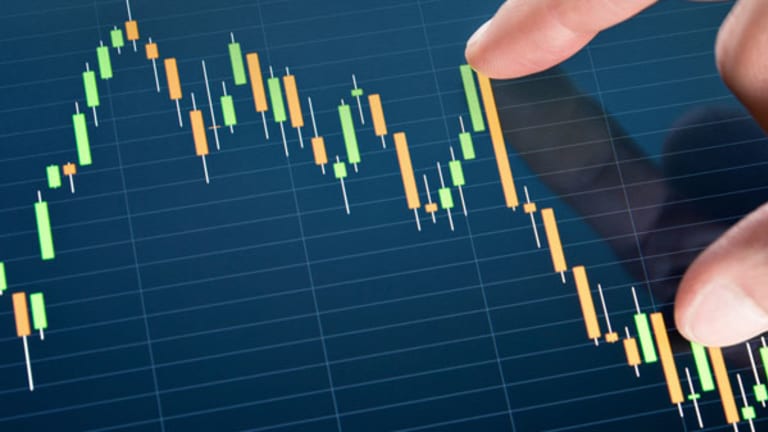 Publish date:
Cramer's Take on Headline Stocks: Dec. 7
Here's what Jim Cramer's had to say about stocks in the news lately.
Here's what Jim Cramer's had to say about stocks in the news lately.
Not a Stockpickr member? Join the community today -- for free.
NEW YORK (
) -- Regardless of why a stock is in the news, it never hurts to hear what a professional investor has to say about it. The key is to gather as much information as you can in order to make the most informed investment decisions you can. As Jim Cramer often reminds, investors must do their homework.
So what has Cramer had to say lately about today's headline-makers? At Stockpickr, we've combed through his recent
RealMoney
blog posts, "Mad Money" TV show recaps and "Stop Trading!" segments to find out
what he thinks about some of today's newsworthy stocks
.
Apple
(AAPL) - Get Report
: Apple has confirmed that it
, a digital music service, but did not disclose its fee. The move could increase the revenue Apple receives from digital music.
In a Dec. 4
, Cramer wrote that "anyone who bought when the market is up is now freaking out, and there's nothing worse than a market that opens higher and reverses." He said the "keys here" are Apple,
Google
(GOOG) - Get Report
and
Amazon
(AMZN) - Get Report
, which he said "whould be hammered as sources of funds by frantic hedge funds."
Later that day, Cramer wrote in
:
"Good to see that the old playbook still works when we see our first proof of life coming out of a recession: We buy tech. It's a simple, knee-jerk formula: We buy cyclical tech --
Hewlett-Packard
(HPQ) - Get Report
,
Intel
(INTC) - Get Report
,
Microsoft
(MSFT) - Get Report
,
Broadcom
,
Seagate
(STX) - Get Report
,
Western Digital
(WDC) - Get Report
Cree
(CREE) - Get Report
,
Oracle
(ORCL) - Get Report
,
Cypress Semi
(CY) - Get Report
. The usual suspects. We circle back to the nonsecular growers and momentarily abandon Amazon, Apple and Google.
"I think that opportunities exist in both because the numbers are too low for both, but I like the reassurance that the one area in which nobody fears the
Fed
is tech."
Suntech Power
(STP)
: Barclays
upgraded its rating on Suntech
and two other solar companies,
Sunpower
(SPWRA)
and
JA Solar
(JASO)
, to overweight. It boosted its price target on Suntech to $20 and its 2010 EPS estimate for the company to 80 cents, vs. the 66-cent consensus.
On his Nov. 19
segment, Cramer told viewers to stay away from Suntech Power. "No way," he said. "I don't want you to own this stock."
Amazon
(AMZN) - Get Report
: An Amazon spokesperson has stated that the company
, responding to rumors that it intended to do so in Britain.
On his Dec. 2
, Cramer said he saw potential for Amazon to rise another 70-plus points, even though it was already up 245% for the year at the time of the show. He cited an earlier move, in the year between April 1998 and April 1999, when Amazon gained 1,449%.
On Dec. 3 on his
segment, he told viewers to own Google, Amazon and Apple.
Kimberly-Clark
(KMB) - Get Report
:
TheStreet's
Jake Lynch highlighted Kimberly-Clark as a
dividend-paying stock to own in 2010
, citing such things as the 41% increase in its third-quarter profit despite declining revenue, its 3% average annual increase in share price over the past 10 years, and its six buying ratings and 11 hold ratings out of 17 analysts who cover the stock.
In a Nov. 24
, Cramer wrote:
"Yesterday I
that
Verizon
(VZ) - Get Report
and
AT&T
(T) - Get Report
are moving up. It is happening again today. That feels definitely like a yield-grab. The master limited partnerships are all up substantially, more yield-grabbing.
Altria
(MO) - Get Report
didn't get hit on that tobacco lawsuit loss. Usually that would cause it to drop significantly. Seems like a yield-grab to me. Kimberly-Clark has roared here, more yield grab. What's great about these is that you are not lowering quality in any of these cases when you reach for yield -- the total opposite of what's happening in the bond market."
Cramer again recommended Kimberly-Clark as a dividend play on his
"Mad Money" show
on Nov. 30, saying it benefited from lower input costs and a weakening dollar.
For more of what Cramer's had to say lately about stocks in the news, check out the
portfolio.
(Editor's note: At the time of publication, Cramer owned Altria for his Action Alerts PLUS charitable trust.)
Stockpickr is a wholly owned subsidiary of TheStreet.com.