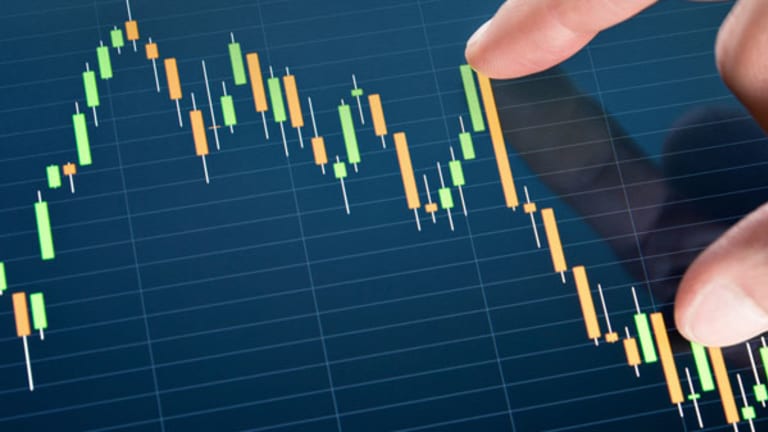 Cramer's Take on Headline Stocks: Aug. 26
Here's what Jim Cramer's had to say lately about stocks in the news.
Here's what Jim Cramer's had to say lately about stocks in the news.
Not a Stockpickr member? Join the community today -- for free.
NEW YORK (
) -- Regardless of why a stock is in the news, it never hurts to hear what a professional investor has to say about it. The key is to gather as much information as you can in order to make the most informed investment decisions you can. As Jim Cramer often reminds, investors must do their homework.
So what has Cramer had to say lately about today's headline-makers? At Stockpickr, we've combed through his recent
RealMoney
blog posts, "Mad Money" TV show recaps and "Stop Trading!" segments to find out
what he thinks about some of today's newsworthy stocks
.
AIG
(AIG) - Get Report
: A unit of AIG based in the Philippines has
in rival
Ayala Life Assurance
.
In an
Aug. 20 post to his RealMoney blog
, Cramer wrote:
"I want to believe that AIG can one day repay the government. The pledge new CEO Robert Benmosche gave us today says that AIG deserves to sell at a
much
higher price because it will not be run as a runoff concern.
"Given that about half the shareholder base is short and that you are still dealing with a stock that is under $2 from when it split, I cannot see how this stock can be stopped here given that Benmosche is the real deal, an executive that led
MetLife
(MET) - Get Report
in a conservative way. But I have to tell you I am deeply suspicious of these claims."
Dollar Tree
(DLTR) - Get Report
: Dollar Tree reported
of $65.9 million, or 63 cents a share, up from $37.6 million in the same quarter last year and above the 54 cents a share expected by analysts.
On
, Cramer said that retail stocks are going up across the board, from Dollar Tree and
Family Dollar
(FDO)
to higher-end companies such as
Williams Sonoma
(WSM) - Get Report
, which he said "can't be going up if people are in a recession."
Toll Brothers
(TOL) - Get Report
: Homebuilders such as Toll Brothers rose on Wednesday after the Commerce Department announced that U.S.
for the fourth straight month, by 9.6%. Toll Brothers closed up 83 cents, or 3.7%, at $23.14.
In a
, Cramer wrote:
"What do you buy when housing prices are going up but rates are stable? Do you buy Toll Brothers?
Lennar
(LEN) - Get Report
? How about
Hovnanian
(HOV) - Get Report
? Who owns the most homes, isn't that what you want, someone who is the biggest homeowner?
"OK, I have three of them:
Wells Fargo
(WFC) - Get Report
courtesy of the reckless lending of
Golden West
, with that ridiculous "pick and no pay" plan;
Bank of America
(BAC) - Get Report
, courtesy of its
Countrywide
acquisition, which was awful and has been a huge drag to the company but is now a drag no longer; and
JPMorgan
(JPM) - Get Report
, where it looks like Jamie Dimon bought the stupendously horrible
Washington Mutual
and wrote the home portfolio right about to where it was before the index bottomed.
"Now these banks should trade as proxies of the house price index because of their vast repository of foreclosed properties. I knew when I called this bottom in housing we would get to a moment when OREO -- Other Real Estate Owned --would be worth more than what it's on the books for, and that moment's coming. What was a horrible drag will become a wonderful opportunity, and it is now going to be happening;
"No, that does not mean a lot of the toxic residential mortgage bonds will come back to life. That's because we now know there were so much fraud in the mortgage process that the stuff's often worthless. Frankly, it's criminal. But those who own the whole mortgages -- Wells, JPMorgan and BofA -- it's a windfall going forward. And eventually people will think like that. Not yet. They will be pulled in kicking and screaming. But it will happen.
"Which is why these three are not done going up. Maybe not by a long shot. You should hope the whole market comes down for a chance to buy these three before the big mark-up comes starting tomorrow."
-- Written by Rebecca Corvino in New York.
For more of what Cramer's had to say about newsworthy stocks, check out the
portfolio on Stockpickr.
Register for Stockpickr today!
(Editor's note: At the time of publication, Cramer owned JPMorgan, Bank of America and Wells Fargo for his Action Alerts PLUS charitable trust.)