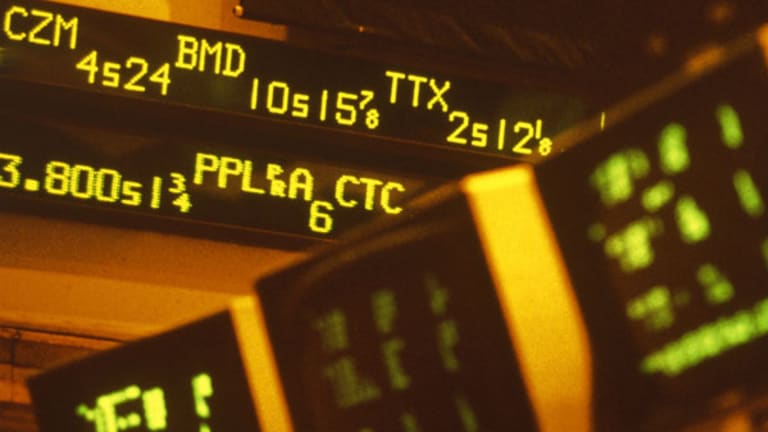 Cramer's Take on Headline Stocks: Aug. 20
Here's what Jim Cramer's had to say lately about stocks in the news, including Buckle and Google.
Here's what Jim Cramer's had to say lately about stocks in the news, including Buckle and Google.
Not a Stockpickr member? Join the community today -- for free.
NEW YORK (
) -- Regardless of why a stock is in the news, it never hurts to hear what a professional investor has to say about it. The key is to gather as much information as you can in order to make the most informed investment decisions you can. As Jim Cramer often reminds, investors must do their homework.
So
what has Cramer had to say lately
about today's headline-makers? At Stockpickr, we've combed through his recent
RealMoney
blog posts, "Mad Money" TV show recaps and "Stop Trading!" segments to find out what he thinks about some of today's newsworthy stocks.
Sears
(SHLD)
: Sears
lost $94 million, or 79 cents a share
, in the second quarter, down from a profit of $65 million, or 50 cents a share, in the same quarter last year.
In a
video filmed today
, Cramer said that Sears could turn itself around with new management. At the right price, he said, the stock is a buy.
Buckle
(BKE) - Get Report
: Buckle
earned $25 million, or 54 cents a share
, in the second quarter, up 12% from the year-ago quarter's $22.3 million and a couple of cents above analysts' expectations for 52 cents a share.
On
Aug. 3's "Lightning Round" segment
, Cramer called Buckle the "strongest retailer in the show" and said he'd buy it at current prices. "That's a superior retailer," he said.
NetApp
(NTAP) - Get Report
: NetApp's first-quarter profit fell 4% from the year-ago quarter to $838 million but
of $828.3 million.
In a July 28
, Cramer worte that
SPSS'
(SPSS)
acquisition by
IBM
(IBM) - Get Report
reminds me of
Data Domain
(DDUP)
and how Netapp is still out there, doing better than expected but too cheap to stay independent.
And on July 10, he said on
that NetApp "is a winner" and its "business is on fire." He also liked
EMC
(EMC)
.
Google
(GOOG) - Get Report
: Goldman Sachs analyst James Mitchell has added
Google to the firm's Conviction Buy list
based on anticipated sales growth.
On
, Cramer included Google in his Mobile Internet Index. The 21 stocks in the index -- including
Apple
(AAPL) - Get Report
,
Research In Motion
(RIMM)
and
Tellabs
(TLAB)
-- are part of the trend toward smartphones and mobile Internet, which Cramer calls the Mobile Internet Tsunami.
In an
, Cramer wrote:
"At last, a test, a test of the futures! That's what we have been looking for, one of these gigantic down openings like the old days, where it goes down and you stand there and you get pounded. That's what the market was, basically, from the top of 2007 until March -- a series of days where you came in and the futures were down so much that you knew they were going to go lower, except for the people who shorted it the night before and were taking profits.
"Welcome home, bears!
"This test could be unlike any other for a while. The decline is so swift that there probably aren't many shorts on at all. I can imagine a few hours where those hungry for performance on the long side let it come in before they go back to work buying. They are not deterred by a selloff based on copper and oil, because they are not the hedge fund buyers of old. This is no longer an Atticus market, where 20 key stocks control everything. There are other areas that can go up even if copper and oil go down!
"The reason I say it is a test is that every selloff from 2007 until March of 2009 stirred more selling. That's how we would get into oversold territories of unseen levels. But ever since the March lows, the selloffs have brought out the buyers. We haven't gotten oversold.
"Will it be different?
"I let the stocks tell me. Specifically, I am watching
Citigroup
(C) - Get Report
,
Bank of America
(BAC) - Get Report
, Google, Apple,
Intel
(INTC) - Get Report
Conoco
(COP) - Get Report
,
Occidental
(OXY) - Get Report
,
Medco Health
(MHS)
,
Express Scripts
(ESRX)
and
Colgate
(CL) - Get Report
. All had been acting great on up days and not so badly on down days. If they change patterns and get hit hard, then maybe something serious is upon us.
"Otherwise, 3% to 5% decline ahead. But I don't think more than that."
For more of Cramer's take on stocks in the news, including
Wells Fargo
(WFC) - Get Report
and
Disney
(DIS) - Get Report
, check out the
at Stockpickr.com.
Become a Stockpickr member today!
-- Written by Rebecca Corvino in New York.
(Editor's note: At the time of publication, Cramer owned Bank of America for his Action Alerts PLUS charitable trust.)