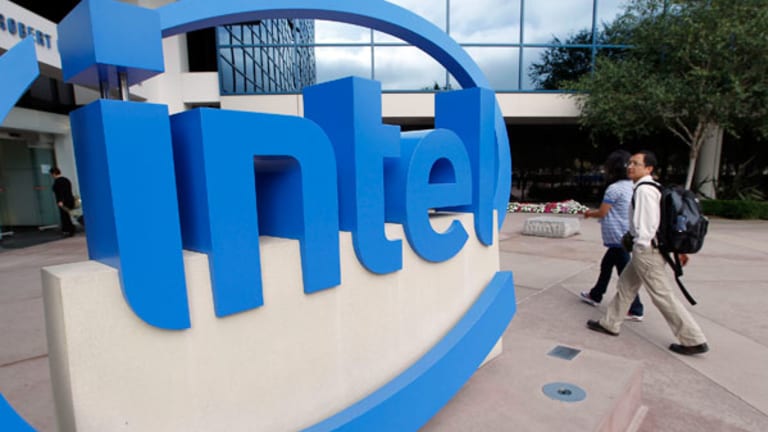 This is the first of three articles by Jim Cramer on the outlook for the 30 stocks in the Dow Jones Industrial Average this year.
NEW YORK (TheStreet) -- Now that 2014 is in the record books with the Dow gaining about 10%, we can't rest on those laurels. We have to figure out where it could go in 2015.
Lots of prognosticators like to predict gains or losses for the index by using top-down analysis chiefly trying to determine what the S&P 500's earnings will be for the year and then assuming a price-to-earnings multiple to go on that number.
I always prefer a bottom-up analysis because I find it far more rigorous. Unfortunately, there are way too many components in the S&P 500 to do that kind of computation. So, I like to default to the Dow Jones Industrials because then you can spend more time noodling on each company's earnings power and how each company may fare in 2015.
Now, I am willing to stipulate that there are inherent limitations in this kind of examination beyond the small sampling of 30 big-capitalization stocks. First, the S&P 500, which finished up 12%, was helped immensely by performances of the utilities and the transports, both of which rallied about 24% for the year. Neither, of course, is represented in the Dow Jones Industrial Average.

Healthcare stocks rallied 23% in aggregate and they are relatively underrepresented in the Industrials. Plus, there were 16 changes in the S&P 500 in 2014, almost all of which amounted to some additional performance, including several takeovers for big gains. The Dow didn't include any changes in 2014 and most of the stocks in the index are way too big to be taken over. 
That said, the index still resonates with investors and the work and thinking behind the prognostications -- including the multiple analyses required on how much we will pay for those earnings on a stock-by-stock basis -- can extend beyond just the Industrials, well into S&P 500 territory, so the exercise can be rewarding beyond these 30 stocks. 
So without further ado, let's tackle the prospects of each member beginning with the best performers of 2014 and going right to the Dogs of the Dow, who really injured the performance overall and helped pull the Dow down to a 16x price-to-earnings multiple vs. the 18x of the S&P 500.
And, if you stay tuned until the end, you can find out how these components' gains and losses all add up to the ultimate forecast for the close of the Dow next year at this time.
1. First up, semiconductor king Intel (INTC) - Get Intel Corporation (INTC) Report with a miraculous gain of 39% in 2014. Intel benefitted from a definitive -- and entirely unexpected -- positive turn in personal computers as well as a cut in capital expenditures and a rationalizing of its ill-fated communications chip business.
While CEO Bryan Krzanich didn't have anything to do with the turn in personal computers, he has truly shaken up the undisciplined spend culture and sacrificed a division that simply was a huge waste of resources. It doesn't hurt that the humble Krzanich is hugely underestimated. It also isn't insignificant that so many analysts had written this company off coming into the year. I think personal computers will only do better in 2015 and that the $2.25 a share the Street's expecting will turn out to be low. Intel will deliver.
Also, don't forget, at one point AMD (AMD) - Get Advanced Micro Devices, Inc. Report was a legitimate challenger to Intel, but it's much more on the ropes as we enter 2015 and it is almost a non-factor as a  competitor, the worst AMD's fared in the 25 years that I have followed the microprocessor industry. So, let's say Intel earns $2.50 in 2015 on a continued pickup in personal computer growth and a wind-down of communications expenses as well as a completion of some big capital expenditures.
I think that Intel will, with those characteristics, at last get a market multiple, something its currently 200 basis points shy of. You can expect to see the stock trade up to $45, a nice 35% advance from $36, almost as good as the previous year. ($36-$45)
2. United Health (UNH) - Get UnitedHealth Group Incorporated Report rallied 34% last year and I don't think it's done by any means. The Street's using $5.64 and giving it about a 17x multiple. I have issues both with the earnings and the multiple. If we believe that job growth, a key part of United Health's earnings, continues in the strong pace we saw at year's end, and we get a more aggressive enrollment courtesy the Affordable Care Act, we could be looking at $6 in earnings power.
Don't forget that United Health and the other health cost containers really took a major part in the writing of the Act, something we didn't really understand until 2014. How can you not give United Health a higher multiple than the S&P given that advance in earnings? Doesn't a 20x multiple seem more realistic given the sustainability of the progress here?
That gives me a target of $120, an increase of 20% over the current price and I think that's a conservative earnings improvement and makes for a terrific investment for 2015. ($100 to $120)
3. Home Depot (HD) - Get Home Depot, Inc. (HD) Report gets a big price-to-earnings ratio these days, 23x as of last week. Wowza, that's huge! At first glance it seems fully valued on a $4.50 a share estimate. But there's something really big going on here with Home Depot.
First, the share count keeps going down, 100 million shares taken out in the last year alone. It is hard to believe, given that Home Depot had to slog through the Great Recession, but this company has retired one-third of its shares in the last seven years, a substantial boost to earnings. That comes easily to the company because it isn't expanding, having added only a handful of stores to its 2,266 store count. It's spending a great deal on its omnichannel, which is producing a good return. But mainly Home Depot just spews cash.
But far more important for the company's sales is the excellent shape of the customer in a world where I expect gasoline to decline to $2 nationwide and the heating bills this winter to plummet to almost half, nationally, of what we saw last year. That's a truly monumental increase in purchasing power. I also can't expect that the paucity of home building can stay at these recessionary levels. We built only 1 million new homes in 2014, half of what we built in 2005, even as we have grown from 295 million to 317 million citizens in that time period.
The lower number is unsustainable given the better household formation numbers, despite credit issues that dog the industry, including the difficulty of obtaining a mortgage if you can't put down more than 20% and the lengthy paperwork that knocks out a lot of buyers. Plus, banks don't make much on these mortgages as they can't afford to keep them on the balance sheet, even as affordability has been growing of late because of lower rates.
It's also become a nightmare, legally, for a bank to underwrite a mortgage. Any mistake makes the banks fall prey to tough regulators. I think a combination of bad credit termination -- the federal government doesn't allow banks to factor in previous personal bankruptcies and late payments after seven years, courtesy the Federal Fair Credit Reporting Act, so far more buyers should be eligible each year that we put the Great Recession behind us -- improving consumer confidence via lower gasoline prices and better job growth will bring that stalled home-build figure up, perhaps dramatically and that will be huge for Home Depot. That's why I believe that the $4.50 estimate for this company's 2015 earnings could be way low.
How much? I believe that HD has $5 in earnings power and should get an even higher price-to-earnings multiple because of its domestic pure play nature -- heaven knows we need more of those -- say 24x, adding up to a $144 price target, a nice boost from its current $103 price tag. With an almost 40% potential increase, it should again be one of the best-performing stocks in the Dow. $103-$144.
4. Hard to imagine that the recently-stalled Microsoft (MSFT) - Get Microsoft Corporation (MSFT) Report will stay that way very long despite the fact that it was up 24% last year. That's because, not only does it have the same new personal computer cycle going for it that Intel has, it also has a CEO, Satya Nadella, who has no sacred cows, including any in the turn shed left by Steve Ballmer and a CFO, Amy Hood, who has relentlessly called for bold moves.
Could this be the year that Xbox gets spun out? Could it be the year of a gigantic dividend boost? Could it be a year of earnings acceleration or at least a higher multiple because of its more cloud-based orientation? Maybe a little bit of all three? The Street's looking for $2.81, but Microsoft is suddenly given to upside surprises. Let's say it can deliver $3. It already has a 2.67% yield. I suspect a nice-sized dividend boost, which would be terrific vs. a 2% 10-year. It still has a below-market multiple of 16.6x. I say take it to a market multiple and you get a $54 stock, a not too shabby 15% gain vs. its current $47 price tag. $47-$54.
5. It's hard to believe that Cisco (CSCO) - Get Cisco Systems, Inc. Report gained 23% last year as it seems like it has done very little, but it came into the year very depressed and it left with a terrific amount of hope. But Cisco needs a bit of a worldwide recovery to keep the momentum going, even as it has a kick-butt product cycle and lots of strong prospects.
The Street's looking for $2.14 and I think $2.20 is more in the cards, but more important is the idea that this high-quality company should stay at a 13x forward multiple seems way too stingy. How about 15x? Still a discount to the market multiple as a recognition that there's been a lot of disappointment here, but more commonsensical than the huge disparity between this company and the rest of tech, let alone the other members of the S&P 500. That would give you a $33 number off of a $27 basis, a reasonable 22% gain. $27-$33.
6. It's hard to see how Disney (DIS) - Get Walt Disney Company Report can improve on its stellar 23% gain last year, but it's got a lot of draws going in, including the new Star Wars payoff at year's end. Besides Star Wars, Disney has two Pixar and two Marvel movies in the hopper for 2015 and its ESPN unit starts off with some darned good numbers from the NCAA bowl championship football games.
The difficulty here will be the compares against "Frozen," which was a monumental hit. But cheaper gasoline could drive higher attendance to theme parks, even as management on the last conference call threw some cold water on that assumption. I think this mosaic will see Disney earn $5, or more, if the buyback gets more aggressive, and you get a point of multiple expansion, putting the year-end target at $105, a nice 13% improvement. Not as strong as last year's gain, but how can you possibly deliver another "Frozen?"
But you never know with CEO Bob Iger. He might just have another huge hit up his sleeve, like the originally unsung "Guardians of the Galaxy," a $772 million blockbuster completely out of nowhere. $93-$105
7. When Nike (NKE) - Get NIKE, Inc. (NKE) Report got all the way up to $99 after being at $79 at the end of September, ahead of its latest quarter you could feel that it might be due for a fall no matter what it reported. Sure enough, it reported a pretty solid quarter and yet it got dinged anyway, falling to the low $90s after a monster run.
I think Nike got an undeserved whacking considering the pretty strong futures numbers and a very good domestic number. I think the run's not over, aided by the continual decline of Adidas as a franchise, which can only help Nike to go higher in 2015.
The Street's calling for $3.60 in earnings and it's got a 26x multiple on those numbers. This one's very tough because two markets are at the heart of how well Nike did in 2014 -- China and Europe -- and I don't expect much of an improvement from either number. I think it will be the U.S. that provides an upside surprise, perhaps as much as $3.75, and with a slight bump of the multiple back to levels it sported before the so-called disappointment, you could see Nike trade to $101. That's not too big an advance over Nike's current price and nowhere near last year's 22% increase.
But I am concerned about continual slowdowns in both major overseas markets and, unlike last summer, no World Cup to boost the numbers. I just can't expect more than about a 6% gain in the company's shares as the blowout September quarter just gave you too much of a peek of the future for it not to be discounted for now. It just got too high for its own good and has to wait and recharge before it can rally again. $95-$101
8. Visa (V) - Get Visa Inc. Class A Report was weighed down much of this year by worries about spending overseas, particularly Russia. It turned out not to hurt the company one bit and it's winning a ton of new business in its endless tug-of-war with Mastercard (MA) - Get Mastercard Inc. (MA) Report on top of the relentless shift from paper to plastic, the real driver of this stock.
The Street's looking for a big jump in earnings, maybe as much as $10.50 a share. I think that could prove to be very conservative as Visa's been blowing away the numbers of late. Eleven bucks a share seems more reasonable. That translates into about a $286 price target, not a blockbuster considering last year's 17% gain, but you need a better worldwide economy than we have to see a bigger pickup than an 8% share gain. $265-$286
9. Is there a company more consistent than 3M (MMM) - Get 3M Company Report out there? Hard to find one, especially for an international industrial in a world that seems to be slowing pretty much everywhere. CEO Inge Thulin's company continues to shock people with its consistent organic growth and the percentage of earnings power coming from products just introduced within the last five years.
There's lots of concern here about Asian weakness, but I think that many of these emerging markets will be helped by cheaper oil in 2015 and I also believe the recently-announced dividend boost and increased share buyback bode well for continuing earnings growth. That's why I think the company could earn as much as $8 this year, a nice advance over the expected $7.50 of 2014 and a small increase in the price-to-earnings multiple allows you to arrive at a $184 target, a decent move from the current $164 price, amounting to a roughly 12% advance.
Again, it's hard to imagine a gain as good as last year's 17% because in 2014 the company continually surprised vs. what was expected off it and now estimates have finally gotten to levels that aren't easily beaten. Plus, I am concerned that a strong dollar will have a real impact on earnings here. $164-$184
10. I think this is the year that Travelers (TRV) - Get Travelers Companies, Inc. Report , one of the best-run insurance companies in the world, at last gets its due for its consistency and its excellent underwriting. Plus, it is a huge provider of small business insurance and that's a sector I think could show real growth in 2015.
Travelers has one of the biggest buybacks imaginable, taking in about 9% of its shares in the last year alone and about 50% of its outstanding stock over the past nine years. What a pace! And yet for all of that, it only gets a 10 multiple? That's pretty nuts, given that the comparables I follow give you a 12x multiple.
I know Travelers didn't blow out the numbers last go around, but it still managed to surprise for most of last year and I think it can do so again given the dearth of storms and escalating premiums in some lines of business. There's a real conservative $9.93 number out there for this year.
I know the company's investments, run by the very conservative -- and fabulous -- CEO Jay Fishman, won't be able to grow as much as we would like given the yield curve. Still, I think $10.50 is doable off of a lack of weather challenges and premium increases coupled with new business formation. To me, that means the elusive 12x price-to-earnings multiple that the inferior companies enjoy now seems reasonable for Travelers, too.
I think this one's got $130 on it, an almost 25% gain for a sleepy insurance stock. Yep, I think this stock could really be one of those that can power the averages higher in 2015. I like Travelers very much here, one of my favorite stocks for the year just begun. $105 -$130
 Part 2 tomorrow: The next 10 stocks in the Dow 30.
Action Alerts PLUS, which Cramer co-manages as a charitable trust, has no positions in the stocks mentioned.