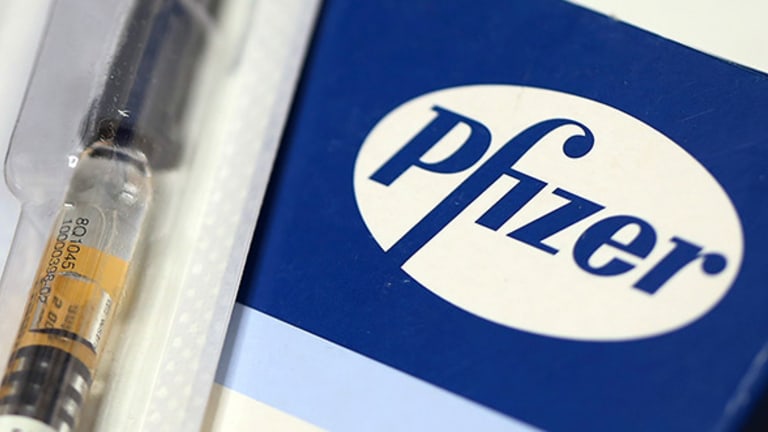 Cramer -- Why a Pfizer Merger With Allergan Makes Sense
A Pfizer-Allergan merger would be the biggest deal of the year. And TheStreet's Jim Cramer explains why it makes sense for both companies.
The following commentary was originally sent to Action Alerts PLUSsubscribers on Oct. 29, 2015, at 10:18 a.m. ET.
Pharma giants Pfizer (PFE) - Get Pfizer Inc. Report and Allergan (AGN) - Get Allergan plc Report confirmed this morning that they are in preliminary negotiations to complete a merger, after The Wall Street Journalreported on a potential tie-up last night. This would mark the largest deal of the year, if agreed upon. While talks are still reportedly in the early stages, we wanted to give subscribers a run-through of the potential -- and likelihood -- of a deal.
First of all, we see merit in the reports, in light of Pfizer's recent conference call. Management clearly stated that it is looking for a combination of pipeline, operational, and financial synergies, and would not be afraid to take bold steps in order to achieve better value for its shareholders.
As we have repeatedly mentioned, Allergan is a great company with a high-growth branded drug business, focus on R&D and immense potential -- considering the pending sale of its generics business to Teva Pharmaceuticals (TEVA) - Get Teva Pharmaceutical Industries Limited American Depositary Shares Report , which is expected to close at the beginning of next year and which will provide the company with over $30 billion in cash and a crystal-clear balance sheet.
Undoubtedly, Allergan would accelerate Pfizer's innovative growth profile and the two would generate meaningful operating synergies. That being said, we view Allergan as severely undervalued in this market, which has crushed the health care sector over the past couple of weeks. This makes a deal even more attractive, from Pfizer's perspective.
In addition, and possibly most important to U.S.-based Pfizer, a deal with Allergan would allow it to move to a more-competitive tax domicile, as Allergan is based in Ireland, which boasts low corporate tax rates.
If a deal were to occur, we would expect a management structure that combines leadership from both companies in order to minimize integration risk.
All in all, we are not surprised by the reports of a potential deal between these two companies. Allergan's pipeline and R&D efforts are at the top of its class, and its strong management team has made excellent strategic decisions, over time, to position the company as a high-growth asset.
That being said, we note that nothing has yet been made official and no potential terms have been released, although both companies have confirmed the talks are friendly. Allergan also made sure to reiterate its commitment to complete its deal with Teva. Allergan has a scheduled R&D day on Nov. 4 (next week), and we expect some heightened market focus on the company given these reports. We will be monitoring this news closely, and will be back with any additional analysis as details become available.
At the time of publication, Jim Cramer's charitable trust Action Alerts PLUS was long AGN.