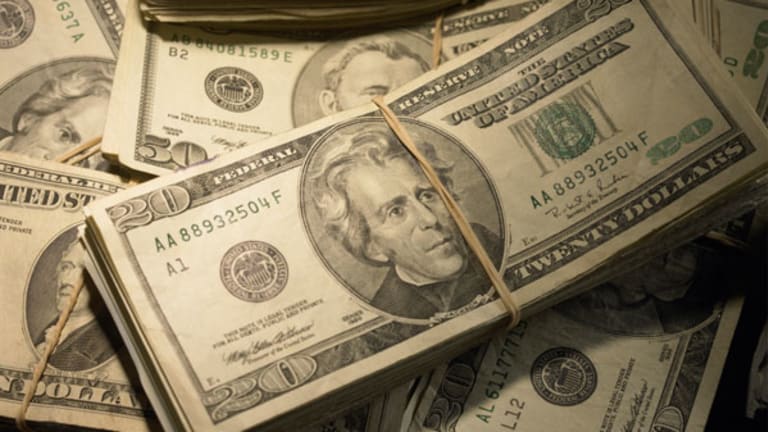 Cramer: We've Got All the Apple We Need
Until the company offers something new, there's no reason to buy more products -- or stock.
NEW YORK (
) --"How can
Apple
(AAPL) - Get Free Report
stock go down from here? Everyone I know has an iPhone."
There it is: The single most damning question that can be asked both about Apple the company and, perhaps more important, Apple the stock.
It's the inquiry that explains this stock's inability to get out of its own way despite the huge cash hoard, despite the millions and millions of iPhones sold, despite the popularity of the iPad and despite the love of the ecosystem. All of these, of course, have been extolled repeatedly by management to the total deaf ears of the gathered, beleaguered analyst community.
The reason Apple shares can't lift -- even despite what you'd consider impressive earnings if you didn't know any better -- is that everyone owns an Apple product and everyone seems to own the stock. You can't sell iPhones to people who have iPhones, unless the new iPhones are far better than the old ones -- which they aren't. You also can't sell Apple's stock to people who already have Apple stock.
Editor's Note: This article was originally published on Real Money on April 24. To see Jim Cramer's latest commentary as it's published, sign up for a free trial of Real Money.
However, you can sell
Samsung
phones to Apple iPhone users, and that's happening in increasing numbers around the globe. You can sell
Pepsico
(PEP) - Get Free Report
,
McDonald's
(MCD) - Get Free Report
and
Kimberly-Clark
(KMB) - Get Free Report
to Apple shareholders, too -- because that's what those folks should buy if they want dividends, steady growth and increasing gross margins with lessened competition and declining raw costs.
Now, I do not mean to be condescending when I write that Apple's earnings were impressive if you didn't know any better. I am simply pointing out that, if the people who own Apple's stock were to listen to the conference call, they would know exactly what I am talking about. It was a surreal call. It was as if management was giving you a liberal arts survey course on the greatness of the Apple civilization, and that the analysts were critiquing The Rise and Fall of the Apple Empire. Apple was teaching the wrong course!
This is why: As Apple prattled on about how much the people really love Apple and how Apple intends, in return, to shower them with cash, the analyst community was trying to figure out how poorly Apple really was performing. The analysts -- many of them no doubt scrawling on their iPads and listening on their iPhones -- only want to try to figure out how badly Apple is really getting trounced by Samsung. They are fixated, correctly, on gross margins, because gross margins are the giveaway as to whether Apple can continue charging more than everyone else and still be loved. The community's giving that metric a raging thumbs-down -- which is, again, why this feels more like the fall of the Roman Empire and not the rise of it.
Now, I do believe Apple can create a fixed-income floor for its stock, not unlike
Pfizer
(PFE) - Get Free Report
or Pepsico or Kimberly. But we all accept slow revenue growth from those companies in return for consistent earnings and increasing dividends. The compact requires consistent earnings, and Apple cannot give consistent earnings because it doesn't have the horses to give them.
What should have happened? Apple had needed to change the dialogue Tuesday night. It had needed to say, "Come the third quarter of this year, you will see the most exciting products ever." Or it had needed to say that it was taking the $50 billion with which it had planned to buy back stock -- as well as $20 billion of that dividend money -- and will instead use it to buy
Dish Network
(DISH) - Get Free Report
,
Sprint
(S) - Get Free Report
and
Netflix
(NFLX) - Get Free Report
and offer iTelevision by the first quarter of next year.
Only then would we
not
be owning everything Apple has to offer. Only then would the stock find new buyers. Otherwise, when it comes to Apple -- the stock and the product -- everyone has what they need already, and there's no need to have any more of either one.
At the time of publication,
, which Cramer co-manages as a charitable trust, was long AAPL.