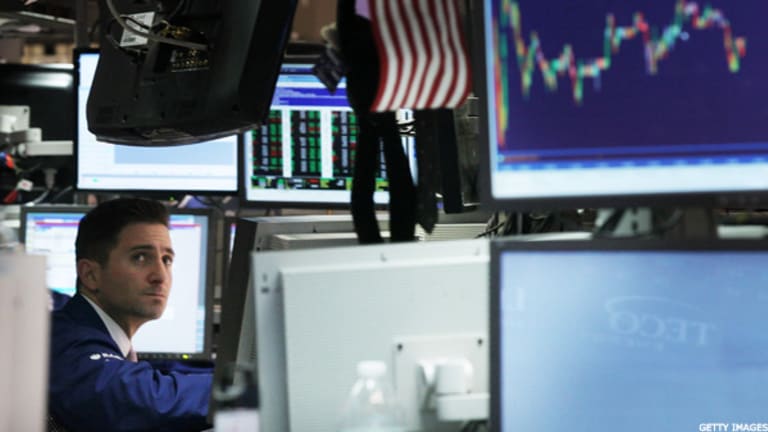 Cramer: Utter Incoherence in Retail
The consumer is very much a mixed bag -- maybe so much so that the Fed will have to put off tapering.
Editor's Note: This article was originally published at 7:08 a.m. EDT on Real Money on Aug. 21. To see Jim Cramer's latest commentary as it's published, sign up for a free trial of Real Money.
NEW YORK (
) -- If you were at all concerned about the consumer last week, last night you should have left your office scratching your head.
I have now read every single retail conference call since the start of the retail portion of earnings season. With all that information, there's really nothing -- no rhyme or reason to it -- other than to say that the consumer sure likes her home, and sure doesn't care about clothes, unless it is accessories or handbags. Even in handbags, though, they have to be of the highest quality.
How else can you explain these dichotomies? First,
Coach
(COH)
was hideous, while
Michael Kors
(KORS)
was great. Now, Coach has a lower price point and tries to portray itself as a China play. It turns out that you've got a double-edged sword here, though -- because the "sure-America-is-weak but-soon-China-will-be-important" trade doesn't look so good when the U.S. is real weak and the Chinese aren't paying up for Coach bags.
Meanwhile, even the cheapest of the Kors bags are selling well, both wholesale and in the company's own stores. Kors is a 40% grower, and that's going up against really difficult comparisons. It beat the numbers by a staggering 23%.
Fossil
(FOSL) - Get Fossil Group Inc. Report
, too -- which I regard as an expensive-accessories name, meaning it charges you a heck of a lot for its goods -- reported a terrific quarter. That stock has been on a tear.
But then we come up against
Ralph Lauren
(RL) - Get Ralph Lauren Corporation Report
, and that shortfall is totally mystifying. Really, I mean it. That one can't be explained vs. Kors unless Lauren has really lost its edge, and I haven't heard that from anywhere. Then we have that abomination from
Nordstrom
(JWN) - Get Nordstrom Inc. Report
, just when it should have delivered a surprising quarter. Yet,
Estee Lauder
(EL) - Get Estee Lauder Companies Inc. (The) Report
, a quintessential Nordstrom item, had a terrific quarter.
What the heck are we supposed to conclude?
When you go over the
Macy's
call and the less-descriptive
Wal-Mart
(WMT) - Get Walmart Inc. Report
information, you just have a depiction of the consumer in a steep slide -- although Macy's did say its back-to-school season was going well. Macy's commented on women's apparel being weak, and it didn't say negative things about housewares. Wal-Mart, though, pretty much said everything was weak.
But then, on Wednesday, we heard from
Home Depot
(HD) - Get Home Depot Inc. (The) Report
. This company has given us a category-by-category analysis, and standing out as winners are appliances -- big-ticket appliances, items you wouldn't get at either Macy's or Wal-Mart.
Best Buy
(BBY) - Get Best Buy Co. Inc. Report
, though, has a similar product portfolio, so hard goods were being bought aggressively by consumers.
TJX
(TJX) - Get TJX Companies Inc. (The) Report
had terrific numbers, but let's be clear: I thought the call-out was for its HomeGoods subsidiary. The home-goods section of Anthropologie, the high-end portion of the
Urban Outfitters
(URBN) - Get Urban Outfitters Inc. Report
chain, was also very strong. Urban's strongest unit, however, was teen apparel from Free People. It's a mixed bag but, again, strong in the home. 
So let's put it all together. It seems that the wealthy consumer is being picky and extremely fashion-conscious. The middle class and working class aren't spending on themselves as much as on their homes.
That means, to me, that the consumer overall is a mixed bag. But, for the purposes of the
Federal Reserve
, Macy's and Wal-Mart matter more than Home Depot -- and the rest, frankly, is just one big push.
Now, one thing is for certain. When lots of big money is investing in the
Merrill Lynch Retail HOLDRS ETF
(RTH) - Get VanEck Retail ETF Report
, you simply must do the opposite. This is the single most disparate, least coherent moment I have seen in owning and trading retail stocks in all my history. The RTH is by far the
worst
way to play what we see.
Most important, if someone from the Fed were to listen to these earnings calls, they would have to say, "It is way too inconclusive to start tapering stimulus in September, even though it looks pretty clear that we have the lost bond market already." Maybe that's what we need to know as we get an onslaught of Fed data -- some of which, I am sure, will be indirect conflict with this boots-on-the-ground information.
At the time of publication,
, which Cramer co-manages as a charitable trust, had no positions in the securities mentioned.