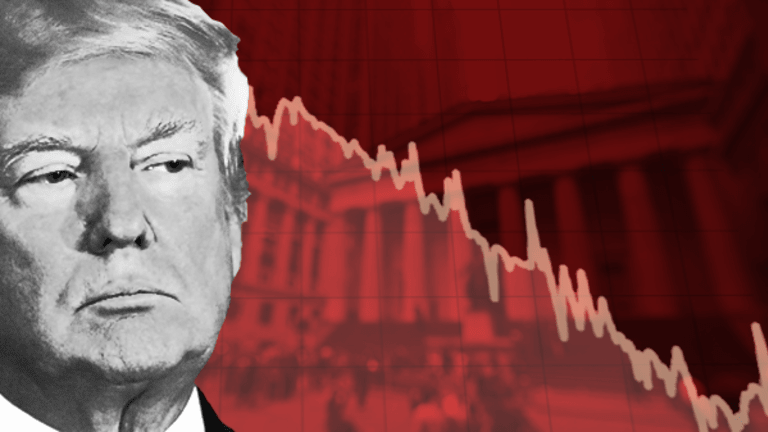 President Trump Has Become 'Something of an Albatross' to the Stock Market, Jim Cramer Says
It's no longer clear the president can pass his economic agenda, and that's hurting stocks.
Jim Cramer says President Trump is becoming "an albatross" around the stock market's neck, with the new administration's failure to pass things like tax cuts starting to weigh on equities.
"I think we've got a tough case of what I call 'Trump fatigue,'" Cramer said Wednesday in his exclusive monthly conference call for members of his Action Alerts PLUS club for investors. "Hate him or like him, Donald Trump has become something of an albatross to the stock market. ... Our stock market is not one of the great performers in the world right now, and I think it's because we are beginning to get our arms around the fact that Trump is not exactly what I would call a 'great uniter.'
"Now, [who] would have thought that with both houses of Congress and the White House dominated by Republicans that we needed a uniter?" Cramer asked. "But when you start worrying about things like debt ceilings and budget deals becoming contentious, you would think that we are back in the old 'nothing-done' universe when President Obama was in the White House. ... The stocks that are going up are going up not because of Trump, trust me on this."
For example, Cramer noted that Mizuho recently downgraded Apple (AAPL) partly amid concerns that Trump won't get Congress to cut U.S. corporate income taxes that would pave the way for the tech giant to repatriate $270 billion of overseas profits.
"Tax cuts -- we would have thought for sure they're a given, right? [And] certainly repatriation was a given," Cramer said. "[But] it's not a given any more. I don't think there is any consensus whatsoever about what will happen on income-tax cuts for corporations or for individuals."
What's Hot on TheStreet
Beware Tesla fanboys: Tesla (TSLA) is burning money, but shareholders are the likely ones to blister and feel the pain. The standard 90-day corporate equity lockup period for Tesla, following its $402.5 million stock sale of March 16, ends Thursday, TheStreet reports. As a result, Tesla will be free to conduct another stock offering as soon as Thursday, which is a real possibility given the electric car company's debt situation, partly due to its Solar City investment, and need for additional cash. Any new issuance the company may seek would likely need to take place before July, which is when Tesla issues its quarterly report on car sales. Alternatively, an offering could come in late August after Tesla issues its quarterly financial report.
Shares could start to come under pressure.
Mining stocks get whipped: Global mining stocks found themselves in a hole Thursday, TheStreet reports, after South Africa's government said at least 30% of domestic mining assets should be black-owned even if previous black owners sell their stakes. South African-exposed mining companies fell sharply in the wake of the announcement. London-listed Anglo American PLC (AAUKF) tumbled 4.4% to 1,013 pence ($23.87) a share, South32 Ltd. fell 4% to 158 pence, BHP Billiton PLC (BHP) was down 2% to 1,155 pence, Rio Tinto (RIO) fell 2% to 3,079 pence and Glencore PLC (GLNCY) fell 2.6% to 279.2 pence. South African gold producers were hit even harder. Sibanye Gold Ltd. (SBGLF) plummeted 6.7% to 1,562 South African rand ($121.38) and AngloGold Ashanti Ltd. (AU) fell 4.8% to 14,015 rand.
Amazon eyes a new prize: Amazon (AMZN) may be preparing a deal to buy Slack Technologies in a deal that could value the messaging startup group at more than $9 billion, TheStreet points out. With Microsoft's (MSFT) deal for LinkedIn being well-received, this deal seems logical for an Amazon that is aggressively expanding into the cloud.
One has to wonder, though: Why isn't Apple considering Slack, or for that matter, Twitter (TWTR) ? Each service would provide valuable insight into human behavior, which could be used in building new products and services.
Want to join in on Jim's monthly conference calls? Clickherefor a free 14-day trial subscription to Action Alerts PLUS and hear all of this month's call, plus get e-mails before Jim makes any trade and enjoy lots of other exclusive material.
Employees of TheStreet are restricted from trading individual securities.