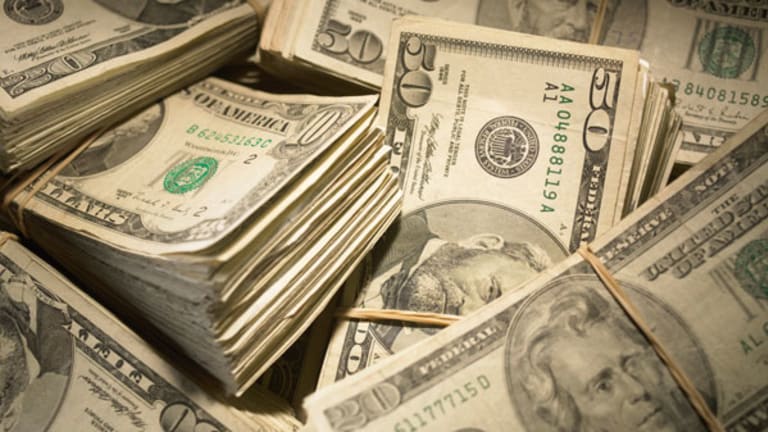 Cramer Transcript: Gold's Next Rally
Jim Cramer predicts that gold can move as high as $2,000 per ounce.
NEW YORK (TheStreet) -- Debra Borchardt interviews Jim Cramer regarding central bank easing and the impact on gold. A full transcript appears below:
Debra Borchardt:
Jim, The Bank of Japan said they were going to ease, now we have a race to debase, we have every country trying to pull down their currencies, as a result gold is going higher. How much higher can this go?
Jim Cramer:
Gold is the only currency. People say to me, "What is the one currency you can trust?" I come back and say, "Gold, because there is such a tremendous scarcity." People regard it as a precious metal. I think that's the wrong call.
If you look at something that is in incredible demand, where supply is gravely limited, there is not a lot of gold being found, particularly at these process, gold has got to go much higher before we start bringing a lot of gold out of the ground. It is a supply and demand situation.
It's not just the demand obviously from people, who are currency oriented, but it's just trying to find out where to put all this money, this liquidity and you're not getting any return in Japan.
So, I think gold is going to go to $2,000. I have urged people to invest in gold - not trade. Not the miners, but the miners can be a trade, but I don't recommend them. HSBC downgraded Royal Gold the other day, that just doesn't seem like that's a good call to downgrade it. Randgold is the place that finds the most gold at the lowest prices, I'm exceeding to...Franklin Nevada has a dividend and gets the earning streams of gold.
I'm giving these names not because I want to do them, but people always want names, the GLD is the way to play this.
Debra Borchardt:
Let me ask about the GLD. I talked to someone the other day and he said, "I'm only in physical gold because I'm concerned that with all of these central banks starting to back up and wanting to hoard their gold, hold on to their gold that there's going to be a race for physical gold and ETFs are going to be the ones left empty handed." Is that even a...
Jim Cramer:
My gold dealer says the same thing.
Debra Borchardt:
It seems hard to fathom.
Jim Cramer:
Gold dealers have always said that and I am a big believer in physical gold, but the average investor doesn't have the money to buy physical gold. I am not as suspicious of the ETFs. There is a lot of gold out there. You've got to pay up. The ETF had worked very well. That would be a first class debacle if that happened. I've been very wise to it, that's why I say, I've checked with gold dealers. I can't own things now, but the one that I always used...Jim you're crazy to recommend the GLD, but that has been the sales pitch now for years from the gold dealers and I'm not buying it.
Debra Borchardt:
That's like the gold bug doomsday scenario.
Jim Cramer:
Yeah. That's black helicopter stuff.
Disclosure: TheStreet's editorial policy prohibits staff editors, reporters and analysts from holding positions in any individual stocks.