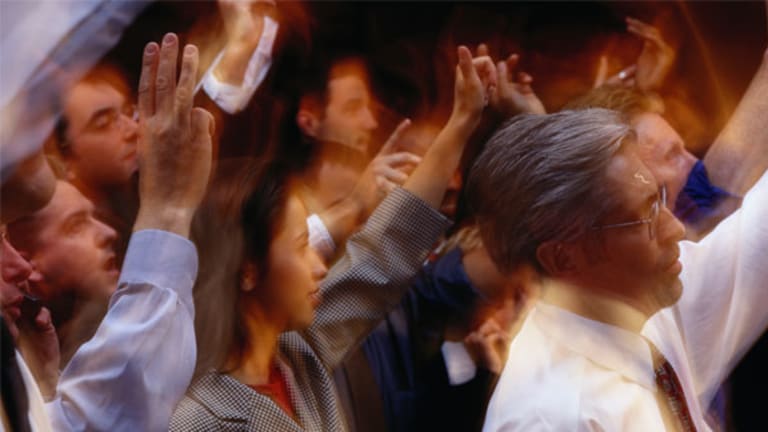 Cramer: Three Specs Powered by Lust
Amazon, Netflix and Tesla are wildly overvalued by traditional metrics -- but, for these high-quality names, that's not the point.
Amazon, Netflix and Tesla are wildly overvalued by traditional metrics -- but, for these high-quality names, that's not the point.
Editor's Note: This article was originally published at 7:50 a.m. EDT on Real Money on July 30. To see Jim Cramer's latest commentary as it's published, sign up for a free trial of Real Money.
NEW YORK (
) -- Not all stocks lend themselves to buy recommendations. Some just lend themselves to admiration, because the companies behind them are so good that no one would argue with buying their shares.
That's how I feel right now about
Amazon
(AMZN) - Get Report
,
Netflix
(NFLX) - Get Report
and
Tesla
(TSLA) - Get Report
. These three stocks defy any valuation explanation, yet they remain buyable for those who love growth at all costs -- and they all have growth at all costs.
Most stocks are valued by their price-to-earnings ratio. Others, because they are so new, get valued by a price-to-sales ratio. I am usually only comfortable putting my name on a stock as a buy if its P/E is less than 2x its growth rate. That's an arbitrary ratio but, after you have invested for 33 years, you pretty much know what your breaking point is -- and, while I have passed up on some real good stocks, this rule has kept me out of a lot of disasters.
Other times, when I recognize that growth is accelerating and profitability could be on the horizon, I might be willing to take a leap of faith and recommend the stock as a speculation. In this case I'll know that, if it falters, there won't be much to show for it. That's gutsier, and I don't like to do it, but I also know that speculating wisely has made me a lot of money. These are rule-benders, and you bend rules only with an understanding that you could get clobbered.
Finally, though, there are stocks that trade on no real moorings to any of these rules, powered higher by some invisible force or cult that can't be justified along any traditional lines. Sometimes there are whole armadas of these stocks, as there were at the time of the ticking dot-com bomb. Sometimes there are very few of them. Right now we're seeing three stocks that defy traditional valuation methods, yet are compelling as themes as -- yes -- love affairs that burn steamily. There's no real explanation here, other than pure lust for the product itself.
The stocks of Amazon, Netflix and Tesla are animal-spirited love affairs that defy traditional metrics. Lots of people were disappointed when Amazon reported last week, but for the life of me I couldn't figure out why. The company is simply continuing its build-out as the world's largest retail store. It has been going down that path since its inception, and it is expensive to dominate the world. So the quarter was status-quo. If you liked it before, you should like it after even as it has become hideously overvalued by any metric.
Netflix? You can actually make an earnings case for it if you go out far enough -- certainly much further than this year's earnings estimates, against which the stock sells at at P/E ratio of 228. Again, though, if you like Netflix and you think the world will like it, too, you can see why the stock might be cheap if everything works out, internationally. You obviously think it will because, alas, it works for you. Darn the valuation -- full speed ahead.
Tesla is, in many ways, the toughest. Unlike Amazon and Netflix, whose products are widely used, only a handful of people have test driven a Tesla auto, let alone bought one. Yet the company is valued at $16 billion, largely because its product is fascinating, it works well -- at least for now -- and it is highly rated by
Consumer Reports
. The company was able to show a level of profitability that all of the rigorous analysts out there have said is chimerical, yet this was enough to allow many of Tesla's boosters to push the stock hard.
BMW
rolled out a rival car Monday, but that only made the Tesla stalwarts more bullish -- because the comparisons, alas, did find the BMW version wanting.
Still, Tesla has a lot in common with Amazon and Netflix. The bulls foresee mass adoption of a car that will put all other automakers to shame. As long as Tesla has access to the capital markets and can tap them if it needs to do so, I don't see how this cult will run out of gas, or battery life, at least for now.
Now, if you ask me whether I like Amazon, Netflix and Tesla, I say: "Absolutely." They are the best three firms in their respective classes. In fact, they are in classes by themselves. But if you ask me whether I would buy their stocks with my
charitable trust, the answer is, "No." That's because these companies simply don't meet the criteria that has saved me so often in the past, even as it cuts off the potential future upside.
At the time of publication,
, which Cramer co-manages as a charitable trust, had no positions in the securities mentioned.