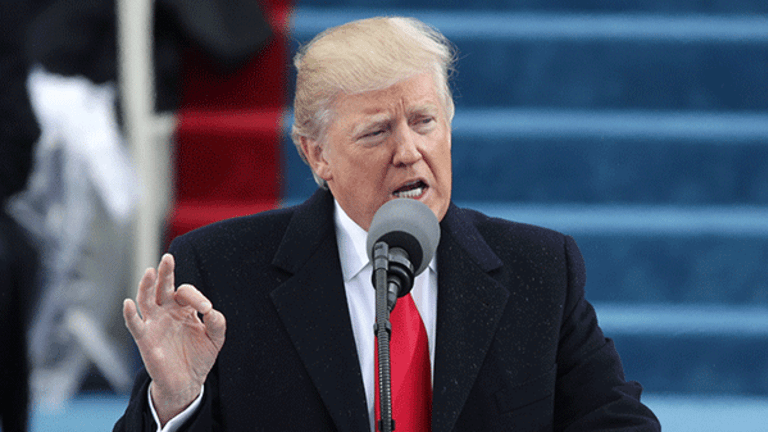 Cramer: This Rally Is for Real, With Further to Go
Half the Dow components have reported and it's their impressive results that are driving indices up.
(This column originally appeared at 3:39 p.m. ET on Real Money, our premium site for active traders. Click here to get great columns like this from Jim Cramer and other writers even earlier in the trading day.)
Is it real? Or is it on fumes? Is it justified or is it all about Trumpian alchemy?
Isn't that the dichotomy we have to flesh out on a day where the Dow Jones Average finally breaks above 20,000?
I think so. We have to examine that because if this rally, this push over Dow 20,000, is all about Trump and if Trump fails in getting his tripod wish list -- lower corporate taxes, repatriation of foreign dough and deregulation -- then we better get more signs than we have now that Trump will prevail.
Sure, he's already deregulating. When you get orders fast-tracking major pipelines, pipelines that would die in red-tape otherwise, that's deregulation at work.
But I am talking about the need to have Congress on board for the two issues that could really raise earnings per share: money coming back from overseas taxed at a low rate and less money being paid to the feds.
I know we could easily take a top-down view of things. The Dow first rallied because the Republicans had a shocking, sweeping victory so that even if Trump's an outsider, he can still get his way as he has so far for every cabinet nomination, even as the mainstream media had pretty much ruled out almost any of them being appointed. That's because the Republicans are falling into line so far. Perhaps they will fall into line on the part of the tripod they can control.
But I don't like top-down analysis. That's for people who don't want to get their hands dirty. I like to evaluate the companies in the index and, fortunately, given there are only 30 stocks in the index, it's possible to do some actual bottoms-up work. More relevant, literally half the Dow has reported since this earnings season began and what I want to do is analyze the results of those 15 companies that have helped or hindered us to get to Dow 20,000. Why is this important? I think it's because of those near misses we had in our last assault to 20,000 ... the failed assault. I felt at the time that we didn't have a call on the actual fundamentals. That it was too animal spirits, too much sizzle and not enough steak. Just a jumble of excitement.
However, this pullback created a wave of negativity that was supposed to be unleashed after the inauguration, a sell-the-news sort of thing that wizened traders like to talk about.
So far (as of Day Three of the Trump Era), it hasn't happened. But what has happened is far more important: The reports of the companies themselves, and I want to give you a short-hand analysis of half of the Dow so you can see how I believe the rally is for real and despite endless attempts in my Twitter file to claim that it's all about to go to Hades, I like what I see.
Let's just go down the list. First is American Express (AXP) - Get Free Report  , and even though the stock went down after it reported, I think that was a bad mistake by wanton sellers. When AXP was earning this much money last time, two years ago, it was in the $90s. I think that's where it is headed again, especially as it moves further away from the loss of the key Costco Wholesale (COST) - Get Free Report business. Here's a look at AXP's daily chart, courtesy of Real Money technical analyst Bruce Kamich:
Many bears figured this was the quarter where Boeing (BA) - Get Free Report would have to own up to a surfeit of wide bodies and it would have to lower numbers. Others are worried about trade sanctions. But all you could do after this quarter was worry about why you didn't own it, especially when the once-hellish Dreamliner is now a big profit center. Let's go to the chart:
That DuPont (DD) - Get Free Report could report such an amazing number in an atmosphere of intermittent growth is all about the amazing work of Ed Breen who is merging his company with Dow Chemical (DOW) - Get Free Report . I was blown away by the improvement in gross margins. This man cuts costs and grows revenue. Outstanding.
General Electric (GE) - Get Free Report plain out missed. I was disappointed in the execution and befuddled by its oil and gas moves and its turbine business had such a shortfall I think it should have been flagged intra-quarter. Don't look to this one for help to go much above Dow 20,000. A real bummer.
If Goldman Sachs (GS) - Get Free Report can report the kind of monster number it delivered when it announced earnings last week BEFORE we get deregulation and rate hikes, I can't even ponder how much it can earn in those circumstances. Yet, insanely, it trades at 12x earnings. Goldman used to get a huge premium to the group. Any lightening of regs will put this one in orbit. It can get there from rates hikes, too.
IBM (IBM) - Get Free Report traded down initially on its call and I thought that the sellers had lost their minds. IBM's becoming one of the premier consultants for digitizing your workplace while moving to the cloud. Forty percent of this company is growing like a young stud tech business. It's time to pay more, not less, for IBM. And that's exactly now what is happening. How much is more? How about $200?
I am tired of hearing that Johnson & Johnson (JNJ) - Get Free Report had a weak quarter. That's nonsense. In an environment where President Trump hadn't singled out drug companies you would be inclined to buy it. Longer term, folks should start doing so. I think the other real issue is that the company's making an acquisition of some uncertainty. But make no mistake about it, in a less-cyclical, less-Trumpian world, JNJ's a buy. Here's the stock's daily chart:
JP Morgan (JPM) - Get Free Report reported the best quarter a bank has ever reported. No, I am not kidding. On every count, lending, assets, corporate finance, trading ... it doesn't matter. You can't find a peer to this company. The absurdity of this high-growth company with a fabulous balance sheet that is set up for rate hikes selling at only 13x earnings? JP would be rolling over in his grave. This is Jackie Wilson stock. It's going to be lifted higher and higher as the year goes along.
I felt lonely liking the McDonald's (MCD) - Get Free Report call, but what matters to me is same-store sales and they were very good for this company. I think that the idea that Steve Easterbrook is somehow done reinventing this company, that he is only all-day breakfast and nothing else, is insulting. The stock's just fine.
I heard rumblings that the consumer business of 3M (MMM) - Get Free Report was really disappointing. That narrative came about because the stock dipped after the quarter. In totality I liked yesterday's conference call a great deal and really think that Inge Thulin only enhanced my view of this core holding equity. I wouldn't be surprised if it led the way higher from here as consumer snaps back as I know it will. Through innovation. Products we don't even know about.
Procter & Gamble (PG) - Get Free Report ? What can I say? Big guide-up? The huge restructuring is paying off in spades. The strong dollar? They were ready for it. If this stock comes down, even in a world where people want cyclicals, it will be bought as their lone soft-goods exposure. Yes. It was that fabulous a quarter.
Travelers (TRV) - Get Free Report reported $3.20, the Street was looking for $2.81. It was a clean beat. How can this $117 stock not trade back to its $123 high and then some? Look for its investment portfolio to give you some real "vig" this year as rates go higher.
UnitedHealth Group (UNH) - Get Free Report always blows the number out and then falls into a funk for five days as people assess it. Then it roars ahead. Well, the funk's about to end -- and remember, this is the only health-care stock that I believe is on the right side of Trump, because it thought Obamacare was simply unworkable. That's a nice tailwind. Let's check out UNH's chart:
United Technologies (UTX) - Get Free Report  CEO Greg Hayes delivered again. Otis? Better. Aerospace? Better. Climate Controls superb, so superb you didn't notice the couple of pennies per share that Trump knocked off the earnings by keeping the 1,000 Indiana jobs from going to Mexico.
Finally, Verizon Communications (VZ) - Get Free Report . Terrible. Just really disappointing. Losing share all over the place. Worst in show. T-Mobile US (TMUS) - Get Free Report and Sprint (S) - Get Free Report seem to be eviscerating them and they have to own that.
So, let's see. I've got 13 Dow stocks I would pay more for right now and two disappointers, Verizon and GE, both of which fortunately have yield support that would keep me from selling them.
The bottom line? Trump or no Trump, we've got 13 out of 15 Dow stocks that shouldn't be thrown back at 20,000. They should go higher. My judgment: It's not alchemy; it's not animal spirits; it's the earnings. And for me, that's the best reason of all to take out Dow 20,000 and maybe the next milestone if the next 15 are as good as what we have seen so far from this oh-so-venerable average.
Action Alerts PLUS, which Cramer co-manages as a charitable trust, is long COST, DOW and GE.