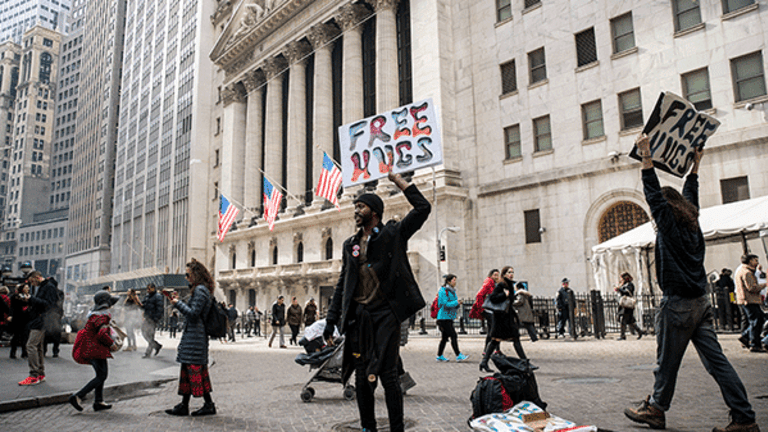 Cramer: These Stocks Look Like 'Easy Pickings'
From Aetna to United Technologies, these names are hot.
Some stocks just can't seem to be stopped. They fly under the radar screen and manage to tread higher on little news flow and not much publicity.
They tend to be in four groups: industrials, health care maintenance and devices, financial tech and anything insurance. These have been the best performers for ages, and they show no signs of letting up.
Let's start with the industrials. Cummins (CMI) - Get Cummins Inc. Report , Caterpillar (CAT) - Get Caterpillar Inc. Report , Eaton (ETN) - Get Eaton Corp. Plc Report , Emerson (EMR) - Get Emerson Electric Co. Report , FMC (FMC) - Get FMC Corporation Report , Fastenal (FAST) - Get Fastenal Company Report , Honeywell (HON) - Get Honeywell International Inc. Report , Illinois Tool Works (ITW) - Get Illinois Tool Works Inc. Report , Ingersoll Rand (IR) - Get Ingersoll Rand Inc. Report , Nucor (NUE) - Get Nucor Corporation Report , Rockwell Collins (COL) , Rockwell Automation (ROK) - Get Rockwell Automation, Inc. Report , Timken (TKR) - Get Timken Company Report , Trinity (TRN) - Get Trinity Industries, Inc. Report and United Technologies (UTX) - Get United Technologies Corporation Report have dominated the new high lists or been close to it every time. They are all lacking in volatility. They used to be the most volatile stocks we saw in the market.
Consider steel giant Nucor. My colleague Bruce Kamich, technical analyst at our premium site Real Money, wrote Monday that the stock "has been in a bull phase since early 2016 and the rally is likely to carry further in the months ahead. ... The moving averages are giving us mixed signals at the moment, [but] comfortably above the rising 200-day moving average line. Notice the successful tests of the 200-day average line in September and October:"
This is incredible, given how uneven the recovery in this country is. Now, you could argue they have all gotten strong since the Trump administration took office. But I would come back and say that, other than deregulation, there hasn't been that much good for any of these companies.
To me it's all about how much international business they have and how much better it has gotten. The year-over-year compares with just about every country on Earth are far better than anyone thought, and while the United States wasn't weak, it really didn't matter -- their overseas business has been carrying them.
Think about it like this. If President Trump was so important to their fortunes, then why didn't they fall down on the failure to get health care repealed and replaced -- the first sign that Congress was not capable of following up on its own agenda? How are they going to do with lower taxes, all of which they would benefit from? As the infighting increases in Congress, the odds diminish.
Yet this isn't some unknown. The inability of Washington to get it done is right in our faces. But the stocks don't go down. To me, that's a sign that it's overseas that's pulling the train, because of the year-over-year comparisons. If we get tax relief, it is pure gravy.
Well before repeal and replace failed, stocks like Aetna (AET) and Cigna (CI) - Get Cigna Corporation Report and Humana (HUM) - Get Humana Inc. Report and Anthem (ANTM) - Get Anthem, Inc. Report saw it all coming. As did UnitedHealth (UNH) - Get UnitedHealth Group Incorporated Report . I think they knew that they would be in the catbird seat, no matter what. They would either get more incentives to write in the system or they could leave and do even better. It was win-win as we saw from the leader, UnitedHealth, which had already pulled out.
Let's look at Cigna. Kamich analyzed the stock Monday and wrote that its chart "suggests further gains are likely in the weeks and months ahead. ... In this daily chart of CI going back 12 months, we can see a bullish alignment of the indicators. CI is back above the rising 50-day moving average line. The 200-day moving average is also rising the past three months and we can see a 'golden cross' of the two averages at the end of December:"
These stocks are amazing. So are the medical-device companies. It's been such a no-brainer to own Baxter (BAX) - Get Baxter International Inc. Report , Bardundefined , Becton (BDX) - Get Becton, Dickinson and Company Report , Boston Scientific (BSX) - Get Boston Scientific Corporation Report , Hologic (HOLX) - Get Hologic, Inc. Report , Intuitive Surgical (ISRG) - Get Intuitive Surgical, Inc. Report and the like, that it's been painful. It's why I keep thinking that Medtronic (MDT) - Get Medtronic Plc Report and Abbott (ABT) - Get Abbott Laboratories Report have to be good. Makes too much sense for them not to be, given that not all of these winners even have that good a record. Witness Hologic and Boston Scientific's ups and downs.
Then there's fintech. American Express (AXP) - Get American Express Company Report , MasterCard (MA) - Get Mastercard Incorporated Class A Report , Visa (V) - Get Visa Inc. Class A Report , they just have such strong charts, especially vs. the banks, because they are the low-rate plays. They win because the banks lose.
And the insurers? I have been stymied all my life by these stocks. Chubb (CB) - Get Chubb Limited Report , Travelers (TRV) - Get Travelers Companies, Inc. Report , Allstate (ALL) - Get Allstate Corporation Report , Lincoln (LNC) - Get Lincoln National Corporation Report , it really doesn't matter. They work. Those do fine in a deflationary environment and they have no excitement. They just go up.
Of course, hedge funds are drawn more to drama. They like the vastly underperforming AIG (AIG) - Get American International Group, Inc. Report , for example, as one that could get it together. They like Hartford Financial (HIG) - Get Hartford Financial Services Group, Inc. Report because they think it can be taken over. But they aren't ever interested in global risk managers -- meaning insurance brokers -- Aon or Marsh & McLennan (MMC) - Get Marsh & McLennan Companies, Inc. Report . Just too boring? What is it about boring that we dislike so much?
Now, there are plenty of anomalies: stocks like Hershey's (HSY) - Get Hershey Company Report and Unilever (UL) - Get Unilever Plc Report -- both doing better after takeovers. There's the cruise ships, for the experiential offerings. The defense stocks, obviously, where there are no sellers whatsoever. And the semi providers to Action Alerts PLUS charity portfolio holding Apple (AAPL) - Get Apple Inc. Report .
But for the most part, there are winners and losers in those groups. You want something without winners or losers? You can throw darts at those first groups. It's been like that for ages.
I think it's just going to continue. They are the best buys when we are down. They turn first, and I bet as we go into earnings season only the industrials might begin to bifurcate.
It's been easy pickings. I think it continues.
(This column originally appeared at 6 a.m. ET on Real Money, our premium site for active traders. Click here to get great columns like this from Jim Cramer and other writers even earlier in the trading day.)
, which Cramer co-manages as a charitable trust, is long AAPL.