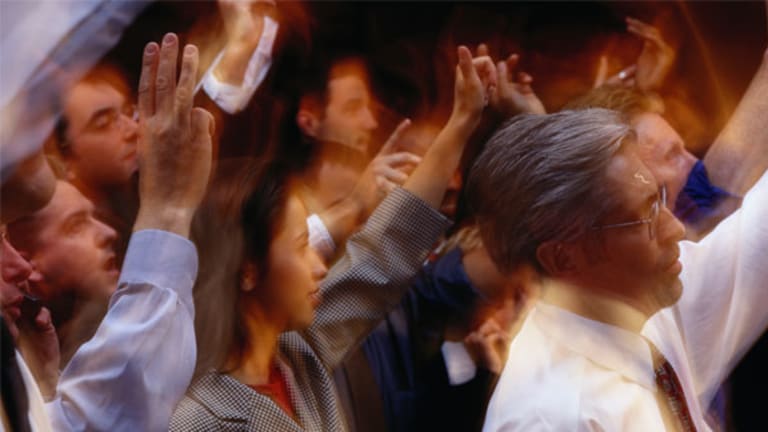 Cramer: The Market's Real Killer
It's not the Fed, the dollar or interest rates. It's supply.
It's not the Fed, the dollar or interest rates. It's supply.
NEW YORK (Real Money) -- Darn that Snapchat with that $10 billion valuation. We don't need that kind of story now. That's the kind of stuff that always seems to stop the indices in their tracks. Every time the market gets traction in the Internet we heard some wild-eyed pricing for a company such as Box or Dropbox or AirBnB or Uber, and we recognize that the overvalued mob has some fabulous evidence to use against the bull.
Watch the video below for more on how Snapchat could become one of the most highly valued tech start-ups around:

WATCH: More market update videos on TheStreet TV | More videos from Keris Alison Lahiff
We are always trying to figure out euphoria. We try to gauge it because it is a sign of excess. I absolutely loved Scott Wapner's interview with Jeremy Siegel, the terrific Wharton professor, on CNBC's "Halftime Report" Tuesday. That's especially as it concerns Siegel's comment that the skepticism is thick and there's certainly not a lot of celebration involving S&P 2000.
Then we hear about $10 billion valuations for profitless companies, and we have to go right back to the euphoria drawing board.
Now, I know about the pressure the venture capitalists can put on any market. I know that they will get their pound of flesh out of the hot ones. I know they could care less about what it does to the market overall, because that is not their job.
Even when they get it right, the way Goldman Sachs (GS) - Get Report did with Twitter (TWTR) - Get Report , you can still have problems when there are no profits.
That is why you never want to see these deals.
Most people are waiting for the Federal Reserve to kill the bull with higher interest rates on U.S. Treasuries. As Professor Siegel made clear, rates could move up 200 or even 300 basis points and it might not kill this market if the economy is good.
I, on the other hand, worry about supply. I worry about too many bad deals overwhelming the market -- which is what happened in this year's horrendous Nasdaq downdraft.
You get too much supply, and you get Snapchat, and Alibaba and DropBox and Box and AirBnB and Uber all trying to get into this market via the initial-public-offering chute. This is a market, moreover, that has very little volume to begin with. That will deliver a severe blow to this tape.
Keep that in mind. That's the real killer -- not Fed chief Janet Yellen, not the dollar and not the 10-year bond.
It's supply.
Because when supply overruns demand, interest rates could be at minus 2% and it wouldn't matter. Worse, the politico-talkers who argue rates, and not stocks, just confuse things further by saying that the Snapchat deal didn't work because of the Fed or some other nonsense.
Then the market gets really hammered.
Deals. Keep track of them. They are the real worry.
They are always the real worry, because they are the true measure of euphoria, and euphoria causes people to lose more money than just about any other emotion known to man, including greed.
At the time of publication, Action Alerts PLUS, which Cramer co-manages as a charitable trust, was long GS.
Editor's Note: This article was originally published at 8:13 a.m. EDT on Real Money on Aug. 27.