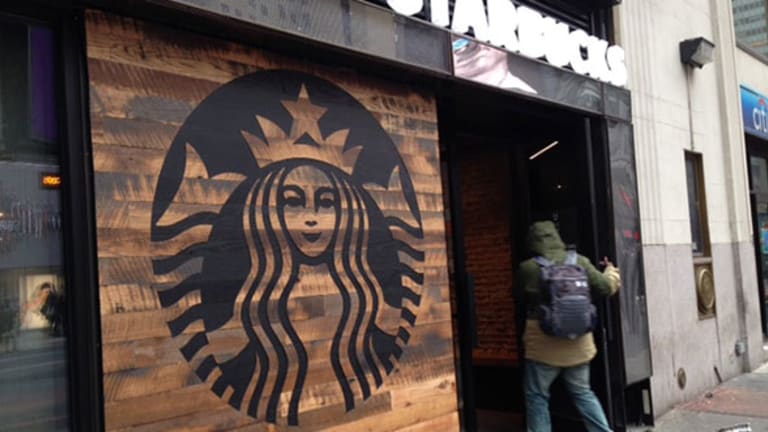 Cramer -- Starbucks Posts Big Revenue Jump on Way to Online-Ordering Future
Starbucks reported strong earnings and revenue for the fourth quarter. Are the high expectations for the stock justified?
This commentary originally was sent to Action Alerts PLUS subscribers on Oct. 29, 2015, at 5:32 p.m. ET.
Starbucks (SBUX) - Get Free Report reported a solid in-line fiscal fourth quarter Thursday, with earnings per share of 43 cents (up 16% year over year) and revenues of $4.9 billion (up 18% year over year), both matching consensus. Both top- and bottom-line metrics were records for any fourth quarter in Starbucks' history. As for guidance, Starbucks sees fiscal 2016 EPS in a range of $1.87 to $1.89 vs. the consensus of $1.88 and EPS for the first quarter of fiscal 2016 of 44 cents to 45 cents vs. the consensus of 47 cents.
Importantly, global same-store sales within the fourth quarter increased 8%, which was driven by a 4% increase in traffic and was better than the expected 6.1% growth. Americas comps also increased by 8% year over year (driven by a 4% increase in traffic), again beating consensus. Within the U.S., comp store sales were up 9%. EMEA (Europe, the Middle East and Africa) comp sales increased as well, up 5% (driven by a 3% increase in traffic), illustrating great growth in a region that seems to be flipping the switch.
China/Asia Pacific (CAP) posted solid same-store sales growth as well, showing an increase of 6% (driven by a 6% increase in traffic). This result, however, came in below analysts' lofty expectations for 9.4% same-store sales growth in China.
While investors may be disappointed with this number initially, we would note that the 6% growth in CAP includes all areas in the regions and does not split out China separately. That said, revenues in CAP grew a staggering 110%, clearly demonstrating Starbucks' strong and increasing brand leverage in the region.
For the coming year, the company expects global comparable-store sales growth to be somewhat above the mid-single-digit percentages. As for operating margins guidance, in the Americas specifically, management expects moderate improvement year over year. CAP growth is expected to be flat to down slightly vs. the prior year, and EMEA is expected to approach a 15% rate.
Throughout the fiscal year, Starbucks repurchased 29 million shares of stock, indicating that roughly 53 million shares remain available for purchase under current buyback authorizations. The company also announced a 25% increase in its dividend to 20 cents per share.
As for the company's Mobile Order & Pay initiative, which we view as a significant driver of growth across the globe, Starbucks noted its phased launch in the U.S. proved successful (and the app is now on iOS and Android devices). So the company began the international phase of its rollout in approximately 150 London locations in the U.K. and in about 300 Toronto-area locations in Canada. More than 20% of the transactions in the U.S. are now via mobile technology.
In terms of other strategic initiatives, Starbucks launched its first Green Apron Delivery service pilot program within the Empire State Building in New York City. The pilot is designed for a dense urban environment and will allow tenants to order from a select menu online, whereupon beverages will be handcrafted by Starbucks baristas in a designated kitchen within the building and delivered to a designated drop-off location. Although in its early phases, the program certainly would appeal to the need for ease in today's consumer.
All in, we view this as an excellent print that demonstrated the company's continued ability to grow its brand through the success of its investments, especially in the groundbreaking technology initiatives that are increasing appeal to customers across the globe.
That said, expectations were sky-high for the company and the stock was priced for perfection as it had been trading at all-time highs prior to the release.
As a result, the initial reading on CAP comps and overall guidance, although solid, has caused investors to shoot first, ask questions later, and the stock was trading down after hours Thursday evening. We, however, are not worried. (By midday Friday, the stock was up 0.7%.)
Bottom line: Starbucks remains a tremendous growth vehicle led by a best-in-class management team and we like the near- and long-term prospects given that the digital initiatives are only in their infancies.
At the time of publication, Jim Cramer's charitable trust Action Alerts PLUS was long SBUX.