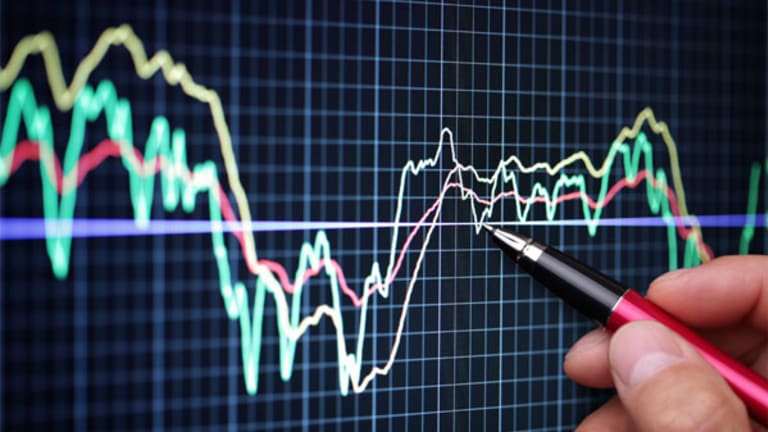 Cramer: Playing the Ultimate Rumor Stock
Where there's options smoke, there tends to be fire.
Where there's options smoke, there tends to be fire.
NEW YORK (Real Money) -- When someone comes in and buys thousands of out-of-the-money calls on Clorox (CLX) - Get Report, both for June and July, with a heavy emphasis on the July 105 calls, what are you going to do, stay short? How can you not take a shot at Clorox, betting that someone knows there is something afoot?

WATCH: More videos from Jim Cramer on TheStreet TV
Clorox, these days, is the quintessential rumored stock. It doesn't have much growth to speak of. It has a bunch of companies that truly don't belong under one roof unless you can figure out how charcoal, kitty litter, Burt's Bees and Hidden Valley salad dressing dovetail with trash bags, bleach and other cleaning supplies. I know I have never been able to figure it out.
But I know this. In a world where a bunch of second-rate brands under the Hillshire Brands (HSH) roof turned out to be worth almost double the price they were not that long ago, how can a Unilever (UN) - Get Report not take a hard look at the company? (Procter (PG) - Get Report tried to merge with it once before and it was rejected.)
Who is to think that it doesn't make sense for Clorox to go more food and merge with Pinnacle (PF) ? Or how about it goes food and nonfood with Pinnacle handling the condiments portion of Newco.
So many ways to skin the cat with Clorox.
Now, all that said, people have been speculating that this is the end of Clorox for as long as there has been Clorox. I can't tell you how many times I bet that this company, along with Heinz (HNZ) and Campbell's (CPB) - Get Report would eventually get a bid. My team used to make fun of me for always insisting having some Clorox calls on the sheet that were, alas, always rip-ups. And if the common did spike to near the calls, I had always shorted some common against it.
Clorox is hard to value. It has a 3%-plus dividend, which is terrific and it regularly boosts the payout. But it does sell at 21x earnings, despite declining volumes and sales. That's way too expensive.
No matter, here's the key statistic you have to keep in mind. Clorox is less than a $12 billion company with products we all know and a secure and growing presence because of line extensions. That aisle space comes at a premium and if you are any one of these food and consumer packaged goods companies, you might be thinking this is a once-in-a-lifetime chance to pick up extremely-high-quality brand names with very cheap debt.
Now, this is not a knock on CEO Donald Knauss. Every single one of the companies I follow that does business in the supermarket is challenged, with the exception of WhiteWave (WWAV) and maybe Hain (HAIN) - Get Report. That's' a real small list. I know that not everyone wants cleaning products and I'm sure that many think that Clorox is fodder for the generic-branded companies. But the logic behind the call buying is ineluctable and, yes, irresistible, because where is that heavy option smoke there is almost definitely an actual fire.
Editor's Note: This article was originally published at 6:23 a.m. EDT on Real Money on June 10.
>>Read More:
3 Mysterious Things Now Happening at Chipotle
Porsche Electric vs. Tesla