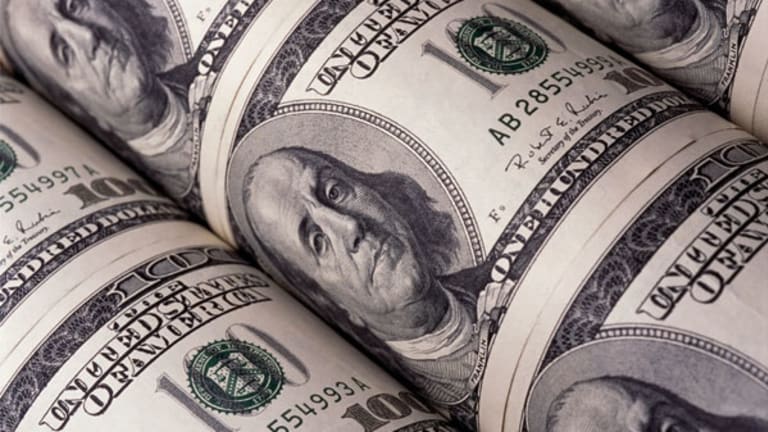 Cramer on the Stock Market and Fuel Prices: Common Sense Returns
Today, we are seeing the real world impact of lower gasoline prices.
NEW YORK (Real Money) -- For days on end we've watched the price of oil go down, taking with it not just the oil and gas complex but the entire stock market. At the same time, people worry that this key commodity's decline signals perhaps a larger economic slowdown in the offing, not just a developing glut of U.S. oil from the new shales I am always writing about.
I have said over and over that the stock market can be dysfunctional for days on end, and this oil decline has been a perfect example of how stupid the market can be. Naturally, when oil goes down there is a reaction in the real world, and that reaction is quite different from the constrained and often barely coherent stock market world.
Oil's decline -- whether from voluminous supply or lackluster demand or even a stronger dollar -- means lower prices at the pump for the consumer and lower packaging costs for the big consumer-packaged-goods companies. That's good! Yet the oil price plummet has had a dampening effect for days on the entire S&P 500. That's the insidious moron effect that comes from the thoughtless computer-driven algorithms: Soft oil equals a soft economy.
Today, we see the real world impact: Lower gasoline means more dollars in consumers' pockets. So up flies Chipotle (CMG) and Panera Bread (PNRA) , the latter spurred even harder by a decline in wheat prices of enormous proportions. Why not? You can afford to splurge on the guac or feast on the full-sized Thai Chicken salad. Disney (DIS) regains lost momentum, as its crowds correlate with gasoline. Darden Restaurants (DRI) breaks out too, as the Olive Garden-led chain has demonstrated time after time to be levered to the price of gasoline. Costco (COST) goes to new highs and even the incredibly lackluster Walmart (WMT) rallies the most it has in ages. Monster Beverage (MNST) and Hershey (HSY) , two companies with plenty on the line at convenience stores, which thrive off of lower gasoline prices and spur-of-the-moment-buys, take off. Home Depot (HD) reveals more bad news about the credit card breach, which produces more positive movement for the stock. Can you imagine where HD would be without the breach, maybe $100 instead of $92? And uber consumer-goods company, and endless Cramer fave GoPro (GPRO) , rallies again. I should do the show with a GoPro on. 
But more important, at last, the big takers of oil and gas ignited: Sherwin-Williams (SHW) , a paint company, and PPG Industries (PPG) , a chemical company with a massive paint division, rally hard as they are huge users of commodities. Procter & Gamble (PG) , PepsiCo (PEP) , Colgate-Palmolive (CL) , Kellogg (K) , Coca-Cola (KO) all take off as they should have, because packaging and shipping are their biggest costs, not the stuff inside the boxes and cans and bottles.
Even the beleaguered McDonald's (MCD) , which has crept up after its terrible numbers, justifiably jumped more than a dollar on the good gasoline news.
This is the delayed reaction that I have been waiting for, and it has happened at last, as common sense -- so often devoid in the market place -- rears its rational head.
Action Alerts PLUS, which Cramer co-manages as a charitable trust, has no positions in the stocks mentioned.
Editor's Note: This article was originally published at 2:56 p.m. EDT on Real Money on Sept. 24.