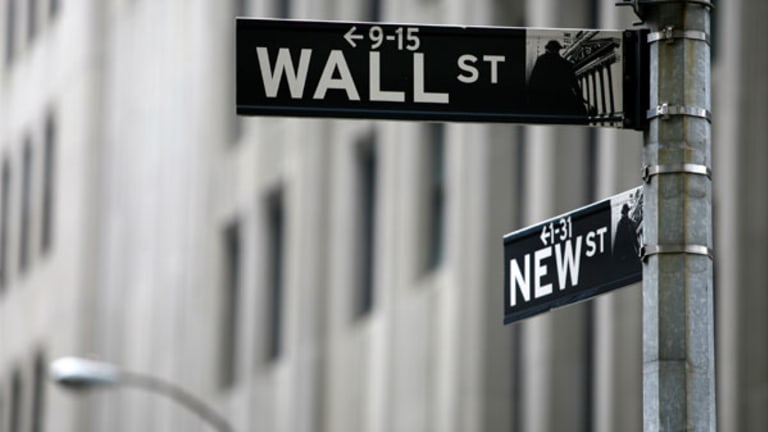 Cramer on the Current State of the Stock Market: Paradise Lost
Whatever you pick, it is hard to keep up with the S&P 500.
NEW YORK (Real Money) -- Nothing lasts in this market. You may see a pattern of strength in the payroll portion of the economy, but at the same time, you may see commodities go down. This is in part due to the value of the dollar and the excess supply of commodities. The big producers don't cut back, and there is no end in sight.
Who is going to cut back production of oil in this country, when the hope is to ship out condensate, and if the West Texas Intermediate price is available? Remember, $80 is still good money for these guys. Who is going to cut back iron ore, if the cost is so low that money can still be made? Is it any wonder that the stock of Cliffs Natural Resources (CLF) - Get Cleveland-Cliffs Inc Report is wallowing at $8? Who is going to cut back copper, after all of the expansion in mining? There's no end in sight to the excess supply of any of these natural resource products, even as demand can't possibly keep up.
Put simply, many investors are still too macro. The big hedge funds are unwilling to believe that companies can make their estimates, domestic or international, if commodities are so weak. Also, major commodities users such as Pepsico (PEP) - Get PepsiCo, Inc. Report don't like to play the commodity exposure, so they might not even benefit from it. The gain is less than expected, at least in the near term.
The approval ratings of President Obama are 44% and 50%. As fellow writer Matt Horween reminds me, it is hard to advance when there is such negativity toward the president.
There is also an overall funk among money managers. Unless they own the companies that specifically break up or sell themselves, they can't keep up with the averages that own all of these stocks. The lack of performance has drawn them into some of the more speculative stocks such as Mobileye (MBLY) , GoPro (GPRO) - Get GoPro, Inc. Class A Report and Netflix (NFLX) - Get Netflix, Inc. Report . Don't forget the disastrous GT Advanced Technologies (GTAT) , which I was able to back away from, when it didn't get the Apple (AAPL) - Get Apple Inc. Report contract.
It is fair to say that many wish the year were now over. Half the advance in the S&P 500 in the last two years, aside from the takeovers, had been from 50 stocks. The nifty fifty aren't exactly inexpensive.
The start-stop nature of health maintenance organization stocks, which are typically excellent stocks in this employment environment, is disheartening. A very small cohort of stocks is actually working, such as the pharmacy benefit managers. Domestic stocks such as Home Depot (HD) - Get Home Depot, Inc. Report , Union Pacific (UNP) - Get Union Pacific Corporation Report and Norfolk Southern (NSC) - Get Norfolk Southern Corporation Report are doing well. Peripheral health companies such as Zoetis (ZTS) - Get Zoetis, Inc. Class A Report , Mallinckrodt (MNK) - Get Mallinckrodt Plc Report and Becton Dickenson (BDX) - Get Becton, Dickinson and Company Report are not faring too badly. Nike (NKE) - Get NIKE, Inc. Class B Report and FedEx (FDX) - Get FedEx Corporation Report have just reported terrific numbers, so they aren't susceptible to misinterpretation. Then, there's a big drop to the next level of stock performance
It's tough when you look at semiconductor company Micron Technology (MU) - Get Micron Technology, Inc. Report . Despite having reported terrific earnings, its stock was annihilated when rival Samsung Electronics (005930.KS) announced plans for increased chip production capacity. It may be years before Samsung's factory would even open and begin production, and Micron's business has not yet been materially affected. Nevertheless, the announcement itself was enough to threaten Micron.
This inconsistency in the market is unnerving to those who are trying to spot patterns and exploit them. People search for the next CareFusion (CFN) , the next Hewlett-Packard (HPQ) - Get HP Inc. Report or they search for small edges that can work, but can't keep up with the S&P. Frustration is the order of the day.
Action Alerts PLUS, which Cramer co-manages as a charitable trust, is long AAPL.
Editor's Note: This article was originally published at 3:30 p.m. EDT on Real Money on Oct. 6.