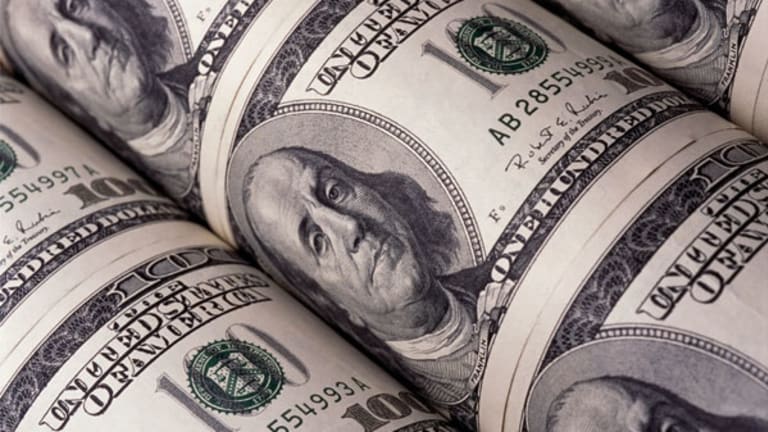 Cramer on the Biggest IPO of All Time: Alibaba Is the Real Deal
The company and its genuine CEO just may not be too good to be true.
NEW YORK (Real Money) -- Call me humbled. That was my immediate reaction this morning when I met Jack Ma, the man who built Alibaba (BABA) - Get Alibaba Group Holding Ltd. Sponsored ADR Report , the company that came public today, into what may be the most lucrative fast-growing company (not just e-commerce company) on Earth at this very moment.
I didn't want to be humbled -- or awed, for that matter. I wanted to be skeptical, cynical even, as I figured this company's stock would be red-hot, perhaps too hot. And that's exactly what happened with its $92.70 opening -- a huge gap up from its $68 pricing.
I knew that such an opening would smack of the ridiculous premiums we have seen from the openings of the worst deals, not the best ones, meaning deals such as Facebook (FB) - Get Facebook, Inc. Class A Report , which so disheartened a whole new generation of potential investors and made them as sour toward the stock market as their parents have. Or the dreaded "dot bombs" from 1999 and 2000 that ended with such heartbreak as well as the losses amounting to trillions of dollars of hard-earned money.
I wanted to express that you could argue that Alibaba's valuation is already too high given the prospects of this company and the fact that it already has the market cap of Facebook, even though it lacks the proprietary runway of that amazing company.
But a few minutes into the conversation at Post Nine of the New York Stock Exchange, I found myself quite taken by this mild-mannered 50-year-old gentleman. His humility, frankly, astounded me, and not just because he overnight has become the richest man in the Peoples Republic of China. He is now worth $26 billion, and he yet acted as if he were just one of hundreds of thousands of teammates with whom he works.
No, it was when I asked him who his hero was, whom he aspired to be, and he replied, "Forest Gump." Holy cow, Forest Gump, the fictional wunderkind who accomplished more in a lifetime than anyone in history but at the same time carried himself in a fashion that could be described as the world's most humble man. That's when I said to myself, "Oh my, what a terrific man this fellow just might be."
When he pulled out a present for us, a neatly ribbon-tied golden box, all I could think of was that he was about to pass us the symbolic candy box from Forest Gump, because for Ma, "Life is like a box of chocolates." I wasn't disappointed that the box contained an Alibaba T-shirt, but the box of candy sure would have been a fitting gesture after that revelation of the man's role model.
I have read every inch of the coverage on Alibaba, and I regard much of it as disparaging. There's an overwhelming smugness to the commentary, basically suggesting that this company's initial public offering could represent the key card in a house of them that is this current stock market. I am bracing myself for the stories that say Alibaba marks the beginning of the end, another dot-com bomb, except this time it's being thrown from communist China of all places -- a Chinese fifth columnist of an IPO.
I know that the cynics won't be able to resist the story line of this IPO signaling a market top. It's too easy not to call the top off this deal. Why not? Who is going to remember that you called the top if the market goes higher? No one. But you could be the sage of Wall Street if you say that the largest IPO of all time was the death knell to the bull.
Hey, I wasn't all that happy with the deal. I was hoping the stock would open 10 points lower than it did, so it didn't overheat.
But let's go back to Ma and what he has created. He has built a company that provides many of the retail needs for half the people in his home country -- the half that has  Internet access. The other half? It awaits using Alibaba as its all-around retailer because there are so few stores in the People's Republic of China. The country is as lacking in retail stores as we are swimming in an excess of them. But there is no way it's going to need to build as many stores as we have, precisely because of Alibaba.
Unlike Amazon (AMZN) - Get Amazon.com, Inc. Report , Ma has done this by never sacrificing profitability. In fact, this company is more reminiscent of the early days of Walmart (WMT) - Get Walmart Inc. Report when founder Sam Walton always thought that growth and profitability go hand in hand. Ironically, at its peak today, Alibaba was valued at almost the exact same price as Walmart's stock.
But, importantly, because he cares so much about making money for his shareholders -- even as he professes a love for his customers, including having a lucky eight of them ringing the opening bell -- you have a stock that, even at $91, isn't classically overvalued. At this price, for example, Alibaba sells at 19 times what the company is expected to earn per share over the next year. That's almost half of what Facebook sells for, even though Alibaba is growing its sales and earnings at a pace that is only slightly slower than Facebook's.
Alibaba has much faster growth than Google (GOOG) - Get Alphabet Inc. Class C Report , (GOOGL) - Get Alphabet Inc. Class A Report , which sells at the identical price. And Twitter (TWTR) - Get Twitter, Inc. Report , just for comparison sakes, sells at 142 times its earnings per share. Although that's a bet that there are big numbers to come, with Alibaba, you have a bird in hand.
I wasn't just taken by Ma's vision of profits, though. I found him to be a great American success story, even though he is from China. He was dirt poor when he started. He had a vision of using the Internet to harness retail for the masses. And he wants to do this for wholesale as well, matching entrepreneurs with craftsmen worldwide to manufacture products so they can realize their dreams as he has. He is an inclusive capitalist in a country run by communists and I got the feeling that he wants to make everyone worldwide as rich as he is. There's nothing zero sum about this man.
So, yeah, I liked him. I wish we had more CEOs who shared his ideals. At the same time, though, I fear that my judgment is so against the grain that if the stock falters, I will be regarded as some fawning acolyte of just another hyped man and a hyped stock.
Oh, and about the stock? What do we do with it? Here's the pattern. Buyers in these kinds of stocks typically try to mount an assault at the intraday high. I don't trust that assault and would trim some into any big run as I am sure there are plenty of people who will wake up Monday to the negatives I described and want to ring the register.
Ultimately, though, if there is a swoon and you can get the shares of this fast-growing, large-capitalization company at a price that is only about 85 times what the company is expected to earn per share in the next year, then I think you should do it. I believe in the company. I believe in the man.
Here is my bottom line on the largest IPO of all time: I think Aliababa is not crazily expensive. And while I prefer both Facebook and Google to it, I can't dismiss either Ma or the enterprise he built as overvalued -- even as both do seem too good to be true.
Because maybe, just maybe, they're not.
Action Alerts PLUS, which Cramer co-manages as a charitable trust, is long FB and TWTR.
Editor's Note: This article was originally published at 4:43 p.m. EDT on Real Money on Sept. 19.