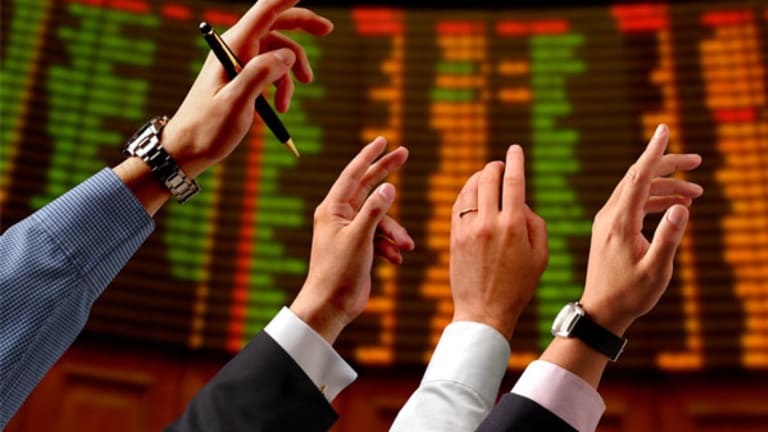 Cramer on Negative Thinking in the Stock Market: The Bear Is Back
You'd think the recession just started.
NEW YORK (Real Money) -- If you didn't know any better, you would say the recession started last week, when the Federal Reserve signaled that the time to get tough is nearing. The only stocks that reacted well yesterday were stocks that are staples, which are beneficiaries of the decline in inflation. Everything else, particularly anything that needs even a remotely robust environment to make money, was killed. It was as if the recession chimes went off and people fled from stocks that six months ago they couldn't get enough of.
The industrials acted with violence. And don't I know it. We have some really horribly acting stocks for Action Alerts Plus that are meant to shine in a 3% growth environment, and they were crushed. It was the worst day in ages for that kind of portfolio, and the pain is palpable.
The problem is that for many stocks we are past the point of no return. Let's take Freeport-McMoRan (FCX) - Get Freeport-McMoRan, Inc. Report . It can't lift to save its life. The yield support of 3.77% would normally have saved it, but now it trades as if the dividend isn't safe, or as if rates are going to skyrocket, or worse, as if this is 2008 and that means the earnings are going to plummet so a 3.7% dividend  means nothing, nothing at all.
Do you sell it now, betting that it goes to $30 and you can buy it back? Do you just wait, betting that every stock bounces?
We haven't had those bounces. They don't exist. And somehow I think that if I were back at my hedge fund, I would be shorting Freeport until it breaks $30, because it sure feels like it is going there. A technically driven long turns into a fundamentally driven short.
In fact, I will go one step further. For some of these mineral and mining stocks, we have obviously entered an actual bear market, as I see many 20% pullbacks occurring now. That's the presumption that China's not just stopping at plus-7% growth. These declines are presuming that Europe goes back into a recession, China drops to plus-5%, and earnings disappear.
For us, running a public portfolio that's not meant to trade, it is just a nightmare. You want to scream. It is so frustrating, because the sellers just can't seem to stop themselves, and the buyers are nonexistent. The sellers are like automatons. They just don't care.
The industrials might not be that different. Consider another horribly acting stock, United Technologies (UTX) - Get United Technologies Corporation Report . This is a blue-chip industrial, with a series of great businesses that has simply been totally unable to find its footing. I have to face facts, though, that this and Eaton (ETN) - Get Eaton Corp. Plc Report , another industrial we think has to bottom, have become free fire zone shorts, just horrendous stocks with no lift whatsoever. Eaton, at least, missed multiple quarters and has become impossible to own. Where are the activists in Eaton? It's performing much worse than so many of the companies they have pursued.
But United Technologies? It's got nothing wrong except it sells equipment in China. The sellers want to get out before the company announces that the China business has slowed. They haven't said it but, again, with the way this market works, people will presume guilt. No buyers anywhere.
This total buyers' strike at a time when the sellers think and fear the worst is rather incredible. It's as if there's been no bull market at all. It's just a wasteland out there for some of these stocks.
I know, I know, one day. But the erosion underneath companies such as Ensco (ESV) , Freeport, United Tech and Eaton is devastating. Stocks such as Sigma-Aldrich (SIAL) or TRW Automotive (TRW) or Dresser-Rand (DRC) can't make up for them.
Yep, the bear is back in resources. And there's no sign of it reaching its conclusion yet. If anything, it may have just started, if Europe slinks back and China's fat and happy with its current growth.
Action Alerts PLUS, which Cramer co-manages as a charitable trust, is long FCX, UTX, ETN, ESV.

Editor's Note: This article was originally published at 6:35 a.m. EDT on Real Money on Sept. 23.