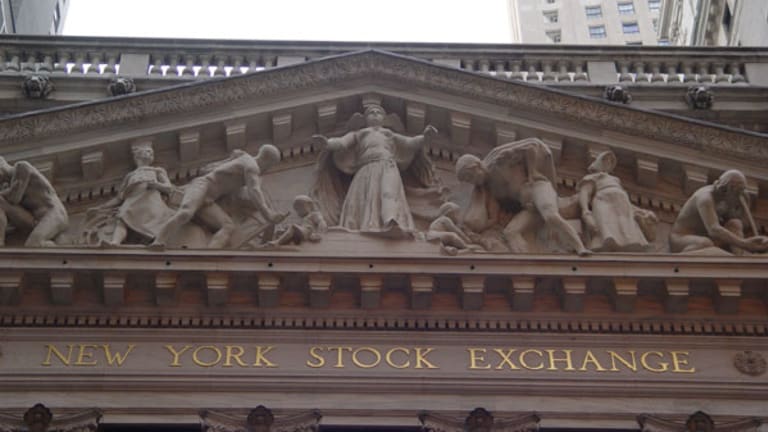 Cramer: Not So Loco
I am sorry, but El Pollo Loco's surge is not a sign of a top.
NEW YORK (Real Money) -- Maybe it's the name. Maybe it's the symbol. Whatever it is, when shares of ElPollo Loco (LOCO) - Get El Pollo Loco Holdings Inc Report -- the "crazy chicken" restaurant -- exploded higher on a second day after a robust opening, it once again inspired a whole new level of top-calling.
Is it justified? Does a stock that comes public at $16 that then goes to $19 on its first day and leaps to $34 on its second day make any sense at all? Can it signify something? Or is it a stock move filled with sound and fury, signifying nothing?
TheStreet's Jim Cramer shares his thoughts on where shares of El Pollo Loco will go next:

WATCH: More videos from Jim Cramer on TheStreet TV | More videos from Jim Cramer
First, we have to put this move in context, and the context that is GoPro (GPRO) - Get GoPro, Inc. Class A Report, which had a very similar move. The niche camera company, which is trying to grow into a full-blown ecosystem, came public at $24 -- the high end of the range. It jumped 32% on the first day to $31, then rallied to $35 the next day and then galloped to $40 before it peaked at $48. So El Pollo Loco might not be so loco. The GoPro move made sense in some ways because this is a popular company, particularly among teens, with a hot-selling product that conceivably has staying power. Plus, it's profitable.
El Pollo Loco, also a loved, fresh chicken product made the way that real Mexican roadside chicken is cooked, is also profitable: It earned 19 cents this past quarter. That's not to mention that it discovered Brad Pitt before anyone else did: When Pitt first moved to Los Angeles, one of his first jobs was standing in front of the Hollywood El Pollo Loco dressed as a chicken.
In any case, El Pollo Loco is what I call a sliver deal -- an offering of only 6 million shares out of a total of 35 million. GoPro, on the other hand, has almost 3x the shares outstanding. It is also a $5 billion company. El Pollo Loco is just north of $1.2 billion, so you don't want to ascribe too much too it.
Plus, El Pollo Loco looks like Chipotle (CMG) - Get Chipotle Mexican Grill, Inc. Report. Of course, nothing is really like Chipotle, given that the company had 17% comparable-store-sales growth in its last quarter -- which is why it has a price-to-earnings ratio of 50.
But each El Pollo Loco store does make $1.8 million in average unit volume, which is $300,000 more than Chipotle's average stores first made. It has 400 restaurants currently, and believes there is room for 2,300 as it expands from regional -- California, Texas, Nevada and Utah -- to the rest of the country. This is a reasonable trajectory if the company executes correctly. Its comparable-store sales have been running in the high single digits, including one 12% comp number in the third quarter of 2012. Again, this is much better than the average chain, and the company's numbers have even been comparable to or better than Chipotle for many of those quarters.
Given the Mexican authenticity of the chicken, the company claims a special niche, the Hispanic population of the country, currently at 16% of the total. That said, I can tell you that this kind of chicken does have broader appeal. The company means it when it says in the prospectus that "this bird is en fuego." Plus, money from the offering will bring down high-cost debt, making it so that the profit picture could grow brighter as that debt gets paid down.
No one denies that the stock is speculative, but the simple fact is that this company is unique and it does have the characteristics of a company that could be the next Chipotle. So let's dream that its 19 cent-EPS quarter blossoms into a buck a share. Let's put the same multiple on it that Chipotle has, even though it has a bigger runway because it is smaller. You could see how someone could easily pay $50 a share for the stock.
So, in sum, you may think it is loco. I think it was simply underpriced badly, with too few shares coming public -- and that this, in turn, forced institutions that want so-called full positions to go into the open market and pay a ton extra for more.
In sum, yes, there are always plenty of signs of a top out there, and it's good to enjoy healthy skepticism. But, I am sorry, El Pollo Loco simply isn't one of them.
At the time of publication, Action Alerts PLUS, which Cramer co-manages as a charitable trust, had no positions in the securities mentioned.
This article was originally published on Real Money at 7:11 a.m. on July 29.