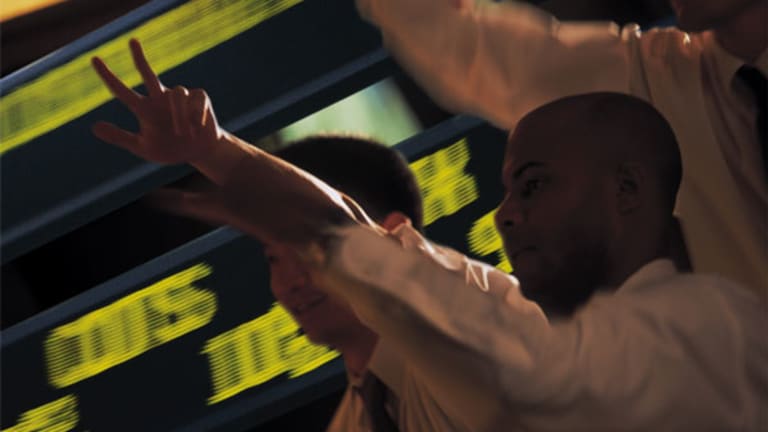 Cramer: Nerve-Wracking Valuations
The only truly inexpensive areas are tech, industrial and finance -- and they all remain despised.
Editor's Note: This article was originally published on Real Money at 7:08 a.m. ET on April 29. To see Jim Cramer's latest commentary as it's published, sign up for a free trial of Real Money.
NEW YORK (
) -- Here's the current twinned narrative.
We should be worried about international companies if they have big exposure to Europe, because they will have shortfalls and slower revenue growth and are inherently risky. Or we should be worried about domestic growth stocks because they are overvalued and are therefore intrinsically risky.
You know this. I know it. It's the dialogue. No one comes on air or writes in these cyber pages that there's little earnings risk in
PPG
(PPG)
or
Alcoa
(AA)
because of Europe. No one says, "Right now I don't have to think about Europe or
Procter & Gamble
(PG)
because things will be fine." That's simply not happening. Everyone is worried. In fact, we will accord it to a company like
Kimberly-Clark
(KMB)
, which pulled out of the western and central European diaper market because it had had enough with the lack of profit or growth in what is basically a low-birthrate, totally cutthroat market.
No one is getting a free pass for Europe, so the idea that we
should
be worried about it is absurd. We
are
worried about it.
Similarly, do you know anyone who is saying that
General Mills
(GIS)
is a "table-pounding buy" at 18x earnings? Or that you have to get into
Wal-Mart
(WMT)
at 15 times earnings, or that
Coca-Cola
(KO)
is a "steal" at 19 times earnings? The only steal in this market is what Warren Buffett and his
Berkshire-Hathaway
(BRK.B)
got with
Heinz
(HNZ)
. He's paying only one to two multiple points above the price-to-earnings multiples of General Mills and Coca-Cola for the whole company.
I am not even going to go there with
Verizon
(VZ)
. Without a transaction that would accelerate its growth rate via ownership of all of Verizon Wireless -- at a price that wouldn't ruin its balance sheet -- I think you are taking a lot of price risk to pick up that 3.84% dividend yield. That's especially so after
AT&T
(T)
has shown how things can go wrong and a stock can be knocked back on a subpar
wireline
quarter.
These stocks are expensive. All of safety is expensive when you consider, say, a stock like
American Electric Power
(AEP)
, with its anemic growth -- a five-year average of 3% and change. You do get a 3.88% yield with that name but, again, why couldn't that go to 5% on any sign that rates will back up?
It shouldn't be lost on anyone, either, that the ultimate in domestic-security stocks -- the homebuilders -- are trading at as high as 26 times earnings. No one has said they are cheap at all, even though the market had been willing to bid up
D.R. Horton
(DHI)
by $2 after its excellent report Friday. Homebuilders, the ultimate in cyclical stocks, trading like growth stocks? Give me a break.
The issue for me is that I can make a case about worrying over every stock. I can say that everything is overvalued and that you should own nothing. In fact, the only areas that are truly undervalued are tech, industrial and finance, and they are every bit as despised after this earnings period as they had been before it. They are the only stocks
not
worth worrying about on valuation -- and, at the same time, they are the killers of performance, as any owner of these names would know.
So we either buy expensive stocks or we lose money. All of the wags who say we shouldn't buy the expensive stocks don't seem to mind losing money or falling behind the averages -- because that's precisely what is happening if you own
Caterpillar
(CAT)
or
Dow Chemical
(DOW)
or
U.S. Bancorp
(USB)
and
Capital One
(COF)
or
Avnet
(AVT)
or
Apple
(AAPL)
. In every one of these groups, I can pick some winners that have beaten the averages, but they are the diciest even as they are the cheapest.
So you can worry about the winners. But I am licking my wounds for owning many losers that are cheap for my
charitable trust. As for the expensive ones? Even after this earnings period they remain the biggest winners, even despite all the hand-wringing and warnings from those who have definitely never bought a stock or who don't care one whit about performance.
At the time of publication,
, which Cramer co-manages as a charitable trust, was long AAPL.