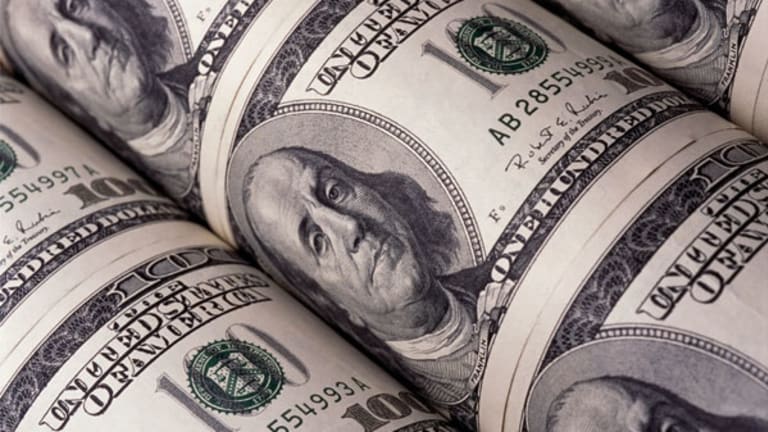 Cramer: Navigating the Twitter Minefield
If you insist on playing it, recognize the 50/50 nature of the scenario.
NEW YORK (Real Money) -- Sometimes you just say, "I don't have an edge," and you just take a seat and watch the action unfold. That's how I am approaching Twitter's (TWTR) - Get Free Report report tomorrow. I just think there are too many factors at work to be informed both about how the company's really doing and how the company's stock is going to do with that report.
All through this earnings period we have seen the stocks of companies go higher that beat on the top and the bottom lines, meaning companies that exceed revenue and earnings estimates, and then guide higher for both sets of numbers.
Companies that beat only on the top and bottom lines, but didn't guide up have not done well if they have moved higher ahead of the report. Companies that have failed to beat on the top line and guided down -- let's call that the Xilinx (XLNX) - Get Free Report example -- have been crushed to smithereens.
What's so amazing about this earnings season is that many companies have beaten all metrics and then raised all metrics, which his precisely why we have hit high after high in the S&P 500. There are always what I call record deniers, who say that revenues aren't that great or profits are boosted by job cuts, but the record deniers are in some parallel universe where what matters is being disputatious or political and not informative and helpful. They are brimming with bogus insight.
Now, into this revenue/earnings gauntlet steps Twitter, a company with no earnings and revenue growth that, while fast, is decelerating (an important point meaning that yes, yes, it is growing, but no, no, it is not growing as fast as it was).
The estimates show that it could make a little money this year and then earn 26 cents a shares in 2015 and 64 cents in 2016. It would be terrific if this company turned a profit this year. Those estimates give you a superior profit trajectory. But consider it against Facebook (FB) - Get Free Report. I think Facebook should be able to do $3 a share in 2016 and it is selling for a little more than 25x 2016 numbers. Let's say Twitter does better than that 64 cents a share. Let's say it earns 70 cents, a very nice beat, and you slap on that Facebook price-to-earnings ratio and you get a $17 stock.
Relevant?
Certainly as one way to value the stock. The way that people have begun to do ever since the March selloff in high-multiple-to-sales stocks where we have returned to reward companies with solid earnings growth more bountifully than we have companies with excellent sales growth.
But let's value it the way that I think many people view see as more correct, even as I totally disagree with it, using monthly average user growth. If this is reaccelerating after a leveling off of growth after the company's first public quarter, then I think it can go higher in the way that many of the cloud and e-commerce plays bounced after they reported. They didn't skyrocket back to where they were before the slaughter, but they went nicely higher.
And if the trajectory doesn't reaccelerate? I think it goes back to $30, where it did when the stock was overwhelmed with insider selling.
That, to me, is about as even a risk/reward as I have seen in some time. That makes this one a dangerous and impenetrable battleground that I want to avoid.
What's difficult for so many people out there is that because they like the product so much they demand an opinion. That's needless pressure. Does anyone demand an opinion on any of the Dow stocks? Really? Does anyone put a gun to your head and ask you about Pfizer (PFE) - Get Free Report or Lilly (LLY) - Get Free Report or 3M (MMM) - Get Free Report or Exxon (XOM) - Get Free Report?
No, and that's why they are easier to figure out. The trajectory of those stocks relates directly to the company's financial future. That's not the case with Twitter. Users love it and they want it to go higher, but they do not control enough stock to combat institutional selling.
What would change my mind about Twitter and cause me to want to overlook the near-term worries? Twitter bulls need to see some discipline and stability up top. They need Anthony Noto to assert himself as a strong chief financial officer. They need to show us which advertisers are using them and what percentage of the digital pie are they taking. Is it growing? Growing faster than Facebook? Than Google (GOOGL) - Get Free Report?
These comparisons and a calming at the top would go a long way toward making this stock more investable. Why? Because you would be able to craft a scenario where if this current team can't figure out how to make money off all of those users, another team, some flush company that can buy them. Yahoo! (YHOO) after Alibaba, or Microsoft (MSFT) - Get Free Report or Apple (AAPL) - Get Free Report can do so.
Many of the people in these companies like Twitter as part of a daily routine and many regard it as a news source. The pressure for many news people to actually break news on Twitter attests to that, and in a David Carr column in today's New York Times he writes about a foreign correspondent who defends herself from charges she isn't tweeting enough because she is spending time trying to write for paid readers.
They believe that Twitter can be another interface to bring in and lock up members into their own ecosystems.
That possibility tips me into the camp that wants to buy Twitter on weakness toward the low end of its range, even as I can't countenance recommending it ahead of the earnings because I fear the earnings expectations as being too high, the opposite, for example, of the expectations going into Facebook's number.
So, if you are a Twitter junkie and you insist on playing it, recognize the 50/50 nature of it and that there are many seasoned stocks out there with much better odds, a calculation that I regard as incredibly important that many say to me is simply irrelevant.
Random Musings: Dollar Tree's (DLTR) - Get Free Report buying of Family Dollar (FDO) is huge for Dollar Tree because Family Dollar's been so poorly run and Dollar Tree is a great operator. More importantly, companies in play get bought in this bountiful era.
Action Alerts PLUS,  which Cramer co-manages as a charitable trust, is long AAPL, FB, GOOGL and XLNX.
This article was originally published on Real Money at 6:45 a.m. on July 28.