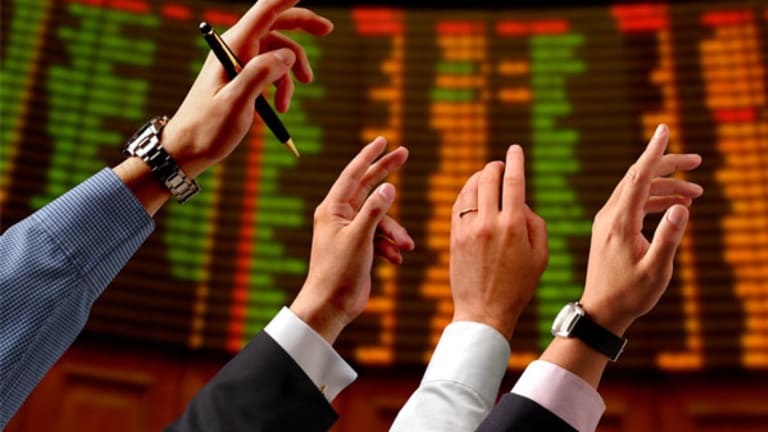 Cramer: My Meeting With the Ben Bashers
Four people took me aside to tell me Bernanke is wrecking the country.
NEW YORK (
) -- One after another, four in a row.
Four people took me aside at a fundraiser I attended last night to tell me that Ben Bernanke is wrecking this country. In three of the cases they used the same or similar language and the fourth was all expletives deleted.
All four could only think about the hyperinflation that he will unleash when thing get better.
In each case I tried to explain that Bernanke does not want to be the
Federal Reserve
chief who presides over another recession not unlike the recession that took place within the confines of the Great Depression in 1937.
Each person listened patiently to that and then dismissed it as something that's irrelevant.
When I then offered defenses about employment and the need for this great country to have lower unemployment, there was little sympathy. When I mentioned that inflation may be a little harder to have with an immigration bill coming through one said, "They already have jobs, it won't change a thing." Wage inflation is what each said he fears.
Editor's Note: This article was originally published on Real Money on April 11. To see Jim Cramer's latest commentary as it's published, sign up for a free trial of Real Money.
Only one gentlemen really felt like discussing the merits of the arguments. He wanted to know how the
Dow
and
S&P
could be hitting all-time highs with the U.S. debt at $17 trillion. I said that first, there is no justice when it comes to the stock market. They have nothing to do with each other.
He seemed mystified.
Then I walked through the
Johnson & Johnson
(JNJ) - Get Johnson & Johnson (JNJ) Report
analysis that I have been using in these settings. The AAA-rated balance sheet with consistent earnings that makes products that are loved in the growth portion of the emerging markets and a good dividend to boot.
He was not placated.
I said, "How about gold?" He said, "It's going down." I said, so what? If he really believed that Bernanke was going to wreck the country then the only real course of action would be to buy gold coins -- not even bullion, too unwieldy -- and put them in the vaults of foreign banks in countries that don't have debt problems.
His eyes rolled.
I said, Why is that so bad? If you really think the world is going to come to an end, am I not offering a substantive solution to the issue?
Nope, he said, it just doesn't help at all.
But all four naysayers did make me think. They made me think they only watch and read the same people over and over again, the ones who fret about Bernanke and NOT about the Republic. The ones who think that all that matters is preserving their wealth and they hear it is threatened by Bernanke.
To me, it is threatened by a president and a Congress that aren't serious about cutting spending or genuinely believe that tax increases will mean anything without Medicare reform.
They are the ones putting us at risk. That's who people should be grousing about. Ben? All he's doing is trying to keep us afloat in a world where everyone else is sinking.
What's so darned bad about that?
Action Alerts PLUS, which Cramer co-manages as a charitable trust, has a position in JNJ.