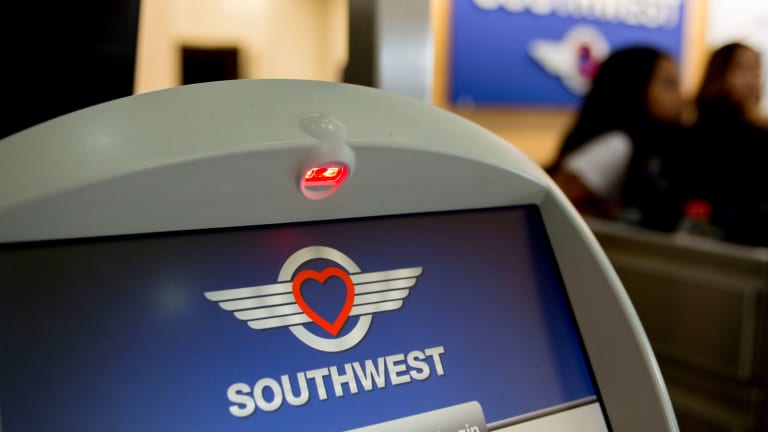 Cramer: Money's Being Thrown at Almost Everything in the Market (Part 2)
There are nearly too many surging sectors to count.
(This article originally appeared at 1:30 p.m. ET today on Real Money, our premium site for active traders. Click here to get great columns like this from Jim Cramer and other writers even earlier in the trading day.)
Continuing our look at stock groups that are sitting at or nearing all-time highs (read Part 1), airlines and aerospace had similar trajectories. They rallied hard, attracted a lot of shorts for doing so, aided by attacks by the president on the aerospace makers and fears that a trade war with China would dampen orders. But then the aerospace companies make nice with the president, the demand book stays strong, there is no trade war, Boeing (BA) leads the group higher, taking Honeywell (HON) and United Technologies (UTX) among others with it and Warren Buffett takes 7% positions in bothSouthwest (LUV) andDelta (DAL)  (see charts for HON, UTX and LUV below).
That's a perfect storm of positivity.
It's been the story in so many different industries. Perhaps the best example of the sell-short-cover run is the Kraft-Heinz (KHC) -Unilever (UL) debacle. Three weeks ago, the consumer packaged-goods stocks were the worst to own in the entire market. Most had weaker quarters. The strong dollar hurt almost all of them. Raw costs, chiefly energy, have bottomed and are going higher. There's competition in every aisle. Plus, with the possibility of sharply higher growth from Trump's agenda, these stocks became orphaned.
But then in a one-two punch that the shorts are still reeling from, Kraft-Heinz talks with Unilever about a gigantic bid while rates drop dramatically.
In fact, the 24 hours between when Kraft-Heinz reported a number widely disliked that hurt the whole group, because it didn't talk about buying another company, and when it launched its bid for Unilever may have been the fastest hate-to-love fest for a group that I have ever seen.
Finally, there's the banks. Both the nationals and the regionals have had big moves based on the coming of higher interest rates and deregulation. The rates have stalled out. But the deregulation and the possible gigantic returns of capital -- ones that Buffett talked about in his annual letter -- have kept the group from falling under its own weight, despite endless short calls by so many managers. So every stock from Wells Fargo (WFC) and Citigroup (C) to First Horizon (FHN) , BB&T (BBT) and Cullen Frost (CFR) just won't quit. (Kraft-Heinz, Wells Fargo and Citigroup are part of TheStreet's Action Alerts PLUS portfolio.) 
Now, of course, everything quits. And, of course, all these stocks I have mentioned are radically overbought. But we have to recognize that this is a hated move with managers lobbing bombs at it every chance they can get. If you want to see what I am talking about, I want you to Google Gundlach and the stock market. That's the incredibly revered money manager Jeffrey Gundlach from the DoubleLine Fund.
Do it.
OK, you won't? I will do it for you.
Nov. 15: Gundlach says Trump presidency will be a bumpy ride for stocks. Dec. 2: Gundlach warns Trump trade is "losing steam" and stocks have peaked. Dec. 13, Gundlach: Watch out for a stock market selloff. Dec. 14: Gundlach says brace for turmoil if 10-year tops 3%.
Now, I don't mean to pick on Gundlach. Actually it's the opposite; Gundlach was one of the few who actually picked Trump to win. I am using him as a metaphor about how even those who had the clarity to see Trump's victory have been devastatingly wrong about the stock market's direction ever since.
I could list a half-dozen other incredibly high-profile managers who have given us big warnings to sell. It's very hard to find anyone who said to buy and stick with it, although I am sure there are some out there.
It's just a remarkable rally and while it's not roaring -- these were small moves higher during this streak -- it should roll over. It has to roll over, doesn't it? Yeah, you say anything else and it does roll over and you might as well never come on air again.
Hmm, maybe that's the real problem. Who can, after this run, bless the darned thing? You risk your entire career doing so if you don't say, "Markets Flash Warnings Sign," as the front page of The Wall Street Journal says today, or something boilerplate like that which you can see and hear everywhere else. And yet, you could have made your career had you just gone long and loud since Election Day and stayed that way.
Action Alerts PLUS, which Cramer co-manages as a charitable trust, is long KHC, WFC and C.