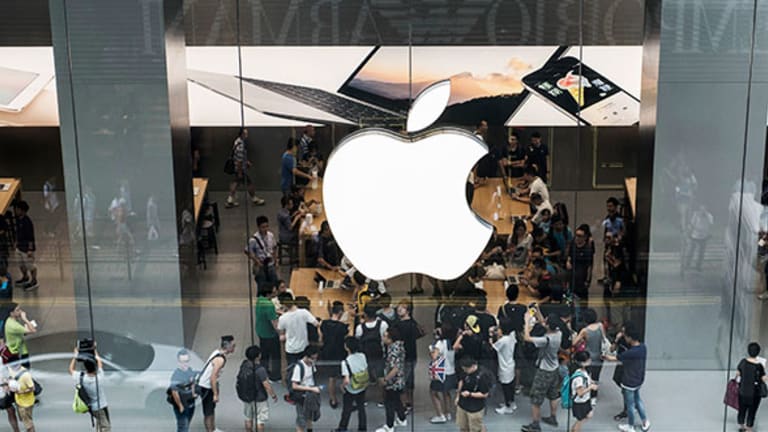 Cramer: Loyal to Apple, Doesn't Like Twitter Until $19.20
Despite the beating Apple has taken over its cellphone shipments, Jim Cramer is still a believer in the stock. Twitter less so.
NEW YORK ( TheStreet) --  Apple (AAPL) - Get Apple Inc. Report "has become a bad stock," said Jim Cramer, who answered viewers'  Twitter (TWTR) - Get Twitter, Inc. Report questions from the floor of the New York Stock Exchange. But he noted that the reason people are making such claims is because Apple missed Wall Street's estimates for cellphone shipments when it reported sales of 47 million cellphones in the third quarter. Apple is also getting dinged because the Chinese auto numbers "are tremendously bad," Cramer added.
"Apple does not get support until $107," Cramer said. Right now, Apple is in a technical grip, meaning that based on the stock's technicals, "it's just really bad." Cramer added, "People who follow the technical are just banging the stock and they're shorting the stock."
However, Cramer takes a different approach than other investors, with a "longer-term view" on the stock. This means he sees Apple as an inexpensive stock and believes it is a buy between $107 and $110 a share. "A lot of people have turned on Apple. I'm not turning on Apple," he said.
Twitter (TWTR) - Get Twitter, Inc. Report was another stock Cramer addressed. "Twitter has to go down so low that there could be a bidding war," he said. However, he doesn't expect that to be the case until it reaches $19.20, at which point Google (GOOG) - Get Alphabet Inc. Class C ReportFacebook (FB) - Get Meta Platforms Inc. Class A Report, or Yahoo! (YHOO) may jump in. Cramer's charitable trust, Action Alerts PLUS, owns some Twitter shares, but he said the position "was a huge mistake." The company is poorly run and "in disarray," because many high-level executives are leaving Twitter. Twitter shares opened on Tuesday at $29.11.
Changing gears, Cramer responded to a question on biotech stocks by saying people need to be focused on Regeneron (REGN) - Get Regeneron Pharmaceuticals, Inc. Report, or BioMarin Pharmaceutical (BMRN) - Get BioMarin Pharmaceutical Inc. Report. "Regeneron reported unbelievable numbers" and BioMarin "reported a number which was very strong and has a lot of things in the pipeline," Cramer said. As to the smaller biopharmaceutical stocks, Cramer said that they are not performing well and that investors need to "wait for the big guys to do well, before the little ones perform."
Cramer answered his last question on Alcoa (AA) - Get Alcoa Corporation Report. The aluminum company received an upgrade on Tuesday, however, Cramer said "the problem with Alcoa is that it makes aluminum." The company has done a lot to change itself to become more tied to the airlines industry, "but if you look at any commodity maker... it doesn't matter," because there has been "the most ultimate bear market in commodities in my lifetime," Cramer said. He explained the reason for the bear market was China. Cramer said that investors should stick with Alcoa, but he will not tell them to go out and buy it.
If you have a stock question, make sure to tweet it @jimcramer using #CramerQ.
At the time of publication, Jim Cramer's charitable trust Action Alerts PLUS held a position in Twitter.