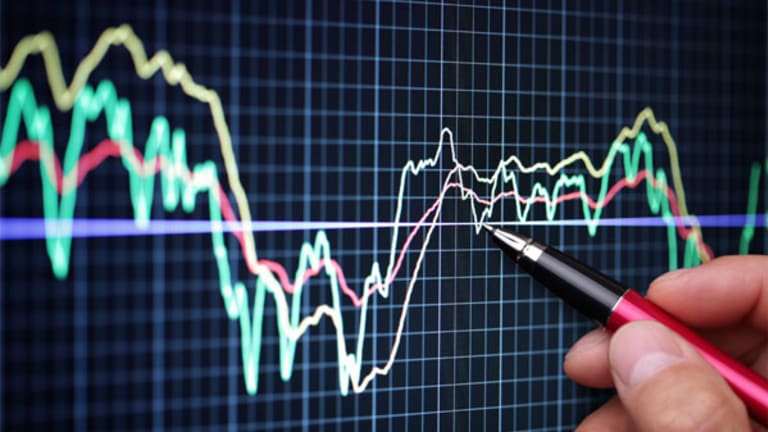 Cramer: Looks Like Europe May Have Hit Bottom
This isn't to suggest it'll rebound. But it may just stay at this level -- far better than further deterioration.
Editor's Note: This article was originally published at 6 a.m. ET on Real Money on April 30. To see Jim Cramer's latest commentary as it's published, sign up for a free trial of Real Money.
NEW YORK (
) -- What would happen if Europe bottomed out? No, not if it went up, but if it simply bottomed out? That's what the European stocks, which hit five-year highs Tuesday, might be signaling. Last night I talked to two CEOs on "Mad Money" -- Sandy Cutler from
Eaton
(ETN)
and Chuck Bunch from
PPG
(PPG)
-- and both indicated that Europe might be hitting bottom and that it may not decline much if at all from the current levels.
For Cutler, who has a huge electronics business in Europe, the continent is mired in molasses but it may not be getting any worse. Yes, the business is terrible there, but it might just be staying terrible instead of deteriorating further.
Bunch goes a step further and says he thinks the first quarter might be the worst, and that things might actually get better by year-end.
These are not idle sentiments. Last week, when
Starbucks
(SBUX)
CEO Howard Schultz gave his overview, he said he thought Europe was bottoming.
Colgate
(CL)
indicated the same.
Now, there are many companies, including technology companies, that would indicate things are still getting worse. There are auto companies that say it is getting much worse.
But the CEOs of PPG, Eaton, Starbucks and Colgate aren't pie-in-the-sky guys. They are very smart people who know what their order books look like and have all been very accurate at forecasting -- which is why their companies have been able to navigate this treacherous period so well. 
If that's the case -- if Europe's bottoming -- then both Eaton and PPG would be buys (my
charitable trust owns Eaton). That's because these companies have taken out tremendous costs in Europe, and are not willing to wait around for revenue to turn. If sales do turn around, meanwhile, the leverage would be magnificent.
As it is, PPG is seeing good strength in its China business because it is geared to autos -- which, like PPG's business in the U.S., is very robust. So if the U.S. remains moderately strong, and if Europe stops getting weaker, that could be the recipe for a major upside surprise. Keep in mind that PPG's major raw ingredient for coatings, Ti02, is in glut in Europe. That bodes well for gross-margin expansion.
Eaton's business in the U.S. is stronger than it has been in ages because it has merged with Cooper and it is taking out huge costs. That's why the gross margin, reported Monday morning, was so awesome. But this is the company's weakest quarter each year, and I bet if Europe ceases to weaken you could see some very good numbers here, too.
You could quibble with this positive outlook, but you can't quibble with the European stock market, which has now rallied to five-year highs off the idea that austerity is no longer going to be the mantra. That's in part because Germany has just turned weak, and in part because there is such high demand for bonds, even from the ne'er-do-well countries like Italy and Spain. Germany needs its export markets to do better if it wants to keep from sliding into a recession. The rest of the continent is fed up about the lack of employment. Politically, it's the right time to rebel against the orthodoxy.
Maybe that's what people see? I don't know. But for the CEOs I'm talking to, I don't think they are looking at political tea leaves. They are looking at order books, and a stagnant order book is a lot better than one in free fall.
Action Alerts PLUS, which Cramer co-manages as a charitable trust, is long ETN.