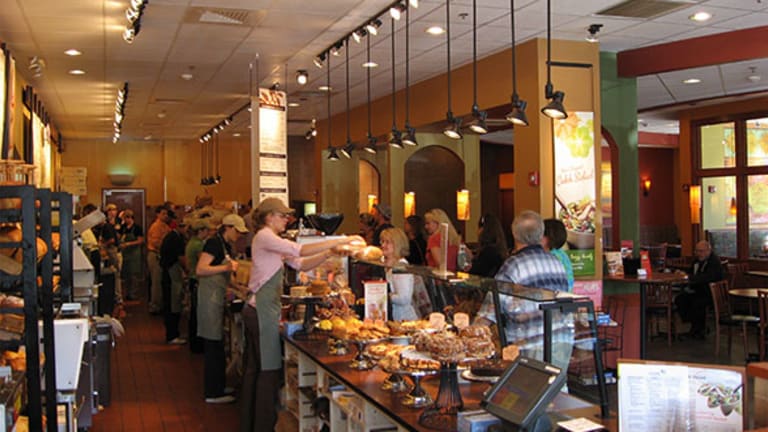 Cramer Likes Panera Bread's Effort to Improve Customer Service
The portfolio manager of the Action Alerts PLUS charitable trust said Panera 2.0 is working, and AAP will be buying shares.
NEW YORK (TheStreet) -- Jim Cramer, portfolio manager of the Actions Alert Plus charitable trust, and research director Jack Mohr, are fans of Panera Bread's (PNRA) initiative to attract customers as Cramer said Panera 2.0 "is definitely working," which is why they are reinstating a position in the stock.
Panera launched its 2.0 initiative last year with technological and operational improvements aimed at enhancing the customer experience.
"As they integrate a lot more technology, then you're going to be able to see better numbers year-over-year with a much smaller supply of stock out there," Cramer said.
"Panera arguably is a turnaround even though it was never really bad, but they're going more natural and organic, that's really important. It's not that expensive versus historically the way Panera is, and they've got a lot of raw costs coming down, and gasoline is coming down," he added.
Mohr said that Panera's new technology makes it easier and quicker to order.
"You've got more traffic, you've got better throughput, you have cost-saving initiatives, you have a new CFO, new management team, it's coming together, it might be a little choppy, but I think long term I really feel confident," Mohr said.
Cramer added, "One of the things we've been trying to do is recognize that the market is very volatile, and if Panera comes down 5, we're going to see us buy more."
On Thursday, shares of Panera were trading at $181.57, up 2.5%. The stock is up 4% this year.
At the time of publication, Jim Cramer's charitable trust Action Alerts PLUS held no positions in stocks mentioned.