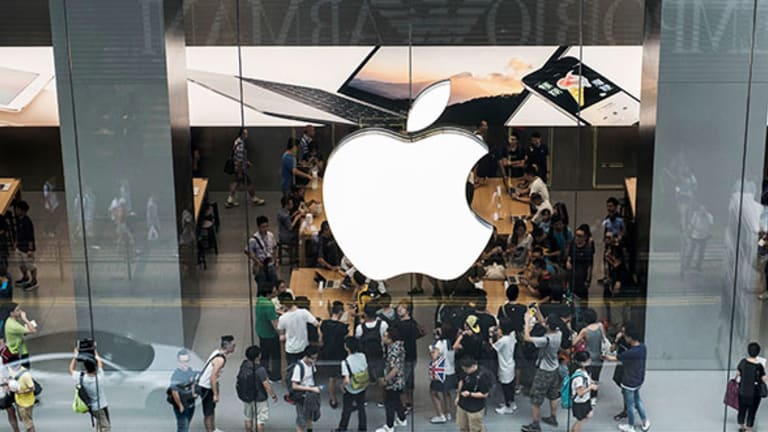 Cramer Is Watching for Apple's China Sales Figures
Jim Cramer warns that Apple's sales figures from China won't include the bear market so will be discounted by analysts.
NEW YORK (TheStreet) -- Jim Cramer is watching Apple (AAPL) - Get Apple Inc. (AAPL) Report as the company gets ready to report earnings on Tuesday. 
The world's biggest publicly traded company will report its fiscal third-quarter earnings after the market close, with an earnings call scheduled for 5 pm ET.
Standing on the floor of the New York Stock Exchange, Cramer said the key thing investors will need to find in the earnings call this quarter is the sales numbers from China. Those numbers will not include the China bear market, which means that whatever the company says "is going to be discounted by the analysts --I hate that," Cramer said.
Cramer reiterated one of his more commonly used mantras: "Own Apple, don't trade it." However, he also warned investors about some difficulties in owning the Cupertino-based tech company coming into its third-quarter earnings report.
"If you own it, be aware that the estimates have crept up, crept up, crept up, and there will be someone who decides it's too high," he said, adding that investors should be careful about when the estimates come back down a touch.
Cramer's charitable portfolio, Action Alerts PLUS, currently owns Apple as part of its portfolio holdings. As part of Action Alerts PLUS' Weekly Roundup feature, Cramer and Jack Mohr, the director of research, told subscribers that they are expecting strong third-quarter results. They are also expecting Apple Watch demand to have slowed sharply but said strong iPhone sales will offset the drag from the decreased Watch demand.
At the time of publication, Jim Cramer's charitable trust Action Alerts PLUS held shares in stocks mentioned.