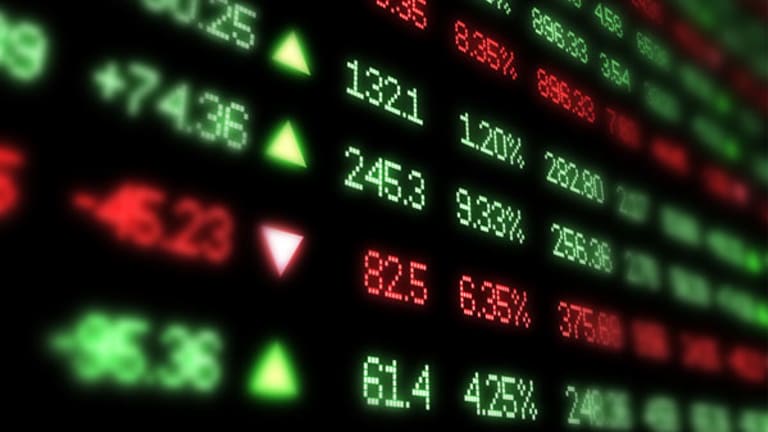 Cramer: How to Save Hewlett-Packard
Three things: new product, worldwide growth and a lot of luck.
Editor's Note: This article was originally published at 7:34 a.m. EDT on Real Money on Aug. 22. To see Jim Cramer's latest commentary as it's published, sign up for a free trial of Real Money.
NEW YORK (
) -- What do you do if you are Meg Whitman, CEO of
Hewlett-Packard
, now that she's had to hit the reset button on the turn at the huge computer company?
How do you stop the bleeding of a company that saw an 8% decline in revenue growth this quarter? How do you turn around sales in 2014, given that in the last four months she's gone from predicting an increase in revenue for next year to saying that such an increase would be unlikely?
First, here's the good news. Despite some pretty hideous numbers, including PC consumer revenue being down a staggering 22% and enterprise revenue being off 9%, the bleeding has been stopped.
In fact, lost in all of the disappointment is the fact that the cash is building despite a 14% decline in earnings, with cash flow from operations at a healthy $2.7 billion, albeit down 6% from last year. The company knocked off $1.7 billion in debt, which is the sixth consecutive quarterly reduction of more than $1 billion dollars.
Still, though, it's daunting, and when I interviewed Meg Whitman last night in preparation for today's sit-down, I struggled to find analogues to what must be done to get revenue rolling again.
She suggested I look at two of the greatest turnarounds of all time for help:
the IBM turn engineered by Lou Gerstner beginning in 1993; and
the transformation of Starbucks by a returning Howard Schultz in 2008.
They did take a similar path -- fix the balance sheet first then grow the company.
Admittedly, in Howard's case, the world didn't turn against coffee. He had a rising tide, but the company was looking pretty dour, and the stock had gone from $38 down to $20. It all seems very easy now, but the stock did dip to $7 before its remarkable run to $70.
But IBM, where Gerstner basically saved the company from going belly-up is the more cogent comparison. IBM had fallen from $36 in 1991 down to $10 in 1993 before Gerstner came in, and he had the company growing pretty quickly with the stock rising to $139 six years later.
Not only did Gerstner have to arrest the balance sheet decline, something that Howard had to do, too, but he had to reinvent the company, taking it away from being a Big Iron behemoth and turning it into a software and service company with a hardware tail.
That was far more difficult than we realize given that the company was hemorrhaging money, but Gerstner had brought in the late Jerry York, one of the most talented CFOs in the business, and York found ways to cut costs and build cash while Gerstner changed the company's mission entirely.
And that's where Whitman is right now. She is still stabilizing the balance sheet, however, going for a debt-free company while trying to reinvent the business as a cloud-based storage, intelligent software and security play with a personal computer and printer kicker. The problem is that the industry is moving so quickly to smarter, smaller devices that require very little in cost and tie into to inexpensive servers while at the same time the world's growth is outright shrinking when it comes to enterprise and personal computer spending.
I just don't know whether it's going too fast to make it so that Hewlett can transcend the riptides. Now, the stock of Hewlett-Packard has had a remarkable run since the time Whitman took the very viability off the table last year. It had touched $11 during the dark days of November before rallying into the close of the year, and it hasn't looked back, running up 78% for 2013, although it did hit $27 a week ago.
That move made sense, although it is sobering to consider that all the stock has done is gone back to where she took over the job two years ago. Now the big issue is what turns the thing around.
You would like to think it could be new products, which is something that Meg mentioned was responsible for the amazing
Apple
(AAPL) - Get Apple Inc. Report
turn, but she quickly dismissed that as analogous given there's really no product in the hopper that is as revolutionary as the iPod, or the iPhone or the iPad. She does have some pretty cool products in the stable, including Moonshot, which is a leading server product that can harness the huge internet traffic for enterprises trying to keep up with the explosive growth. She does have, believe it or not, Autonomy, which is smart search software, an unappreciated and fast-growing niche for which the previous CEO simply and foolishly overpaid.
Still, though, there's nothing in the lab that's going to move the needle.
Plus, unlike the old days at Hewlett-Packard, there's not enough best-in-class there. The personal computer is a vicious commodity in which the value, or whatever is left of it, accrues to the disk drive companies, semiconductor companies and
Microsoft
(MSFT) - Get Microsoft Corporation Report
.
Lenovo
, a very low-cost manufacturer, has now taken over as the largest PC maker. That bragging rights crown has been lost. Worse, though,
Dell
(DELL) - Get Dell Technologies Inc. Class C Report
is out there slashing prices and depressing earnings, something it might not be able to do as a private company loaded with $13 billion in new debt.
In fact, the only standout area in this whole company remains printers, where business still declined but units went up, good news for a business that generated $5 billion in sales this quarter. Also, the software business actually increased 1%, although it only did $982 million in revenue.
So, I think with that hand, it is all back to the cost-cutting drawing board, as Whitman waits for a turn in worldwide GDP while searching for acquisitions to get some growth. Is she waiting for Godot? I think it's a little better than that because of the cash generation, but there's nothing in this current stable or in the new-term product flow that can turn around sales in this environment.
How about breaking up the company? Whitman said that was looked at before, and nothing's different. She doesn't believe that the sum of the parts is worth more than the whole, and the costs would jump if she tried to do it. Merging? With whom?
She could and will continue to buy back stock, enough to offset dilution. Also, the company raised the dividend 10% this year, and the board has room to do it again next year.
The simple set of facts, though, is that, unlike Schultz, who was able to turn around the stores to something that beckoned while expanding aggressively overseas, there's not a lot of product that, if turned around, would mean growth, and Hewlett-Packard is already everywhere. The IBM path is the hope, I believe, where Hewlett-Packard can turn into a value-added Internet software and security company that also has a decent printer division and a personal computer business that is outsourced to another company so that they are build dirt cheap and don't eat up capital.
Can it be done? Yes, but without some economic growth in the world (something that seems to dim every time we look. although interest rates and the
Fed
say otherwise), this isn't a "wait until next year" situation; it's a "wait until 2015" issue, which is when this company will have enough cash to start buying other companies along with the help of some economic tailwinds and not headwinds.
In short, Hewlett-Packard needs three things:
new product;
worldwide growth; and
a lot of luck.
And it's the last thing you are banking on if you buy it today.
At the time of publication,
, which Cramer co-manages as a charitable trust, was long AAPL.