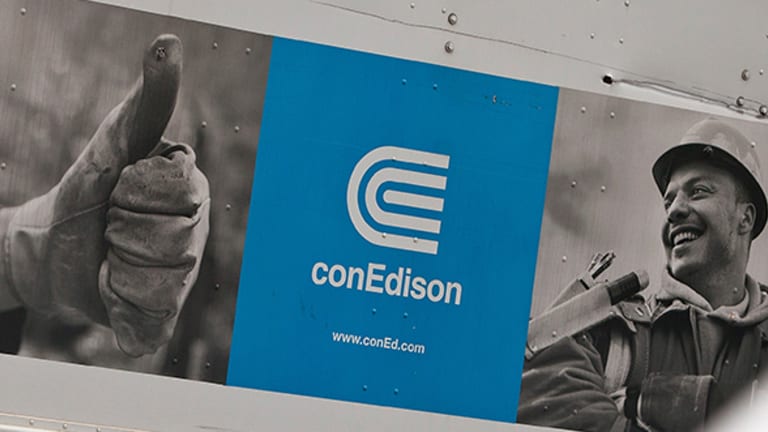 Cramer: Here Are Many More Stocks in Loved Groups
Here are more stocks in Jim Cramer's loved groups, starting with utilities.
Editors' pick: Originally published Feb. 22.
Next up among the loved stock groups, according to the charts? The utilities.
It really doesn't matter which one you want. They are all trading together. I would highlight that if you don't want exposure to fossil fuels go with ConEd (ED) - Get Consolidated Edison Inc. Report as it's just a conduit to your house. If you don't mind fossil fuels then I would go with the one my charitable trust likes, which is American Electric Power (AEP) - Get American Electric Power Company Inc. Report . I think that both Duke (DUK) - Get Duke Energy Corporation (Holding Company) Report and Southern (SO) - Get Southern Company (The) Report have issues that makes me feel they are too expensive. In the end, though, just find one and get comfortable. They are bond market equivalents and if you think deflation's occurring, they are still must-buys.
Deflation's the theme behind so many of the insurers being on the list. Some that stand out: Progressive (PGR) - Get Progressive Corporation (The) Report , Cincinnati Financial (CINF) - Get Cincinnati Financial Corporation Report (one of the strong dividend growers flagged in the excellent piece by Brian Bollinger in TheStreet last week) insurance brokers Marsh & McLennan (MMC) - Get Marsh & McLennan Companies Inc. Report and Aon (AON) - Get Aon plc Class A (Ireland) Report .
But my personal favorite is Chubb (CB) - Get Chubb Limited Report , the surviving name of the combination of Chubb and Ace, the latter's hard-charging CEO Evan Greenberg being the surviving manager. Watch this stock. The company's just begun to merge and the synergies are fabulous.
Deflation's driving lower yields, which is why CenturyLink (CTL) - Get CTL Report , AT&T (T) - Get AT&T Inc. Report and Verizon  (VZ) - Get Verizon Communications Inc. Report remain ever popular. I am always suspicious of the higher-yielding CTL and I think that a 7% yield is too much of a red flag. Nor as I am that sure about AT&T and its DirecTV purchase, but the 5.5% yield is safe. Verizon, with growth and yield, remains my favorite and my interview with CEO Lowell McAdam a couple of weeks ago only solidified that view.
The real high-yielding group that I have trouble with is tobacco. Philip Morris (PM) - Get Philip Morris International Inc Report , Altria  (MO) - Get Altria Group Inc. Report and Reynolds (RAI) have decent yields all north of 3% but I say why bother. Do you really need to reach for pariahs? Count me out.
You think deflation's so horrendous that our central bank is going to cave and go negative interest rates. Boy, if they did that the Federal Reserve should dump all of its bonds and use those amazing gains to pay down the U.S. debt. And you should go buy some gold. The market likes Barrick (ABX) and Agnico Eagle (AEM) - Get Agnico Eagle Mines Limited Report . I would prefer Randgold  (GOLD) - Get Barrick Gold Corporation (BC) Report , the only real gold growth stock or the SPDR Gold ETF (GLD) - Get SPDR Gold Shares ETF Report or just plain oil bullion if you can store it somewhere safe. I always think you need to own some gold.
We've got one secular theme going here that encompasses three publicly-traded companies: Republic Services (RSG) - Get Republic Services Inc. Report , Waste Connections (WCN) - Get Waste Connections Inc. Report and Waste Management (WM) - Get Waste Management Inc. Report . David Steiner, the CEO of the latter, pretty much laid it out, saying raw costs are good, construction's coming back and the conditions are ripe for margin expansion. I would go with Steiner as he's incredibly shareholder friendly and you have that 2.78% yield on which to fall back.
The new frugality theme periodically disappears under the avalanche, typically of Amazon's (AMZN) - Get Amazon.com Inc. Report hegemony, but if you check out Ross Stores (ROST) - Get Ross Stores Inc. Report , TJX (TJX) - Get TJX Companies Inc. (The) Report , Dollar Tree (DLTR) - Get Dollar Tree Inc. Report and Dollar General (DG) - Get Dollar General Corporation Report you will see a resilience that is daunting for any bear. These stocks regularly get hit and bounce back, I think in part because they are real bargains for consumers that price through Amazon and don't have a target on their backs the way Walmart (WMT) - Get Walmart Inc. Report does with its anemic online growth and its escalating labor costs. I like 'em all and you just have to be price sensitive as they all seem to go down at different times. These are probably the best plays on the more-change-in-your-pocket themes because their shoppers need that extra gasoline money more than the wealthy in order to spend at these stores.

Investors love turnaround and that's why we find Abercrombie (ANF) - Get Abercrombie & Fitch Company Report and Coach (COH) on this list. I am skeptical about the former and think its strength is just a product of a comeback from the depths of total management disarray. But the latter is the real deal and I think Coach can have a bit more run as its new styles and its refreshed management really work for me.
Let's include Mattel (MAT) - Get Mattel Inc. Report in the turnaround. Here's a company that's gotten much more in touch with its customers and is experiencing a renaissance in part because of that customer service. Take a look at the testimonial on the Salesforce.com  (CRM) - Get Salesforce Inc. Report Web site if you don't believe me. The dividend is safe because of the turnaround. I am putting Sysco (SYY) - Get Sysco Corporation Report into the mix here because it had to turn itself around while the government broke up its merger with U.S. Foods. Sysco has a big energy bill for those trucks and the overall improvement in the restaurant group's fortunes has helped them.
We usually have a host of health-care stocks on the list in a time of slower growth, but this is an election year and everyone from the drugs, save Johnson & Johnson (JNJ) - Get Johnson & Johnson Report , to the biotechs to the health-care maintenance and pharmacy benefit manager types are under pressure from the presidential candidates or from each other.
There are only two that seem to have been able to weather the storm: Edwards Lifesciences (EW) - Get Edwards Lifesciences Corporation Report and Henry Schein (HSIC) - Get Henry Schein Inc. Report . Both of these are worthy of their new highness. Edwards has a better mousetrap, a device that obviates the need for chest-cracking open heart surgery. It's taking hospitals by storm and ever since it's been blessed by the FDA, this one's been off to the races. I love having Schein's Stanley Bergman on because he is the quintessential consistent growth administrator of a company in a consolidating industry, medical supplies, particularly dental and veterinary. You always have to take care of your teeth and lavish the best health care available on your pets. What a glorious combination.
Finally, there are the industrials that are bucking the big worldwide slowdown trend. Honeywell (HON) - Get Honeywell International Inc. Report and 3M (MMM) - Get 3M Company Report stand out and that's just plain fantastic management speaking as Dave Cote and Inge Thulin have done amazing jobs making their enterprises the innovating dominators. Their last quarters were just beauteous and, let me just add, some may be jumping on these to get an edge on a nascent turn down in the dollar. They have huge exposure to rest-of-world currencies, which they have both navigated magnificently.
I'm also putting Emerson (EMR) - Get Emerson Electric Company Report , which has been such a disappointer, on the list and Cisco (CSCO) - Get Cisco Systems Inc. Report , which had a smashing quarter and gave you a huge dividend boost, enough to make it the only bond-market-equivalent tech company out there with a yield I trust. Emerson just had a very nice shift up in orders that could be a harbinger for a spring earnings turnaround. Cisco has a fabulous balance sheet and is putting it to work in an aggressive buyback.
Some would say it is always doing too much of that, but I like the dividend boost and some of the acquisitions, which take advantage of the closed door to the IPO market for some highly-valued unicorns. For the life of me, I do not get why people don't see the greatness of the acquisition of Jasper Technologies by Chuck Robbins, which gives them a cloud-based Internet of Things platform that's the talk of the service provider world. Look for some big AT&T orders for Cisco from this acquisition.
I can't overlook the fabulous charts of Illinois Tool Works (ITW) - Get Illinois Tool Works Inc. Report , a good old fashion industrial as well as Northrop Grumman (NOC) - Get Northrop Grumman Corporation Report , the most fair-haired defense contractor. Neither has a very exciting story to tell, but both fit the pattern of good management and modest valuations that have beaten numbers.
I have three oddities I don't get: Nielson (NLSN) - Get Nielsen N.V. Report , the measurement company, Nasdaq undefined , which can't certainly be doing well off of new listings, there have barely been any, and Kimco (KIM) - Get Kimco Realty Corporation Report , a realty investment trust. Perhaps the latter is a beneficiary of the newfound shortage of much yield in the group and a recognition that if Amazon hasn't wiped out its tenants by now, it ain't ever going to happen.
Now, like all themes and hot stocks, you have to wait for macro worries -- oil, china, presidential politics and errant Fed statements -- to bring them down. They won't go down on their own devices. That said, each works and with only a few exceptions, their worth is self-explanatory.
They are, in short, the best places to be.
Editor's Note: This article was originally published at Feb. 22 on Real Money on at 10 a.m. EST.
At the time of publication, Cramer's Action Alerts PLUS had a position in AEP and CSCO.