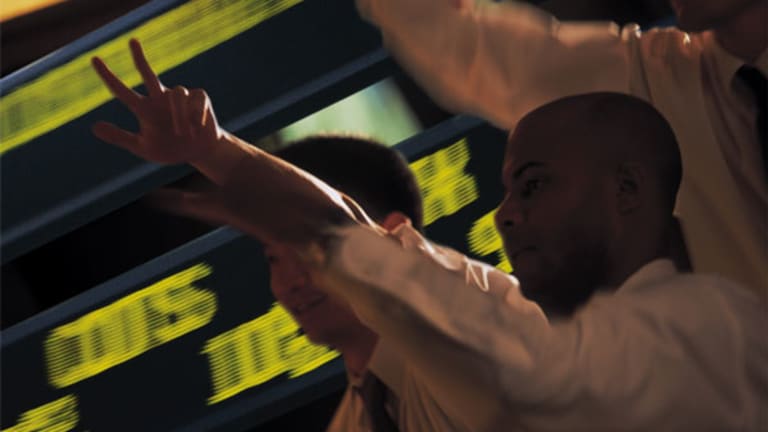 Cramer: Hain Can Defy the Shorts
The market capitalization is simply too small for the opportunity.
NEW YORK (Real Money) -- I know when you have a stock up as much as Hain Celestial (HAIN) - Get Report was yesterday, more than nine points or 11%, you should just say, "I missed it." But this market has changed its coloration again and because it is so thin out there, the big boys haven't been able to get enough stock in at easy levels to either establish their positions or cover their shorts.
In other words, just like Home Depot (HD) - Get Report and TJX (TJX) - Get Report , which were up huge Tuesday and then moved nicely again yesterday, I think there is more to go with Hain in today's session and maybe beyond.
Before I say why, let me point out that 7% of Hain is sold short and there are some very high profile bashers of the stock on Twitter, including one fellow who will remain nameless with tweets that indicated even as late as the morning after the earnings came out that they weren't so hot and lacked "leverage." It was stupefying to see the same old gripe that there was no organic growth and it is all done with roll-up acquisitions when there were multiple callouts of products that have grown by leaps and bounds.
Not only that, but given the aggressive nature of the Target (TGT) - Get Report , Walmart (WMT) - Get Report and, perhaps most importantly, Kroger (KR) - Get Report commitments to natural and organic, I think that this company can handily beat its incredibly high forecast for next year.
In other words, the bear case seems to have been put to rest by the quarter and the guidance and the need for all food stores to put in natural and organic and take out canned and preserved.
Hain's is one of those companies where the market capitalization is simply too small for the opportunity. It either gets it stock higher itself or a growth-challenged food company pays $7 billion -- what I think it would take to get this $5 billion company -- in order to get big and go international with organic and natural in one fell swoop. The conventional food business category is growing at 1% and this one is growing at 10%. An acquisition by Kraft (KRFT) or Mondelez (MDLZ) - Get Report or Kellogg (K) - Get Report or General Mills (GIS) - Get Report just seems so likely if the company hits those growth projections and its stock stays down here.
It's really amazing that all through this run-up in the stock, CEO and founder Irwin Simon has had to battle the shorts, even as his company's neither overvalued nor in a secular dead end of the food business.
I often wonder what they really see that they don't like. How can they dismiss a company that has Kroger, Safeway (SWY) , Publix (PUSH) , Walmart, Target and Costco (COST) - Get Report all trying to get more of what it makes? I have so many companies in the food space that miss their targets and guide down that their calls have all become almost cartoonish. The only other food company with strong numbers is the Hain doppelganger White Wave (WWAV) . To me, Irwin's about as transparent as they get and has always owned his mistakes, which have been few and far between.
Plus, Simon's moving so aggressively into the huge supermarket companies in Europe that I think he will, indeed, have created a company like Heinz (HNZ) or Campbell's (CPB) - Get Report for the next-gen de-pantried youth of Europe, where the ethos is even stronger than it is in this country.
So now it is a question of whether the shorts will use their usual outlets on- and offline in a sort of rearguard action trying to assert that there's not enough leverage or enough disclosure of actual organic growth or whether they finally, at last, throw in the towel.
I think what will happen is that the negative analysts will keep yappin', but the clients themselves know they need to cover or give up their quarter if they don't.
Action Alerts PLUS, which Cramer co-manages as a charitable trust, has no positions in the stocks mentioned.
Editor's note: This article was originally published on RealMoney at 7:52 a.m. EDT on Thursday, Aug. 21.