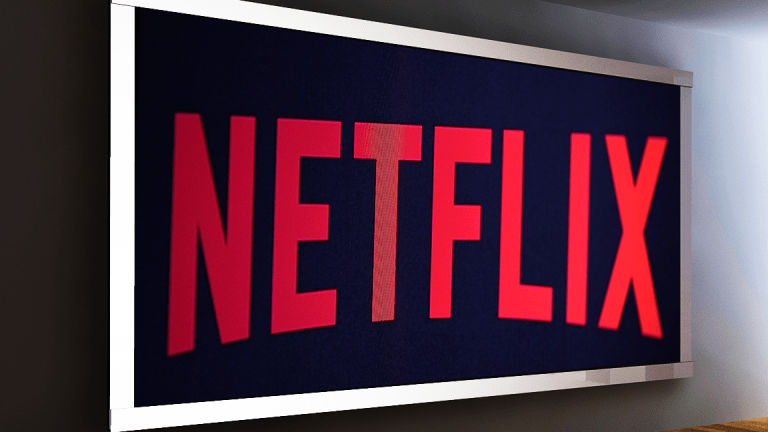 Publish date:
Cramer Goes Off the Big Tech Charts
Shares of Netflix and Alphabet may not be peaking, but that doesn't mean it isn't time to take some profits.
Shares of Netflix and Alphabet may not be peaking, but that doesn't mean it isn't time to take some profits.
Big tech names such as Amazon (AMZN) - Get Amazon.com, Inc. Report , Netflix (NFLX) - Get Netflix, Inc. (NFLX) Report , Nvidia (NVDA) - Get NVIDIA Corporation Report , and Alphabet (GOOGL) - Get Alphabet Inc. Class A Report  have continued to surge with the 2018 rally.
But it would be irresponsible investing not to at least consider whether to pull some of the profits out of the names, according to Jim Cramer.
That's why Cramer went Off the Charts with Carolyn Boroden, who runs the FibonnacciQueen.com website and also contributes to RealMoney.com to get a better sense of what's happening with Amazon, Netflix, NVIDIA, and Alphabet, the company formerly known as Google.
At the beginning of December Boroden reviewed three high-flying tech stocks -- Apple (AAPL) - Get Apple Inc. (AAPL) Report , Netflix and Facebook (FB) - Get Facebook, Inc. Class A Report , and said they had more room to run. Since then, some of them have started to hit her price targets, which raises the question: how much room do they have left to run?
Boroden's not saying Facebook, Apple or Netflix have peaked, but she does think it's time to be more cautious.
Boroden's approach to the technicals is based on Fibonacci ratios, a series of numbers discovered by Leonardo Fibonacci, the godfather of medieval mathematics, that repeat over and over again in both nature and the stock market-23.6%, 38.2%, 50%, 61.8%, 100% and so on. When Boroden looks at a stock, she measures the size of its past swings then runs them through the prism of these Fibonacci ratios, which leaves her with a crucial set of levels where that stock is more likely to change its trajectory.
Boroden notes that many rallies tend to come to an end at extensions of prior swings -- meaning they retrace the full move and then go another 23.6% or 38.2%. Once you get to that level, there's a decent chance the rally will pause or even turn into a decline. Amazon recently met two key Fibonacci extensions recently, which as far as Boroden's concerned, means that this chart is anticipating a pullback.
Boroden also likes to use the concept of symmetry, the idea that stock moves tend to be similar in size to previous swings. Looking at Amazon's chart: When the stock rallied going into October of 2016, the move lasted for $373.21. Then if you measure Amazon's next upswing, it also lasted for EXACTLY $373.21, going into the stock's high last summer.
Amazon's latest rally has taken the stock up $408. So it's a little long in the tooth compared to the past two runs, although in 2015 the stock ran up $412 from trough to peak. That means if you buy this concept of symmetry, then it's easy to see how the stock might be due for a pullback.
How much of a pullback? Well, after Amazon peaked in October of 2016, there was a $137 decline; after the peak last summer, there was a $151 decline. In both cases, the stock quickly resumed its long march higher. That's the first reason Boroden thinks it might be a good idea to do some profit taking here and then circle back a hundred odd points lower. Throw in the fact that Amazon's got a ceiling of resistance running from $1,304 to $1,344 and you've got another reason to play it safe.
Last month Netflix was a $184 stock which Broden said was headed to $211. Shares traded up $224 as of today. Like Amazon, Netflix has reached a Fibonacci price extension level that tends to mark the beginning of a pullback. In addition, there's the symmetry factor. Most of Netflix's recent runs have lasted for anywhere from 44 to 47 points. Given that the stock is now up 45 points in its current rally, and facing a ceiling of resistance in the mid $220s, Boroden thinks you might want to book some profits ahead of a temporary pullback.
Boroden sees something similar in the daily chart of Alphabet. Here's another stock that's blown through her upside targets and become overextended. But there's something else that makes her cautious here: Boroden's methodology doesn't just apply to price, the Y axis of the chart, you can do the same thing with time, the X axis, finding key dates where a stock is likely to change course. With Alphabet, Boroden sees a cluster of Fibonacci timing cycles that started last week and continue through tomorrow. So if the stock's going to take a break and pull back, there's a good chance it will happen soon.
Finally, consider the daily chart of the red-hot NVIDIA. Boroden's been very bullish on this one, and she's been terrific at predicting when NVIDIA's ready to run and when it's due for a breather. Unfortunately, as much as she likes the longer-term uptrend here, NVIDIA's also approaching a key Fibonacci extension level, meaning the stock might lose some of its momentum. Plus, NVIDIA's recent $45 rally looks a lot like it's previous $48 run.
Employees of TheStreet are restricted from owning individual equities. 
At the time of publication, Action Alerts PLUS, which Cramer co-manages as a charitable trust, held position in Alphabet, Nvidia, Apple and Facebook.