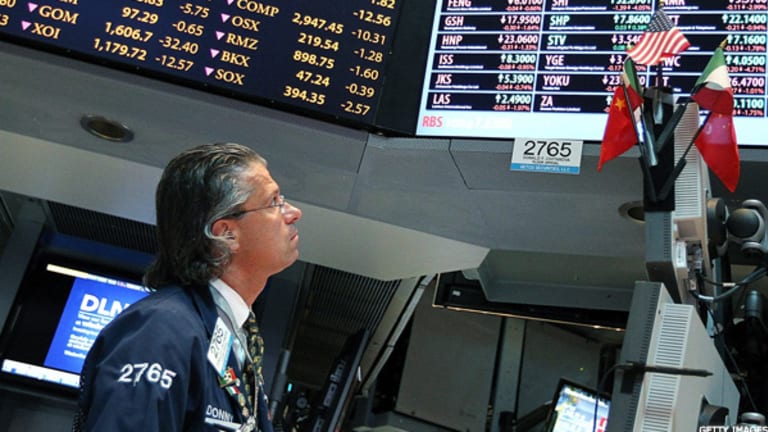 Cramer: Geopolitics Back in Oil Price?
The times I have seen oil go up without the stocks going up are few and far between.
This entry from Jim Cramer's blog is brought to you compliments of Real Money -- the popular investor's source for financial coverage and analysis. To see all the blogs, including Jim's, in real time, click here and learn how >>
NEW YORK (
) -- Exogenous factors happening away from the usual European woes? We're not rallying in the face of the obviously successful trade for European banks to borrow from the ECB and buy short-term Italian paper for a risk-free gain. So what else could be going on?
I think there's something out there that's got the averages stalled and that's the higher price of oil without the higher price of oil-related stocks. The rally over $101 wasn't accompanied by the usual two-point jump in
Schlumberger
(SLB) - Get Report
and five-point catapult in
EOG
(EOG) - Get Report
, the two Mexican jumping beans out there.
Could it be that we are getting close to something in the Middle East that causes oil to spike instead of natural demand, which would then lead to some sort of slowing of the economy? Is that why the soft goods stocks are up again?
Can't be definitive. Can't say, well if that is the case, how about gold? Why isn't it soaring? Can't say, well wait a second, is this the market figuring out demand destruction ahead of an incident with Iran?
All I can tell you is that the times I have seen oil go up without the stocks going up are few and far between and they tend to be associated with blockades and sabre-rattling that could lead to something else.
>>Learn about Real Money, a premium service that relays investment strategies from veteran Wall Street pros.
Otherwise SLB should be at its high and EOG should be at $125. Who knows how high hedge-fund trading card
National Oilwell Varco
(NOV) - Get Report
would be!
The only saving grace to this negative geopolitical thesis is that lots of retailers are still on the march higher.
But if oil goes north of $102-103 and the oil stocks go down, the diversion will be an obvious one and others will draw geopolitical conclusions that would put a lid on the market until the global situation has calmed down, or at least has more clarity.
Random musings:
Lots of chatter about what to do with
Sears
(SHLD)
. Close observers know I used to like the stock, but abandoned ship about 70 points ago. I will say this, spirals in retail happen fast, not slowly, when vendors sense they might not be paid. Right now Sears has plenty of cash on hand. Let's see what happens after they pay for their holiday inventory, but I am sure we will hear all about untapped credit lines and all is well. They have to hope the big-ticket sellers (TVs, fridges, lawn mowers, etc.) believe them.
Action Alerts PLUS, which Cramer co-manages as a charitable trust, has no positions in the stocks mentioned.