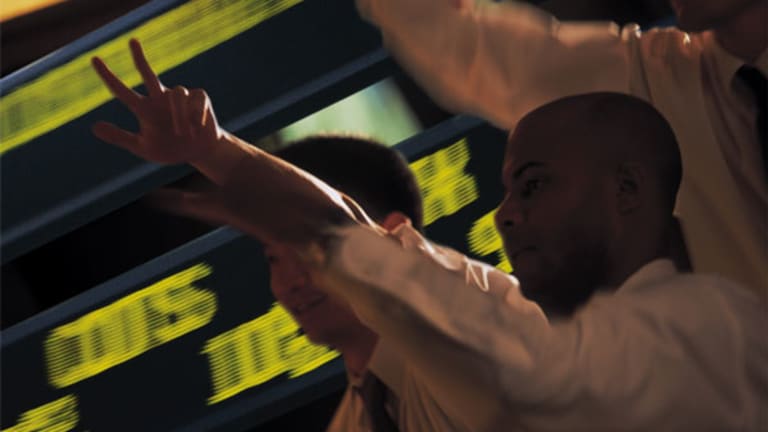 Cramer: Four Deals in the Oil Patch?
Because of the soaring price of oil in the ground, these deals make too much sense to ignore.
Editor's Note: This article was originally published on Real Money on Feb. 13. To see Jim Cramer's latest commentary as it's published, sign up for a free trial of Real Money.
How can there NOT be more deals in the oil patch?
The other day
EOG Resources
(EOG) - Get EOG Resources, Inc. Report
hit a 52-week high and while everyone seems to be focused on the potential acquisition of this company because its visionary CEO Mark Papa is retiring, I can't see it getting a $50 billion bid, which is pretty much what it would take to buy the behemoth.
Of course there is endless speculation that something can happen to
Chesapeake
(CPK) - Get Chesapeake Utilities Corporation Report
now that its visionary chief Aubrey McClendon is gone. I believe the company was not set up to be sold, given its huge number of joint ventures and would be very hard to negotiate a price that would make it worthwhile to cash out on so many of its entanglements. Just too complicated for most companies to ponder.
I see four others that are far more easily consumed because of their far-flung holdings that haven't been explored nearly enough, and yet, because of the soaring price of oil in the ground, just make too much sense to ignore. Plus, with the revolution in using natural gas as a surface fuel for trucks just a few years away, these are naturals to go.
The first is
Hess
( HESS), which remains ridiculously low vs. its vast holdings. Sure, Hess has run, but unlike EOG it is nowhere near its high. I can see this $22 billion company getting north of a $30 bid and the acquirer making a fortune developing its oil lands in the Bakken.
Speaking of the Bakken, how long can
Whiting Petroleum
(WLL) - Get Whiting Petroleum Corporation Report
, a $5 billion play, remain independent. Last year there were hot and heavy rumors that Statoil would buy them, but Statoil went to an extreme to deny that possibility.
That doesn't mean this one couldn't be bought for its extensive oil holdings.
Two others that could make sense that have done nothing but right things, yet been given zero credit for their efforts, are
Linn Energy
(LINE)
and
Carrizo
(CRZO) - Get Carrizo Oil & Gas, Inc. Report
. They might be hard pressed to stay independent.
Linn's been a leader in developing properties cash off by others, including BP and then quickly bringing great returns to shareholders. I love that Linn offered Linn Co, with its bountiful 7% plus yield for non-taxable accounts. The company's growing its holdings like weeds, yet it stays at a ridiculously low $7 billion valuation.
The final takeover play is totally bite-sized, but should be anything but and that's Carrizo, a $900 million company that is growing reserves in all the best places in Texas. Why this one stays so far off its high is a mystery to me. It could be picked up for a song.
Action Alerts PLUS, which Cramer co-manages as a charitable trust, has no positions in the stocks mentioned.