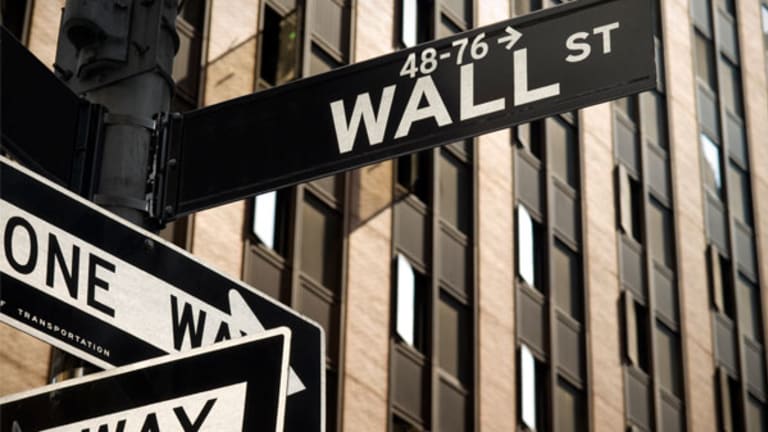 Cramer: Europe Has Become a Black Box
U.S. markets now hinge upon political dynamics that are beyond our control.
NEW YORK (Real Money) -- We have the largest game of chicken going on that I can ever recall. On the one hand we have the adamant Germans who are not going to give an inch on the purse strings of Europe that they clearly control. On the other hand, there's every other country in the European Union that now thinks, because of the troubles in Spain and Italy, not just Greece, that bonds must be printed and money spent to grow the economies on the Continent, not just Germany.
Traders in this country cannot afford to miss the moment when Germany is pushed over the edge to save the Continent, something that is perceived to be inevitable, now that the French have turned on the Germans and the Spanish bond market implodes.
In the meantime, though, if they are in the market on a day when Merkel is tough and Spain falters and another country in Europe hits the radar screen as damaged, then they lose.
Today is a hope day. Today is a day when people expect the Germans to blink, in part because of the hopelessness of Spain but also because even Germany is worried about the world's economy right now. I think the Germans are worried that China is going to slow if it can't tap the European market, and that's bad for the whole globe.
Now here is what is tricky. Without Europe, we have a good market made up of retailers, restaurants, utilities, companies that benefit from a decline in commodities caused by European weakness, and some health care stocks.
With Europe we have everything, including tech, oils and the banks. Today is a "with Europe" day, and you can see how bountiful it is.
Think about it: Europe has been the proximate cause of everything that has blown up or is about to blow up. We have seen it in apparel with
Fossil
(FOSL) - Get Free Report
, where even the good Fossil names are unable to avoid the tug. We have seen it in tech with the semiconductor, personal computer and consulting firms. Amazing that
Apple
(AAPL) - Get Free Report
hasn't been scathed yet. We have seen it in banking ever since
JPMorgan
(JPM) - Get Free Report
crushed the whole industry by being so heavily exposed to a runaway European train. We have seen it in capital goods, where every company that has any exposure is a heartbeat away from blowing up. That means companies as fine as
Cummins
(CMI) - Get Free Report
and
Boeing
(BA) - Get Free Report
as well as
Caterpillar
(CAT) - Get Free Report
and
Eaton
(ETN) - Get Free Report
.
We have seen it in oil, where the world seems to think that European economies are holding down the price of oil with their weakness. In reality, oil is not even down that much, but whatever decline there is seems to be weighted toward European alibis.
We have seen it in the chemicals, all of which have been global for some time and are about to have giant estimate cuts if something is not done soon, even as their raw costs here have plummeted.
We have seen it in the mineral stocks and mining plays that can't get enough business in China that can make up for European weakness. One look at
Alcoa
(AA) - Get Free Report
, which is all the way back down after reporting a decent quarter, tells you that Europe is a millstone that's pulling down the best and drowning the most levered or the most in danger of going into the red.
These are huge portions of the U.S. economy that have been held hostage by Angela Merkel. You have to believe that at some level she is even feeling the heat from the U.S. and China, which tire of her worries about hyper-inflation at a time when worldwide deflation is the culprit.
What's amazing is that until Merkel changes her views, numbers have to come down for all of these groups of stocks, and they have to come down in ways that do not support the current valuations. You can bet all you want that the Germans will get with the program, but they longer they don't, the worse things will be.
So we play this game of chicken where when there are signs of hope, like all of the European stock markets climbing except for Spain, signaling that perhaps today is the day when something good happens, our stocks fly. They are then followed by days of sullenness where the Germans refuse to yield, and all of their stocks go down in all of their markets, and they take us down, too.
Of course, all of this could somehow be left at the shores of Europe if we could just get some solid economic growth here. We do have it sporadically. We know that retail has been buoyed by lower gasoline prices. We know that restaurants have been helped by lower commodity prices. One look at the 52-week high list with the likes of
Foot Locker
(FL) - Get Free Report
or
Brinker International
(EAT) - Get Free Report
, a.k.a. Chili's, or
Bed Bath & Beyond
(BBBY) - Get Free Report
or
Wal-Mart
(WMT) - Get Free Report
tells you that.
We know that the mortgage market is better, despite what the Case-Shiller home-price data say. When in doubt, trust the number from
Wells Fargo
(WFC) - Get Free Report
, which is 25% of the market. Wells told it straight the whole way, and Wells says housing has bottomed. Or trust
Toll Brothers
(TOL) - Get Free Report
, the national builder that had been so bearish and which is now more hopeful about home volume and home price.
But we have nothing good when it comes to employment, which means that if we get a weak national number Friday on top of something bad in Europe, then Thursday will spell the end of this rally.
Personally, I hate these situations. Europe is a total black box. Who knows how Merkel is going to respond to the pressure? China, so important, seems to be disappearing as a force of growth, in part because of Europe. Most of the estimates for the non-domestic companies in our country, any touched by international, will be at risk. We're simply hoping for a resolution, and the longer we don't get one, the more banks that will fail and the more Humpty Dumpty the situation will become.
So we play the game of chicken, with days where the market rallies because things got too negative, rather than seeing Europe's screw turning on the Germans. And then days when we lose strength ourselves on top of a Greek poll or a Spanish bank seizing that makes even help from Germany seem too little and too late.
All the while, we have to deal with the hazards of JPMorgan not knowing what it is talking about and
Facebook
(FB) - Get Free Report
creating huge waves of disappointment. And we have to deal with the mechanics of the hedge funds and mutual funds, as in, are they just taking this market up to improve their performance in a very horrible month? All of the good can turn on a dime. All of the bad seems to be with us for any company that has ventured beyond our shores.
Action Alerts PLUS, which Cramer co-manages as a charitable trust, is long AAPL, BA, ETN and JPM.