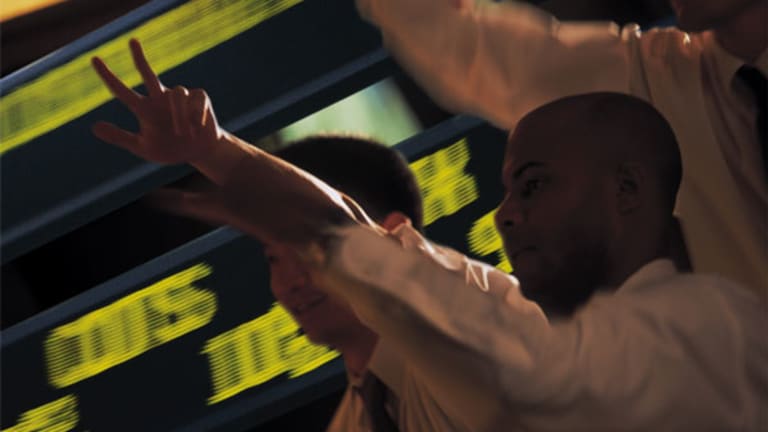 Cramer: Enough With the Hedge Fund Coverage
The obsession with this stuff is just nonsense.
Editor's Note: This article was originally publishedat 6:51 a.m. ET on Real Money on May 16. To see Jim Cramer's latest commentary as it's published, sign up for a free trial of Real Money.
NEW YORK (
) --Here's a visionary memo I am writing now for people in the press one year from now:
"As of today, we will no longer do 'wall-to-wall' coverage of 13F filings, because it doesn't help our viewers or our readers." The visionary memo continues: "This cottage industry of looking at filings, most of which are extremely dated, causes people who aren't sophisticated enough in the process to make wrong moves."
But, because the writer of the memo doesn't want to push back 100%, he adds, "There will be exceptions. We will continue to cover what Warren Buffett buys and sells, because his fund is not a hedge fund darting in and out of stocks. We will also, if we believe it to be the case, cover funds that seem to be struggling, like John Paulson's gold fund. But, beyond this, we are simply going to de-emphasize the breathless reporting on these matters, because at a certain point we have to conclude that it is our equivalent of prurience and nothing more than that."
I know, harsh memo. I am a harsh guy.
Honestly, though, the obsession with this stuff is nonsense. I remember having an assistant fill out these forms and thinking, "Oh yeah, I remember firing that guy and having to dump his portfolio," or, "Gee, I got rid of that position right after this filing was due, but I have to include it."
Plus, let's face it, these filings are really late -- so who knows? I am sure there are plenty of people who are back in who had left a position at the time of the filing.
What do I think makes a story here, then? I think if you can call a manager who bought or sold a significant position and that manager articulates to you why he purchased it or dumped it, then you actually have a story. Of course, this is provided that the person hasn't changed his mind in the interim, thus making the next filing different.
Barring that, even covering the stuff is totally misleading. Did Julian Robertson sell his
Apple
(AAPL) - Get Apple Inc. Report
stake because Apple's bad? Did he sell it because he doesn't like tech? Did he sell it because he wanted Apple TV? Did he sell it because he wanted no exposure to the market? Perhaps because it was down to tag ends? Maybe he wanted a bigger dividend? I mean, honestly, what the heck do we know?
I spend an awful lot of time trying to figure out what makes sense to cover in terms of trying to help people -- and what doesn't make sense. I do it because one of the things that makes me valuable is the perspective I bring as a former hedge fund practitioner. I particularly like to highlight when something is irrelevant or confusing when you hear it.
An example of this is my
campaign against risk-on/risk-off
, because these terms mean nothing whatsoever and it's the kind of jargon that illuminates zilch. Is "risk-on"
Clorox
(CLX) - Get Clorox Company (The) Report
? Is it
Freeport-McMoRan
(FCX) - Get Freeport-McMoRan Inc. Report
? Is "risk-off" bonds, perhaps the most risky asset out there? Too stupid for words. I had the conviction to call that emperor naked 'cause, what the heck? I am not scared to tell the truth.
That's why I am sending out next year's memo in advance. I want to help people, not confuse them. So I have to get people to de-emphasize these almost worthless non-stories unless there is context, rather than it being naked speculation about motives and circumstances. Hey, look at it this way: It's one less unhelpful thing to cover, in light of the idea that there is something helpful out there -- and that is worth finding in order to help people understand, and not be confused, by the money-management process.
At the time of publication,
, which Cramer co-manages as a charitable trust, was long AAPL.