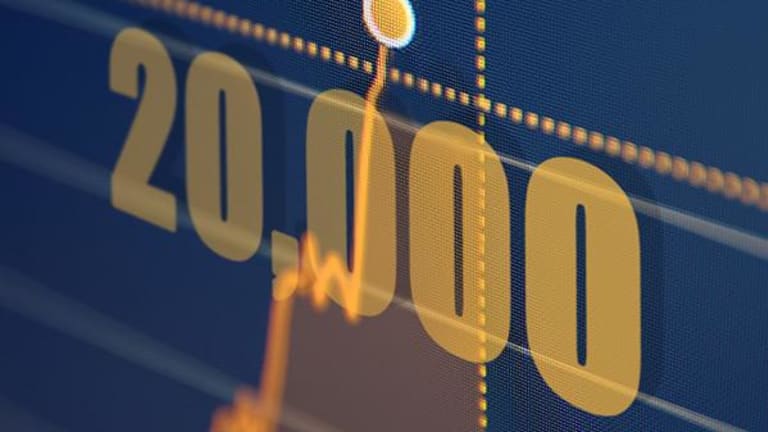 Cramer: Dow 20K Is a Symbol of Strength
Fundamentals and long-term convictions remain important.
(Jim Cramer originally e-mailed this commentary at 12:12 p.m. ET to members of Action Alerts PLUS, their VIP club for investors. Click here for a 14-day trial subscription to get analysis like this delivered to your inbox earlier in the trading day, along with access to other exclusive content like monthly conference calls with Jim.)
We finally hit Dow 20,000. The Dow had been unable to break the barrier in recent weeks as uncertainty mounted and investors took profits (see our recent bulletins here and here, but a renewed sense of optimism, thanks to a stream of positive earnings and encouraging meetings between President Trump and several business leaders, has propelled stocks back toward new highs. Now the question is whether we can close above Dow 20K for the day. Stocks have fluctuated on the open, but are showing strength, building upon yesterday's strong rally. 
We want to reiterate that the round number of Dow 20K is more symbolic than anything else. We have spoken to this point several times in recent months and we believe it holds true. That being said, the number does represent the strength we are witnessing in equities. Positively, this is broad-based strength. While the initial rally following the election was fueled by animal spirits -- more so on a hope trade for deregulation, tax reform and other business-friendly policies, although the exact scale, nature and timing of these policies was uncertain -- the move higher in recent days has been driven by strong performances by companies and an encouraging outlook moving forward. 
Industrials and financials are leading the S&P 500 higher today -- consistent with the animal spirits that excited investors toward the end of last year -- but technology is also demonstrating strength, with Facebook (FB) - Get Free Report and Google (GOOGL) - Get Free Report approaching and/or reaching new highs. Energy names are also performing well today, fighting off the pressure from a pullback in oil prices, indicative of the pro-energy actions for which Trump has already signed executive orders, such as the Dakota Access and Keystone Oil pipelines. The broad-based strength across sectors is encouraging so that the market no longer has to rely on a small list of names to keep chugging higher. 
With all the excitement around Dow 20K, however, we do not want to lose sight of what is important: the fundamentals and your long-term convictions. If we are going to keep the fire lit under this rally, companies will have to prove that they are worth these higher prices. As we have mentioned, earnings season remains the key. From a broader level, continued stability in oil prices, clarity on the interest rate environment, the Federal Reserve's decision-making, and the progression of the new administration's policies will all play a role in the economic environment moving forward and in how investor sentiment fluctuates throughout the year.
Action Alerts PLUS, which Cramer manages as a charitable trust, is long FB and GOOGL.