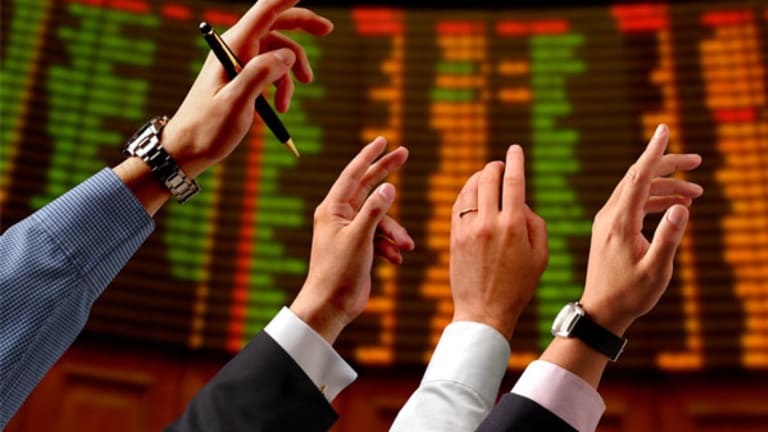 Cramer: Don't Build It and the Profits Will Come
The real theme behind this market's advance.
NEW YORK (
) --Don't build it and they will come. That's right, don't build anything new and the profits will come to those who already have the infrastructure in place. That's really the theme behind this market's advance, the undercurrent that plays out every day.
Let me walk you through it. This morning we heard from the keepers of the Case-Shiller index that housing is up in price in all 20 cities measured, with staggering gains in Phoenix, Las Vegas and Miami. These increases can happen simply because the homebuilders aren't building enough homes fast enough to meet demand. You have a million new homes coming on stream -- still only two thirds of what you would have gotten six years ago -- and that's just not enough given household formation and how many homes are lost every year to natural causes like fire, flood and dilapidation. They aren't building it, so the profits accrue to those few who have the capital to do so.
Editor's Note: This article was originally published on Real Money on March 26. To see Jim Cramer's latest commentary as it's published, sign up for a free trial of Real Money.
That's what's happening in the hotel industry, as you will hear tonight from
Ashford Hospitality
(AHT) - Get Free Report
, a gigantic hotel-owning real estate investment trust that has seen revenue per room go up in the high single digits. Why? Simple. Because the industry isn't building new capacity. There isn't enough credit and there's too much worry about the last downturn, so you have good pricing all over the place. It's a reason to like
Wyndham Worldwide
(WYN)
,
Marriott
(MAR) - Get Free Report
and
Starwood
(HOT)
, too.
Remember, also, that
Blackstone
(BX) - Get Free Report
, our favorite private equity firm, has a huge inventory of homes. While people fret that they might get hurt when they go to sell them, the opposite is true. Because of the dearth of new homes being put up and the need for rentals, Blackstone's minting money with its gigantic home collection. You would think that we could all get into the home-flipping situation with the kinds of double-digit advances we are seeing -- 15% in Vegas, 12% in Los Angeles, 10% in Miami and 12% in Minneapolis. But unless you are a huge private equity firm with lots of capital, you don't have access to mortgage money on a second home and there's no mortgage money for investment property even if you are willing to put down 50% in most areas.
The essence of the move in the airlines -- a move that I think will be multiyear -- is that nobody's building out airports and you can't get new planes any time soon given the global demand. So
US Airways
(LCC)
,
United Continental
(UAL) - Get Free Report
,
Delta
(DAL) - Get Free Report
and
Spirit
(SAVE) - Get Free Report
don't have to worry about willy-nilly competition -- the first time I can recall that being the case. Hence, it's the first time that I have ever recommended these stocks. That's why I expect profits to come for US Airways when it completes its merger with
AMR
( AAMRQ). Capacity takeout just when you expect additional planes and routes to come on. Nobody's building, profits are coming.
Don't build more cars and the profits will come: That's the essence of the rent-a-car business. Right now, there aren't enough autos to go around, the consolidation is immense and the price increases are bountiful. If it weren't for Hurricane Sandy, pricing might not have been that tight, but right now, getting a rent-a-car is difficult because of the capacity constraints. How can you not want to own
Hertz
(HTZ) - Get Free Report
in that situation?
Don't build it and the profits will come to the refiners. This business has been hellish because the profit margins have been so horrendous and the competition so vibrant. But there hasn't been a new refinery built in 40 years, many have been taken out of service and so much oil is being drilled in the U.S. now that the remaining refiners can refine it here and sell it overseas for terrific prices.
HollyFrontier
undefined
is in the best shape to profit from this lack of new capacity and arbitrage between cheap domestic oil and expensive foreign gasoline.
Don't build it and they will come. Isn't that how
Cheniere Energy
(LNG) - Get Free Report
has been able to levitate, along with
Cheniere Energy Partners
(CQP) - Get Free Report
? These two long-time recommendations of mine have been busting out because it looks like the lobbying effort to stop the export of natural gas is succeeding, and that means Cheniere has a virtual monopoly on the export of our plentiful natural gas. The amazing signing up of contracts by co-founder and CEO Charif Souki continues, and the profits from being a monopoly will be gigantic once the trains are completed.
Now here's the big Catch-22: Don't build the "profits will come" situations. Because there is so little new construction of anything, we get no real new hiring. Because we get no real hiring, we aren't getting the growth we would normally expect from the economy at this stage in the recovery. Plus, we have a retrenchment in government spending that will curtail growth. And we have a serious worry in how much it will cost to hire people with the new employment laws. We don't have enough small business formation to offset the constant streamlining of every large business I know. Ask yourself, which companies really are hiring aggressively?
So, we don't get the bountiful gross domestic product numbers we expect. And we end up paying more for companies that can charge more than we thought. At the same time, we pay less for companies that rely on foreign sales, unless they are defensives, as the drug companies just hit 11-and-a-half-year highs.
The Catch-22 does benefit stocks. As long as we don't build it, the
Fed
will keep flooding the zone with money. At a certain point, the commercial real estate and the factories will have to be built. At a certain point, the companies that can use our newfound cheap energy, the chemicals and the fertilizers and the steels, will all move to where the nat gas is cheap: east Texas, Louisiana, Ohio or Pennsylvania. That is more than a handful, like
Dow Chemical
(DOW) - Get Free Report
and
Nucor
(NUE) - Get Free Report
, but it hasn't happened yet.
When it does -- when the building starts -- the profits will be diluted and the Fed will curtail the monetary policies that have been so good for the stock market. It's just that with the Catch-22, no one seems to be willing to take the plunge or get the credit to do so.
So we hum along, just like this. And the market loves it, as long as we don't build it and the profits will come.
Action Alerts PLUS, which Cramer co-manages as a charitable trust, has no positions in the stocks mentioned.